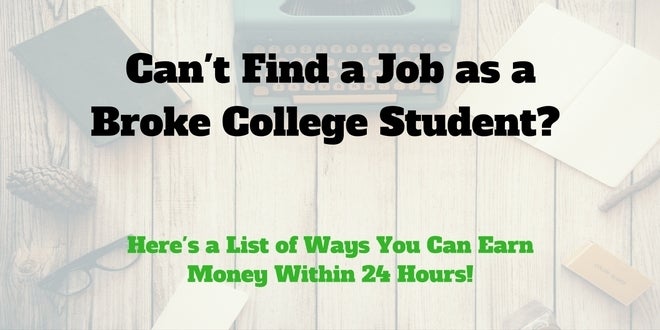 Burdened with debt and struggling to pay the bills? Life as a broke college student isn't easy but you can turn that around with this list of ways to make money in the next 24 hours.
You'll often hear stories about college students who survived on Ramen noodles and pop-tarts while working on their degree. College isn't cheap, and most students will take out a loan to earn their education, a loan that will take half a lifetime to pay back.
Combine that with the intense class schedules and other responsibilities, it's easy to feel overwhelmed, which may be one of the reasons why so many students are dropping out of college all-together. If you want to remain focused while in college so that you can earn high-grades, it's important to make sure that you take care of your needs first.
When you're struggling to pay bills and always worrying about money issues, it can take a toll on your mental health, which in turn takes a toll on your grades. To earn ideal grades, it's important to keep a clear state of mind so that you can focus on your studies.
But how can you focus on your studies when earning money is your primary concern?
In this article, I'll show you how you can earn fast money without having to suffer from the humiliation of being rejected over and over from companies due to insufficient work experience. You'll have to leave your house, and you might have to venture out of your comfort zone. But anyone can use this list to earn cash.
Some of the ideas on this list require basic writing skills, but those are the same skills that you use to write essays in class, something that everyone with an basic education can do. If you can string together sentences that make sense and you can spot typos, then you can earn money writing content for people. It's simple.
Let's start with the list.
1. Work as a Writer.
As I mentioned earlier, if you have basic writing skills then you can work as a freelance writer. On the other hand, though most people do have the skills to earn money as a freelance writer, they often don't know where to start and the haven't the faintest clue where to find clients.
The hardest part of working as a freelance writer is finding clients.
There are numerous tools and books dedicated to this issue, and plenty of free resources that you can use too. One of my favorite websites for freelance writer issues is Make a Living Writing.
Looking for websites that pay writers? This article is a good place to start. Most magazines and news outlets are always on the lookout for new writers and they'll pay top-dollar for interesting content as well. Contacting the editors and sending an article is sometimes all it takes to secure a long-term and potentially life-changing client.
There are other freelance-marketplace websites that you can use too but the competition is fierce and the wages tend to be lower than the industry standard. It also takes time to build a portfolio and reputation on those websites, but it's a good place to get a foot in the door and practice your skills. Upwork is the most popular service marketplace at the moment.
Most experienced writers recommend charging clients upfront for work and payments are usually made with PayPal.
2. Sell Something!
This is by far the easiest and fastest way to make money when you're in a financial hole. Chances are as a broke college student you live in a dorm with a roommate, and you probably don't have that many items to sell. It might be a good idea to head home and see if there's anything in your old room that could be sold for some quick cash.
There are many different websites that you can use to sell your stuff; eBay, Caroussel, Facebook Groups, and Craigslist, to name a few. Even making a Facebook status can be all it takes to find a buyer and get rid of some old belongings!
3. Buy and Re-Sell.
This expands on the previous idea but instead of selling something that belongs to you, the idea is to find deals and re-sell them for a profit. It's easier than you might think, and it's something that most entrepreneurs started with before moving on to bigger ideas. There's also potential to turn it into a lucrative business.
Take a look at local flea-markets or second-hands stores and look for bargain discounts. Thrift shops are also an excellent place to find deals. When you find a deal, head over the sites mentioned earlier, and list the item for sale with a small price increase. Sometimes you can even sell the item for much more than what you paid for and make a nice profit, a profit that you can use to buy even more products.
With this method, you'll need to run around the city looking for deals and meeting buyers, but it can be quite rewarding if you focus on it. It can also lead to a lot of interesting business opportunities and ideas!
You can do this with practically any product; clothes, electronics, furniture, vehicles, household supplies, etc.
Just keep an eye out for deals.
This is the most common way to make fast cash and it's also known as "hustling".
It doesn't require much time and you can make a profit relatively quickly as long as you continue to look for profitable deals. Just make sure to track your progress and factor in expenses such as gas and transportation.
4. Check The Trash.
You'll be surprised at the amount of stuff people throw in the trash and some of it can be quite valuable too. I have see people throw out whole computers and monitors. It doesn't hurt to take a look at some trash bins and see if there is anything that could be resold.
Of course, I'm not talking about climbing into a dumpster and rummaging around inside, unless that doesn't bother you. There's no need to get dirty! When throwing out trash, most people will leave larger and more valuable items near the dumpster. Take a look around.
5. Offer a Service.
There are so many different services that you can offer to earn some fast cash.
Take a look at the list below:
Those are just a few examples of some simple services that you can offer people. The last few require a bit more skill, but they're easy enough to learn, and there are plenty of tutorials and resources online to make it easier.
Take a look around your community and see if there are any odd-jobs that you can help out with, there's always something that you can do. Lawn mowing is quite common, and there are other manual labor jobs that are always in demand too.
Working those jobs for a few hours between classes could be what you need to bring in some extra funds and improve your living conditions and peace of mind.
6. Virtual Assistant Work.
This one is a little more difficult to get into but it can be quite profitable. There are lots of people who are too busy to handle simple tasks and they need an assistant to complete those tasks for them. Virtual assistants are quite popular nowadays, and you can find work literally anywhere in the world as long as you have access to the internet.
Once again, finding this kind of work is a little difficult, and you'll need to learn how to find clients. But you don't need any special skills to complete this type of work because it's usually simple tasks such as data entry or replying emails (the tasks vary depending on your clients).
Still, if you have a few hours to spare, and you own a computer, it's worth looking into virtual assistant work. Just remember that you'll usually have to compete with people who live in third-world countries and have a much lower hourly wage.
Conclusion
So in this article we learned 6 simple ways that you can earn money as a broke college student with no experience. These are just some ideas that you can expand on in your free time and hopefully turn them into a profitable business venture.
I also recommend spending time learning a marketable skill that will always be in demand. There are a lot of online and offline skills that you can master within a relatively short period of time. if you take the time to invest in a skill, you'll always have something to fall back on in case your other projects don't work out.
So don't assume that you'll have to survive on Ramen noodles for the rest of your life!
Calling all HuffPost superfans!
Sign up for membership to become a founding member and help shape HuffPost's next chapter
This post was published on the now-closed HuffPost Contributor platform. Contributors control their own work and posted freely to our site. If you need to flag this entry as abusive,
send us an email
.