Maximalism is the ultimate antidote to the minimalist design philosophy that dictates clean lines, simple furnishings and a neutral color palette, where belongings are hidden away and just one errant cup or child's toy can spoil the whole look.
Maximalist homes are dramatic and daring as well as warm and welcoming. They offer up a feast for the eyes, conveying the owner's personality and always a sense of fun. Design rules go out the window in a maximalist home. In fact, the rule book has probably been thrown in the shredder and recycled into a decoupage project!
If you love playing with color, pattern, texture and scale and you're not content until you've embellished your quirky finds to the hilt, then maximalism is definitely for you. It's a look that's constantly evolving, because there's always room for more (much more) in a maximalist home. Here are some guidelines to get you started.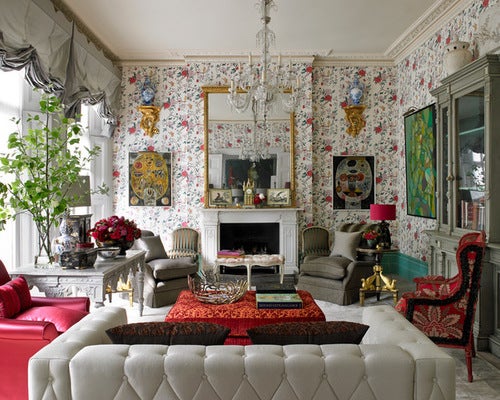 1. Fill every space. A maximalist's home is busy, busy, busy, so think theatrical and build up the layers in stages. You might want to start with a few anchor pieces in more neutral tones first. Here, the sofa, chairs, table, dresser and ruched blinds are the anchors, underpinning elements of red, green, blue and gold and allowing the busy wallpaper and artwork to shine.
Maximalist homes are ultra-sociable too. You can never have too much seating — and guests will always have a talking point.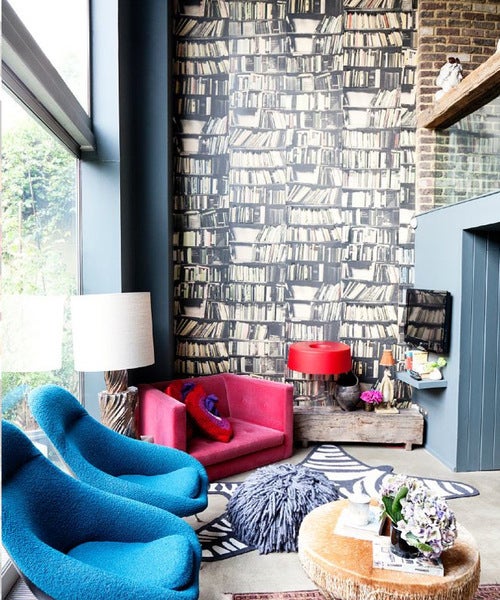 2. Play with color. A limited color palette and deference to the rules of the color wheel are anathema to the maximalist, who isn't afraid of using bold shades. Dark walls contrasted with hits of hot hues in furniture, soft furnishings, accessories and artwork gel brilliantly and needn't be limited to principles of contrast, harmony and tone. Experiment with a mood board first to see how unusual color combinations can work together.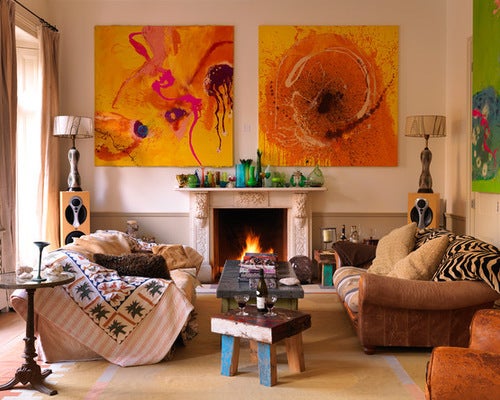 3. Mix styles and eras. Eclectic and bohemian are the words that most often sum up a maximalist home, and sticking to one era or style is rarely an option for the magpie homeowner who loves this look. So mix it up to the max. If you love tribal artwork, animal prints, Victoriana, botanical details and rustic furniture — as well as the industrial look — there's no need to pare it down. Being a maximalist can be pretty liberating!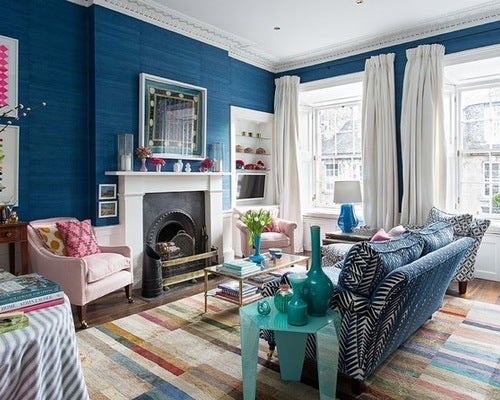 4. Clash patterns. Patterns are everywhere in a maximalist home, not limited to a few accent pieces. So if you're crazy for, say, graphic chevrons, classic English florals and Moorish patterns, go right ahead and throw them all into the mix. The word overkill doesn't exist for maximalists, and this homeowner in Edinburgh certainly hasn't held back.
Try using a multicolored piece as a starting point, such as the rug here, and then pick out the hues for other patterns of different scales.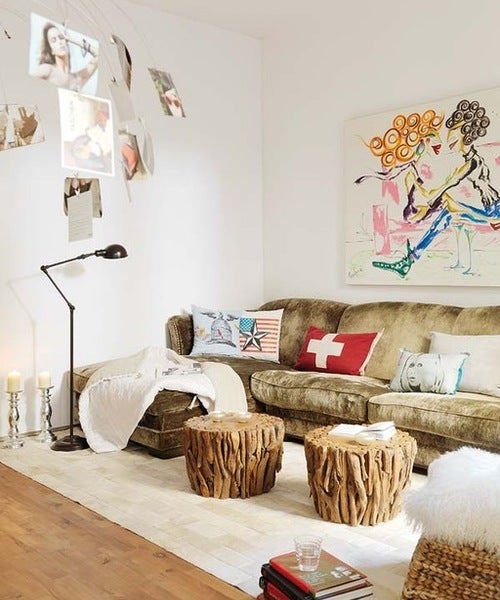 5. Combine textures. Layering is the mantra of the maximalist, so bring in sheepskin throws, wool blankets and touchable cushions in silk and velvet. Add embellishments such as fringe, lace and appliquéd felt to your soft furnishings. And don't forget the walls: Texture can be added with a wall-hung rug or through textured or embossed wallpaper.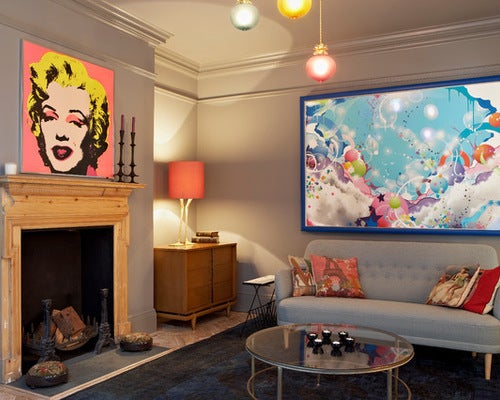 6. Max up the lighting. Maximalism is perfect for people with eclectic tastes who find it difficult to narrow down their options. Why, for instance, have one ceiling pendant when you can have a cluster? Make sure you vary your lighting to add visual interest at different heights, and bring floor lamps, table lamps and twinkly lights into the mix in an array of colors, patterns and styles.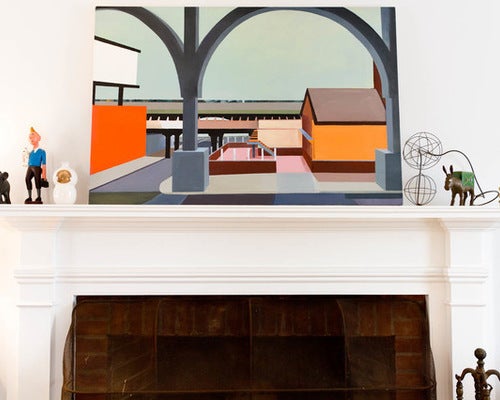 7. Embrace kitsch. If something makes you smile, it surely deserves a place in your home. So forget about the stuffy school of tasteful elegance in design and look to pop culture for fun pieces instead.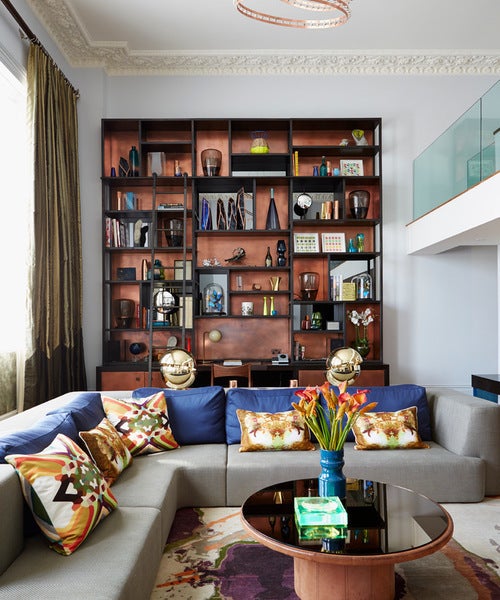 8. Display your wares. Maximalists often tend to be collectors, and not of just one thing. A giant display cabinet with open shelving, such as this copper-backed beauty, is the way to go. Combine it with smaller, glass-front display cabinets and wall-mounted printer's trays for a collector's paradise.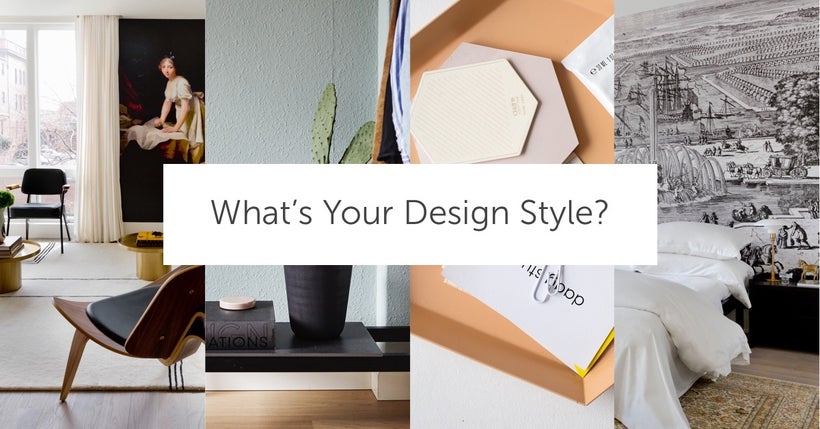 Calling all HuffPost superfans!
Sign up for membership to become a founding member and help shape HuffPost's next chapter
This post was published on the now-closed HuffPost Contributor platform. Contributors control their own work and posted freely to our site. If you need to flag this entry as abusive,
send us an email
.