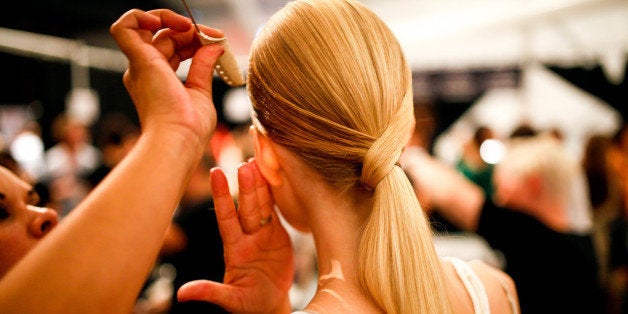 It happens just like the seasons. Weather warms up and we begin lightening our hair.

It is so important that you consult with a professional stylist. "Why?" you ask. "That's expensive and there are so many products designed for home, and how-to videos online..."
As a stylist, I am a compulsive hair-watcher, and I see the outcome all the time on the streets of the do-it-yourself box color job. Here is what a stylist will provide that you just can't get in a box:
• Experience. We do this a lot, with many different kinds of hair. Some of us specialize in coloring because we get such tremendous artistic satisfaction from producing uncommonly beautiful color. There is a huge gap in skill that will take your hair from "looks okay, got the roots" to "wow" with sublime depth, beautiful motion and versatility.
• We look at your hair and your lifestyle to determine what color is right -- that starts the very second you walk into our studios. This is almost involuntary. It's like a reflex. We begin to think about what your hair needs, and what color will go best with your skin tone, eye color, your lashes and eyebrows. We want to know what you do for work, whether you're outside a lot in the sun or steering a financial plan in a board room.
• This is so, so important. Have you ever considered how many shades of blonde there are? In fact, the variety is infinite, because professional stylists are mixing formulas on the spot. And even the exact same formula will look strikingly different on two people because their hair is different. We know how to work with that level of possibility.
• We are looking for more than awesome color. We want your hair to look and feel healthy, and that begins by examining your hair for what it needs. Every head of hair is different. Every lifestyle is different. Matching all of that with the color you want is our work and passion.
• Lightening, in particular, can be very hard on your hair. We will minimize the impact, because we know that beautiful hair is healthy hair and that it's not enough to get the color right.
A recommendation: if you've got an appointment to have your hair colored, use a cleansing shampoo a couple days ahead and then follow with high quality conditioner. Get your hair in great shape before you go in.
As always, be open to change!