Every sports fan has been in that position where they have a game they really want to see, and yet they miss it. Think Game 7 of the NBA finals with the Cleveland Cavaliers winning a historic series against the Golden State Warriors. Sometimes real life commitments get in the way and you aren't able to watch your team play from the comfort of your home, a sports bar, or a friend's house.
There are lots of ways to catch up with sports. Broadcasters, independent companies, and sports sites are all trying to come up with new ways to make you feel as if you are experiencing the game in real-time, even when you're not.
That's where the new company ClutchPoints comes in. This is designed to be a visual Twitter designed with the sports fan in mind. It brings together the best of facts, with the emotions of the game. This was recently evidenced with the Warriors and the Cavaliers, where more fans tuned in to ClutchPoints than any other site.
In other words, you have both stats and drama combined. What could be better than that?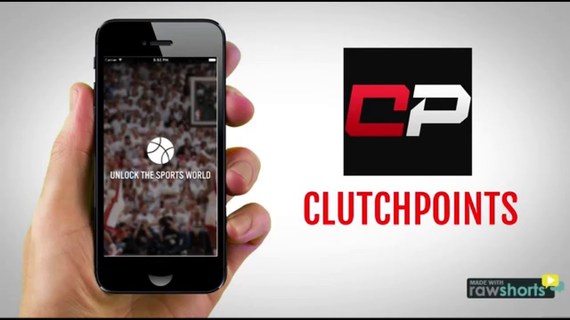 The Evolution of Sports Reporting
Sports reporting used to be delivered in the form of little pieces of paper through a machine before television and radio. Then, came radio broadcasts and the evening news. Finally, you could look up the scores on the TV anytime with 24-hour sports reporting. And today, you can go to a website to find out what's going on.
However, these methods of sports reporting all lack something: emotion. It is difficult to really imagine yourself at the game and get the same experience when all you see across the screen is the fact that LeBron James blocked Steph Curry's at some point in the game. This is the reason why so many people flinch when they consider the idea of missing a game entirely.
Sports reporting needs to take the next step, and social media is the key to how it can do that.

Real-Time Marketing and Emotion
What the new company ClutchPoints is all about is giving the whole 360-degree experience when something interesting happens during a game. The idea behind it is that you will be fed access to the most important highlights in the game as they happen. As if it was an alarm for real-time plays. Opening this up you have not only instant access to the media and so much more, giving the game a dynamic feel from just about anywhere.

Not only will you receive highlights of that big moment, but you will also see the reactions of the players, the winning fans, the bench, and even the losing fans. Like any sports channel, you will get everything from a huge number of different angles. In short, it provides a unique dimension to watching the game, a must-have for any sports fanatic.
And the possibilities are endless. ClutchPoints' mobile app solution is a unique way to experience the game, parsing out just the most exciting moments. Now imagine what they could do next: Build a sports social network around real-time in-game moments and breaking news.
We live in an era where people are constantly connected to the online world, with the help of smartphones and other mobile devices, which are always within an arm's reach.
One of the biggest impacts of sports on society is that it keeps everyone connected. People bond over sports, and being away from that bonding experience is one of the reasons why missing the game entirely causes such misery.
For this reason, real-time marketing has taken off. This is where companies will use events in real-time to influence their marketing campaigns, which are also updated in real-time. A real-time marketing campaign may only last for a few minutes, but the effects last for days.
ClutchPoints is one organization that understands this and thus aims to make the special moments available at all times, regardless of if you are sitting in front of your TV or not.
The recent Game 7 of the NBA finals between the Cavaliers and Warriors saw record numbers of users not only following the game, but tuning into 24-hour coverage of the event, even just to chat.
Sporting Networks Want More
All the major sports channels, including ESPN, FOX, and the NFL Network are all looking for ways in which they can take people closer to the action. It follows a similar trend in the business world of today. The importance of building customer relationships can't be ignored.
Whenever anyone wants to build a brand, they have to be able to attract customers to that brand. By bringing people closer to what's going on, there's a higher chance that they are going to keep coming back for more.

Last Word
This is all about getting more when you can't be at the game. ClutchPoints is about unlocking your sports world.
Calling all HuffPost superfans!
Sign up for membership to become a founding member and help shape HuffPost's next chapter