I didn't have a religious upbringing. Even though my father taught high school science on a part-time basis at the Yeshiva of Flatbush, I did not have a bar mitzvah. Nor did I attend weekly services at the Madison Jewish Center (which I always passed on my way to get ice cream at the local Carvel).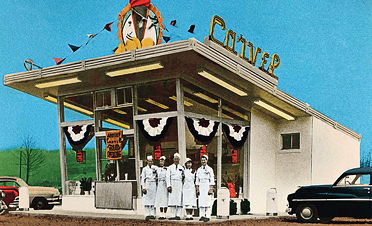 Whereas most people developed their appreciation of ritual by attending religious services, mine grew from watching a theatre's house lights dim as an audience sat up and anticipated the curtain's rise. Night after night (and often at matinees), this ritual would repeat itself in one theatre or another, transporting me to a world of make-believe.
Sometimes there wasn't a curtain. Sometimes the performance turned out to be an opera (rather than a straight play or musical comedy). But the routine held fast.
House lights down, curtain up. Curtain down, house lights up. It's been that way for me for more than half a century.
I was recently reminded of the importance of ritual while watching a 1954 movie musical that stars Ethel Merman, Dan Dailey, Donald O'Connor, Mitzi Gaynor, and Marilyn Monroe. In There's No Business Like Show Business, the Donahue family has spent most of its life performing on stages across America.
When the youngest son (Johnnie Ray) decides to become a priest, his father (a long-time vaudevillian and hoofer) reacts as negatively as some men do upon learning that their son is gay.
As nervous as he is, Steve has the perfect way of explaining his career change to his family. "The church is very much like show business -- the rituals are similar," he says. "Just think of it as another booking -- and don't forget, it's had quite a long run."
There's No Business Like Show Business is filled with long-forgotten delights. While many people think of Marilyn Monroe's performance of "Heat Wave," I was actually more impressed with her delivery of "After You Get What You Want (You Don't Want It)."
Although it is now considered a classic, There's No Business Like Show Business opened to fairly negative reviews. Apparently, not everyone enjoyed this duet for Ethel Merman and Mitzi Gaynor quite as much as I did.
Filled with songs by Irving Berlin, There's No Business Like Show Business is sometimes like a trip down memory lane. Here's the grand finale.
It's easy to say "They just don't make shows like that anymore." But what's even more difficult to find are lead performers -- with years of experience under their belts -- who can carry a show. Looking back on recent movie musicals, it's almost impossible to find established female musical comedy stars (like Merman, Gaynor, and Monroe) who can move a film's plot along with song. The women who were major musical talents of the past quarter century have all been exploring other options.
At 53, Madonna has become more interested in producing and directing films.
Now 65, Cher's last movie musical appearance was in the ill-fated Burlesque.
Now 66, Bette Midler's last performance in a movie musical was as Mama Rose in 1993's made-for-television version of Gypsy.
Barbra Streisand (who turns 70 on April 24, 2012) last appeared in a movie musical in 1983's Yentl.
Still not convinced? Think of some of the women who starred in recent movie musicals:
Nicole Kidman in 2001's Moulin Rouge.
Renée Zellweger and Catherine Zeta-Jones in 2002's Chicago.
Nikki Blonsky in 2007's Hairspray.
Penélope Cruz and Kate Hudson in 2009's Nine.
Thankfully, a new movie musical starring Queen Latifah and Dolly Parton boasts a dynamite soundtrack and an extremely appealing cast. The two women co-star in Joyful Noise as members of the Divinity Church Choir in Pacashau, Georgia (a tiny town that has been hit hard by the recession and multiple foreclosures).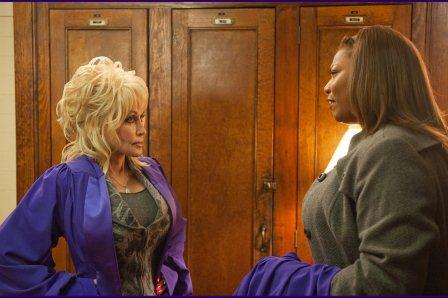 Dolly Parton and Queen Latifah in Joyful Noise
Vi Rose Hill (Latifah) is an angry conservative woman carrying a lot of emotional baggage.
Her husband Marcus (Jesse L. Martin) left their family to reenlist in the military for another tour of duty.
To keep her family afloat, Vi Rose has been working as a nurse during the day while waiting tables on a part-time basis.
Vi Rose's daughter Olivia (Keke Palmer) is a young woman weary of dealing with her mother's repressed rage, Biblical righteousness, and resistance to change.
Vi Rose's son Walter (Dexter Darden) is a teenage savant who suffers from Asperger syndrome.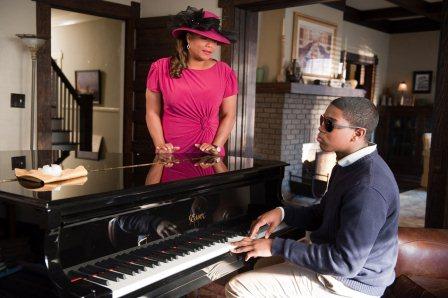 Queen Latifah and Dexter Darden in Joyful Noise
The gregarious, warm-hearted G.G. Sparrow (Parton) is Vi Rose's polar opposite.
No matter what disappointments come her way, G.G. tries to maintain a positive approach to life.
G.G. has never tried to walk away from her reputation as an earthy grandmother who enjoys the benefits of plastic surgery.
After G.G.'s husband Bernard (played by Kris Kristofferson) dies of a heart attack, she remains active in the church choir.
When Pastor Dale (Courtney B. Vance) chooses Vi Rose over G.G. to become the choir's new musical director, G.G. accepts the setback.
When G.G.'s musically gifted grandson Randy (Jeremy Jordan) returns to town unexpectedly, she doesn't hesitate to stick up for the young man's musical intuition.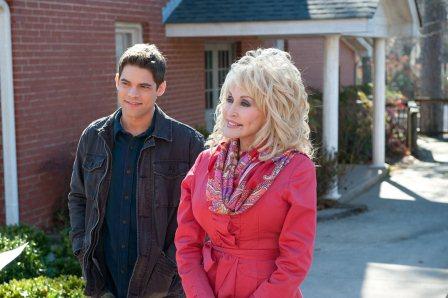 Jeremy Jordan and Dolly Parton in Joyful Noise
Several other relationships help to broaden the story.
The choir's choreographer, Earla (Angela Grovey), strikes up a friendship with Ang Hsu (Francis Jue), the only Asian man in the choir. After Hsu dies with a smile on his face, Earla meets Justin Tam (Roy Huang) an Asian chubby chaser whose employer has just relocated him to the area.
Randy and Olivia were close friends in school who, upon being reunited, realize they'd like to take their relationship to a higher level. However, Manny (Paul Woolfolk) has also had his eyes on Olivia. To make matters worse, Vi Rose intensely distrusts Randy. Rather than being threatened by Manny or intimidated by Vi Rose, Randy finds a way to include Manny in the choir's band, help Vi Rose's autistic son break through his shyness, and arrange for Olivia to visit her father at his Army base.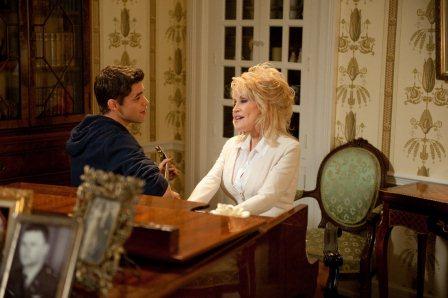 Jeremy Jordan and Dolly Parton in Joyful Noise
Part of what makes Joyful Noise so enjoyable is the way Graff has plotted personal relationships along both vertical and horizontal planes. Within the Hill and Sparrow families there are easily recognizable tensions between generations (which carry over into the musical choices being made for the church choir).
Each year prior to Vi Rose becoming its musical director, the Divinity Church Choir had lost the regional competition to Detroit's Holy Vision Church. Kirk Franklin (who portrays the choir leader for Holy Vision Church ) wrote "In Love" for the film, which he performs with a grand sense of funky panache.
Once Vi Rose and her group arrive in Los Angeles for the National Joyful Noise Competition, the audience is treated to a powerful opening number by Karen Peck. The hugely talented Ivan Kelly, Jr. appears as a young gospel singer from Our Lady of Perpetual Tears.
Joyful Noise was written and directed by Todd Graff, who modeled the character of Vi Rose on his mother. As he explains:
"I grew up surrounded by music, including a houseful of ladies coming over every Tuesday and Thursday night to sing while my mom conducted. It made an enormous impression on me. Money can be scarce, life can be scary, and bad things happen to people you love, but there's art and music and faith and family to make us happy in the world -- and to try and overcome is always worth the effort."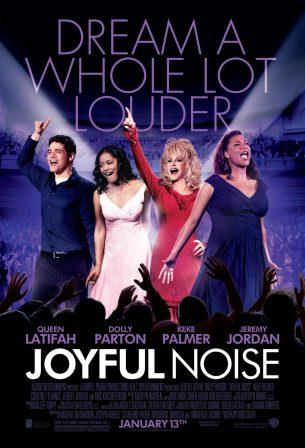 Poster art for Joyful Noise
This article was cross-posted on My Cultural Landscape. To continue reading, click here.
Calling all HuffPost superfans!
Sign up for membership to become a founding member and help shape HuffPost's next chapter