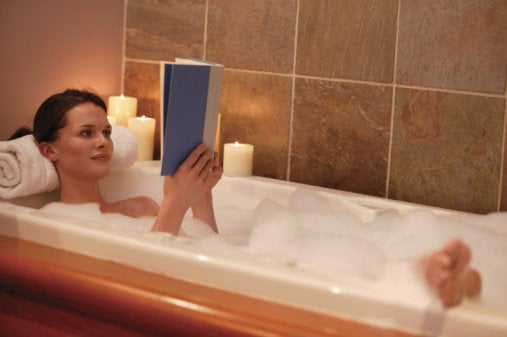 Americans are hardly in a tropical vacation getaway mood this summer. Many do not have vacation benefits, scores are out of work on a 'never-ending' vacation, and others are too afraid to take time off for fear of job security. As I wrote in an earlier post, American's are the worst vacationers, and the United States is the only developed nation that does not offer paid vacation as a required benefit. Millions do not have paid leave, and have not taken a vacation in years.
Despite the obvious benefits of getting out of the office, evidence continues to prove that when an employer offers paid vacation time to employees, it can dramatically improve performance, increase productivity and reduces stress. Funny thing is, while it is easy to point the fingers at the "big bosses" out there who are withholding paid vacation, many workers who have such benefits don't take a vacation at all -- and accrue weeks of unused time.
What if your employer offered unlimited paid vacation, with no strings attached -- too good to be true? Rosemary O'Neill and her husband, Ted, own a small business called Social Strata, and decided to do just that -- for all 10 of their employees. Initially, they wanted to help one employee who needed time to care for her injured husband, and decided everyone deserved the same option. Did their staff take off to Mexico for a month and abuse the privilege? Hardly.
"The staff were all surprised at first, because it really came out of the blue." said O'Neill, "But then there was a really warm feeling as everyone digested what it meant in reality. Everyone has expressed that they feel trusted and respected, and that was a big part of our goal."
Social Strata requires everyone to take two weeks off each year - removing any pressure not to take a vacation. Their flexible policies represent a small but growing segment of companies throwing traditional work hours out the window, with great success. Netflix has offered unlimited paid vacation for nearly a decade.
The genius of this concept is giving responsibility for renewal and self care back to individuals. Some employees with unlimited paid vacation elect not to take time off for three years, and then take a 90-day dream trip. Others use the time for paternity leave. Ultimately, a vacation is a state of mind. The purpose of a vacation is to leave your routine and slow life down a few notches. Some choose a fishing trip, others go antiquing in quaint towns and many rejuvenate with physical sports in the surf and turf.
Why is it so many American's don't take vacations anymore? Maybe because typical vacations have become as complicated as the rest of our lives. The reality for many is that a vacation requires planning, organizing, packing, buying crap, arguing with the spouse, fighting with the kids and coming home more exhausted than before. With life so frenetic these days, our tolerance for stress is maxed out.
Jon Kabat-Zinn argues that in an age of 24/7 connectedness, we're hardly ever connected to ourselves. Maybe we aren't taking vacations because what we really want is a retreat -- simple, quiet time to leave everything battery operated and screen flicking behind, to be alone, be quiet and recharge the batteries within. Aahhhh.
But wait! Taking a retreat can be scarier than a vacation. What? No phones, computers or checking in? What will happen? Our addiction to email and 'checking in' has become a near obsession. I have asked audiences recently how many times per day they check their emails. Five years ago it was a couple times per day. Now, even the older population confesses to checking emails nearly hourly at this point, and feels anxious if several hours go by without a quick peek, let alone days.
Even though we resist, "getting away from it all," it is vital to our health. The brain needs time to rest in order to channel deep thinking, get creative, imagine new projects and be inspired for daily tasks. With the "dog days of summer" officially over, there are just a couple of weeks left. Haven't taken a vacation and feeling a little stressed, or depressed? Consider creating a retreat just for you. Start with just a few hours, and then build up to a full day, or even an entire weekend.
First: a question. If you had four hours of uninterrupted time all to yourself, with no chores to finish, tasks to accomplish or people to see -- what would you do? Think carefully. Often the answers are exactly what you need to do for your retreat. Some common answers include: take a bath, read a book, go for a hike, or walk in the garden. I am consistently amazed that most of the answers people come up with are absolutely free!
Now that you have an idea or two, here are a few tips to plan your retreat:
Determine how much time you want to take. Be realistic. Sometimes it may be only 30 minutes! Even a little bit goes a long way.
If you plan to be unavailable for longer than a few hours, program your email with an automatic vacation reply. Sort of sneaky, but it helps your brain unhook and relax.
Prepare your space. If you are going away, leave computers and PDA's behind. If staying at home, cover all TV's and computers with lovely fabric and pull the batteries out of the cell.
Ok. Retreat time has arrived, what to do now?
Indulge in silence. Silence is a lost art. Try to take time to simply be still. Notice the sensations or urges that come up to be occupied. Just let them go and BE.
Choose one or two of the ideas that are deeply relaxing to you, and spoil yourself. Take a bath with candles, a cup of tea and bath salts. Going for a hike? Bring along some paper and stop along the way to contemplate, jot a poem or draw a picture. Let the right brain take over for a while.
Do something indulgent, like watching TV in bed with a bowl of ice cream in the middle of the afternoon, or create a homemade altar space to meditate.
Taking a retreat is not always easy -- just being with ourselves? Scary. Jennifer Louden, best selling author of the "Women Comfort Book" series, recognized she had to escape the rat race to THINK, and decided to take a month-long retreat from the world this summer: no emails, texting, Facebook or checking in. She felt she had to step away from daily obligations in order to access the deeper contemplative tools needed to move from one project to the next. She captures the fear of letting go beautifully in this post from afar, called "A Pile of You."
How about you, HuffPo readers? Have you escaped the world to be alone with yourself this summer? How did it go? Love to hear stories of what happened, how to truly unwind on a vacation or retreat and ideas to share. Enjoy!