Thanks to a hot, dry summer, it looks like the Northeast is in for an early foliage season. In some areas, colors are already beginning to peak through. Although a drought isn't a good thing, as someone who just relocated from California to New Jersey, I can't wait to see what's in store. Here are the five most interesting options I came across while making leaf-peeping plans. This list is totally unscientific. No readers have been polled, and no white-gloved experts have been dispatched, but perhaps it will inspire your own trip.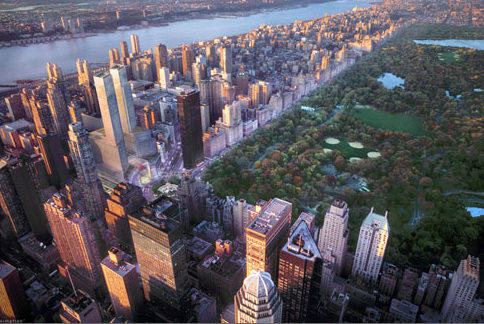 Courtesy of Mandarin Oriental
New York Although leaf-viewing would be contained to Central Park, this one might be my favorite. In honor of Fall Fashion Week (September 9-16), the Mandarin Oriental New York is offering a full-force style package through the end of September. It includes a one-on-one consultation with celebrity-stylist Stacey Mayesh and a personal tour through Manhattan's boutiques and department stores. I love Mandarin Oriental, but more importantly, I need the fashion help. In fact, if you want to nominate me for "What Not to Wear," I won't stop you. Writing from home means I can work in my pajamas, but seriously, should I?
Woodstock, VT Any movie-goer (Baby Boom, White Christmas) knows there is no more fabled place to experience fall than small-town Vermont. If you're looking for quaint, you can't go wrong with an inn that has been welcoming guests, in one form or another, for more than two-hundred years, especially if said hotel is about to unveil a $10 million spa. The Woodstock Inn & Resort, an upscale hotel in the heart of nostalgic Woodstock, will open its LEED-certified, nature-inspired spa on September 1. Embracing the trend toward local ingredients, treatments will incorporate pumpkin spice and maple sugar along with Vermont organic wool blankets.
Killington, VT If an early fall means an early start to the holiday-season calorie blitz, hustle into a better starting position. A more ambitious version of fall fun would include a stay at the New Life Hiking Spa in Killington, Vermont. Recently named one of the top ten fitness vacations in the world by Today/MSNBC, the weight-loss spa is serious about getting its guests in shape with activities that include everything from yoga and Pilates to weight training and water aerobics. But hiking is the real lure, especially this time of year when the fall foliage of the Appalachian Trail offers an awe-inspiring incentive to whip your buns into shape before it's too late.
Montreal Cruising has its critics, but sometimes I just want to skip the planning and the packing and see eight cities from one room. As long as I'm dreaming, I'm gonna go with Crystal Cruises' eleven day Glory of Autumn sailing (September 30 through October 11), which starts in Montreal and ends in New York with stops in Quebec City, Halifax, St. John, Bar Harbor, Boston, and Newport, Rhode Island. If you're like me -- an old person at heart -- you'll appreciate a cruise with academic lectures and cooking classes in place of hairy-chest contests and towel origami. That said, even with Crystal's 20th anniversary sale, it is big-ticket with a starting price of $4,490, so I'll also mention the easier-to-budget seven-day Canada/New England on the Carnival Glory. My husband and I sailed to the Caribbean on the Glory last year and were pleasantly surprised by the food and service. Believe it or not, the menu in the dining room (not the buffet) rivaled Crystal. The fantastic food did come with a bit of "fun ship" schlock, however. It wouldn't be Carnival if the servers didn't pull out maracas and sing "Hey Baby (if you'll be my girl)."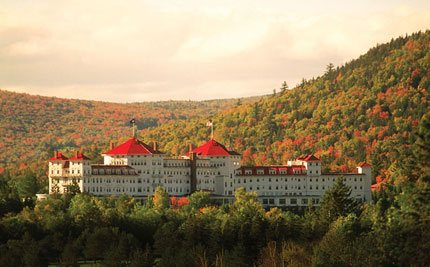 Courtesy of OmniHotels
Bretton Woods, NH I'm going out on a limb with this one - it could be corny, or it could turn out to be really cool. The Bretton Woods Canopy Tour in New Hampshire's White Mountains will let you do more than peep at those leaves. With ten zip lines, two suspension bridges and a series of rappel descents, you'll truly get up-close and personal with the fall colors. Interestingly, the zipline is located on the grounds of the luxurious Omni Mount Washington Resort, which adds to both its allure and its possible cheesiness. Since I'm way off the back with this zip-line trend, I may need to harness up just to form an opinion. Adventurous or hopelessly passé?
Related