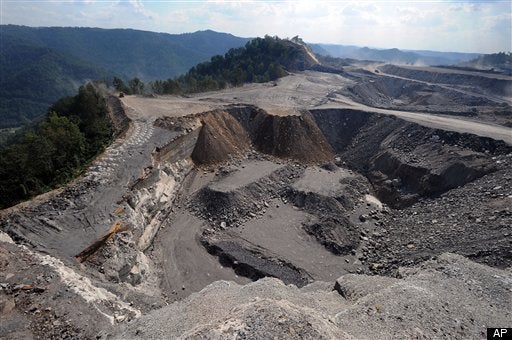 This Thanksgiving, residents in Canton and Orion Township in Fulton County, Illinois will enjoy the basic human right of clean drinking water -- though, not without a fight.
Since 2007, a broad alliance of farmers, business people, health care professionals, teachers, attorneys, students and retirees, and camping, hunting and fishing enthusiasts, has come together under the umbrella of the Canton Area Citizens for Environmental Issues (CACEI) group to protect their area's sole source of drinking water -- Canton Lake -- from the most ill-conceived and potentially disastrous strip mine proposal in the historic Spoon River and Illinois River region.
"I have not seen any contingency plans for drinking water in case of pollution or emergency," CACEI President Brenda Dilts noted in an interview (see below). "One of our major concerns is the lack of a disaster plan in case of pollution to the creeks or Lake."
At a special Illinois EPA hearing in Canton on December 6th, affected residents will learn whether their right to safe drinking water will prevail over a rogue coal operator's reckless plan to strip mine and release toxic discharges in the Copperas Creek and Canton Lake watershed. Also at risk: anywhere from 200-300 overloaded coal trucks will barge daily through the Main Street of Canton, in front of schools, nursing homes, shopping centers and residential areas.
"The fiery trial through which we pass, will light us down," fellow central Illinois stalwart Abraham Lincoln once warned the nation, "in honor or dishonor, to the latest generation."
Never has that admonition over legacy seemed as clear as in the fight over the North Canton strip mine, where the Illinois EPA has seemingly overlooked the health and human concerns of the affected communities and issued a draft NPDES Water Discharge Permit and Water Quality Certification.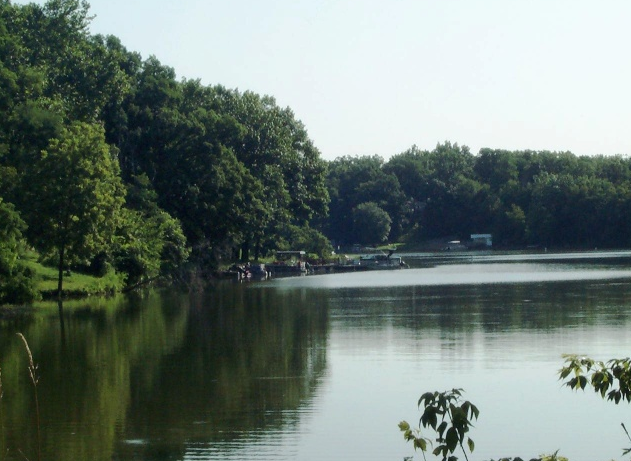 Canton Lake, courtesy of Prairie Rivers Network
Central Illinois is hardly a stranger to strip mining; the "rape of Appalachia," as author Harry Caudill once wrote of his devastated eastern Kentucky hills, got "its practice in Illinois." The birth of industrial strip mining, in fact, took place in nearby Vermilion County in the 1850s. As early as 1940, the destruction of central Illinois farms and waterways was so widespread that conservative Republican Sen. Everett Dirksen attempted to introduce the first federal legislation to regulate strip mining.
More than seven decades after Dirksen's first effort to rein in rogue operators, Canton and Orion Township residents are not only fighting a rogue coal company, which is currently entangled in an unprecedented lawsuit with the Attorney General for more than 300 Clean Water Act violations at a nearby strip mine in western Illinois, but also a seeming gag order by the local newspaper for discussion, and an increasingly out-of-control state regulatory process.
Working with hydro-geologists and engineers, CACEI has held numerous educational forums and made presentations at city council and county board meetings, and at the local Spoon River College and schools. The group has also sponsored an annual clean-up day at Canton Lake and Youth Acres, and donated trees for Earth Day celebrations.
As CACEI prepares for the pivotal December 6th IEPA hearing, I did this interview with Brenda Dilts, President of CACEI and a long-time Canton resident.

Jeff Biggers: How has the local newspaper, the Canton Daily Ledger, served to provide information and views on the proposed strip mine?
Brenda Dilts: In the years of 2007 to approximately early 2010, the local newspaper, Canton Daily Ledger, allowed members to write articles, submit letters to the editor and opinion column as well as updated information on the progress of moving toward an administrative hearing. When the paper had a change in management, the new publisher stopped all discussion in the paper concerning the mine issue. CACEI uses radio (WBYS), Fulton Democrat newspaper and city cable TV channel to publicize information to area residents. We have walked door to door handing out flyers; have mailed flyers and e-mail and notes to family, friends and neighbors. Facebook and CACEI website have been helpful to educate the public concerning the water flow of the watershed.
Not only has the local newspaper denied the issue to be brought before the public and discussed, local government and economic heads have also stopped us from bringing the issue forward by interfering with our efforts with negative faxes, phone calls, and personal contacts to sources that have given us help or support.
JB: Canton Lake is the sole source of drinking water for more than 20,000 area residents. Have you ever seen any contingency or emergency plans for drinking water, if the proposed mine ever resulted in toxic discharges, leaks or accidents? And if so,
BD: I have not seen any contingency plans for drinking water in case of pollution or emergency. One of our major concerns is the lack of a disaster plan in case of pollution to the creeks or Lake. Recently I obtained from the city attorney a copy of a contract with a buyer of Canton water. There is no remedy given except that the supply of water to the consumers would be equally diminished or reduced to each user of Canton water.
Another concern is that should Canton Lake become polluted there is no alternate source of water in place. Banner Wells (aquifers) is under construction, but it has not been tested for any length of time operation to see how the pumps performed, under different weather conditions such as drought or floods and if the Banner Wells can provide enough water to Canton and its users. The Banner well water will most likely cost the consumer more. The cost of electricity for the pumps will add to the cost of the water as currently the water is gravity fed into the water treatment plant. The Banner Wells should be established for a period of time before using them as a source of water.
North Canton Mine plans to hold back Copperas Creek to fill impoundment ponds. The plans call for 38 million gallons of water to be held back from Canton Lake. This will affect the quantity and quality of Canton Lake water. Soil runoff and acid runoff will also affect the water quality.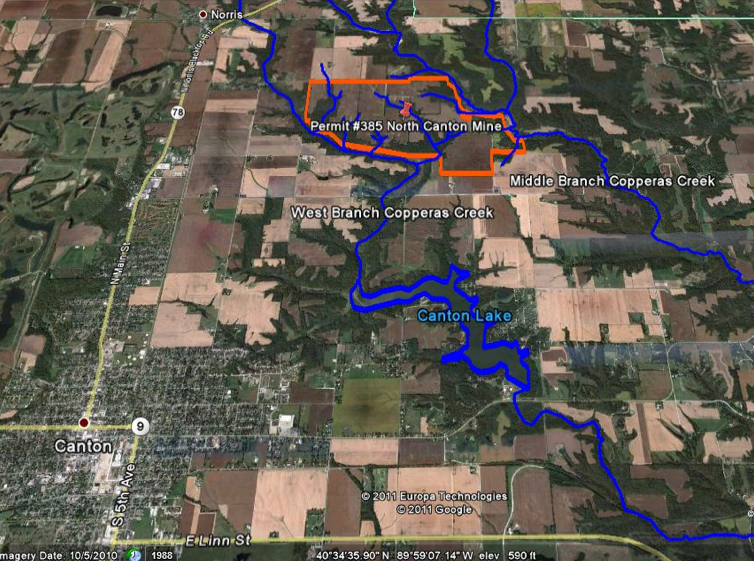 Copperas Creek and Canton Lake map, courtesy of Prairie Rivers Network
JB: Where will the coal be cleaned and the slurry deposited from this mine?

BD: According Greg Arnett, former employee and now spokesperson for Capital Resources Development Company LLC, the coal will be shipped "dirty" and will be stored temporarily on the mine site. To my knowledge there has been no discussion of slurry. Many facets of the mining operation were overshadowed by the local economic development telling us how many jobs would come to our area. There was testimony after testimony on jobs.
JB: Describe the general route proposed for the coal trucks, ie, what businesses, schools, streets that could be used?
BD: Again at the public hearing and later, Greg Arnett was unsure of how the coal trucks would leave the mine site. He did state that the coal would most likely be transported to the Port of Mapleton. If that is so, the 200-300 trucks would be traveling south of the mine on State Highway 78 North which is the City's Main Street, past business, nursing home, elementary and high school, three park entrances, fast food area, a small shopping mall, residential areas, and on to State Route 9 which includes E. Locust St., 5th Av and Linn St. All of these streets are the busiest ones in Canton and are the only through streets from north to south and east to west in Canton.
JB: Describe how area farmers and residents near the mine will be affected? Describe natural habitats that would be affected?
BD: This mine site is located very close to many farms, homesteads, new subdivisions, and community of Brereton whose homeowners rely on wells for a water source. This area of Canton Township is the fastest growing township in the County. Brereton is within within the ½ mile boundary for wells and blasting regulations. There are historic sites such a colonial period home foundation, cemetery and an underground railroad dating to the Civil War.
Not only will these residents have to put up with the noise of blasting and machinery 24/7, there is air pollution, dust, grit and light pollution. North Canton Mine wants to vacate Brereton Rd. and Indian Trail Rd. for the duration of the mining activity. This will cause a hardship for residents including extra mileage to travel to highway, slow emergency help, postal service, school bus service and any other type of traffic. Home values will decrease as well as property taxes which will have an affect on all public bodies relying on county taxes. Sales tax on coal is "iffy." If coal is sold to a municipality or a state owned facility or out of state, there is no sales tax collected.
The mine site is within 1 ¼ miles to Canton Lake, location of Canton Lake campsites, fishing, boating, hiking, and Youth Acres which serves approximately 3000 boy and girl clubs and scouts throughout the year. It will conflict with both the City and County tourism plans to boost the local economy.
Many hunters use the area to hunt deer and wild turkeys. Bald Eagles have been seen in the immediate area as well as pileated woodpeckers, mink and many different types of aquatic life. The area is home to all the usual owls, rabbits, raccoons, and other small animals.
Farmers that I have spoken with seem to be concerned about the additional water being discharged into Middle Copperas Creek as it could cause soil erosion of farm land along the creek bed and flooding of fields. Others were concerned about the impact on livestock that might drink or wander into the creek.
Canton Lake and the farm land are much more valuable for economic growth than a short-term strip coal mine.
Popular in the Community