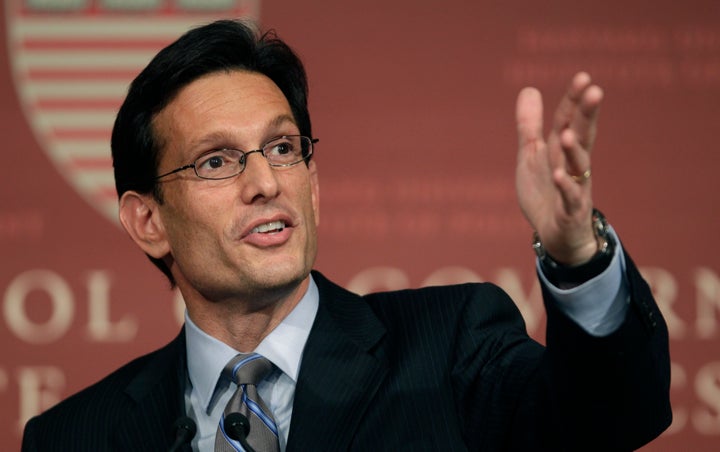 WASHINGTON -- House Republicans will introduce legislation, likely by the end of this week, that would make it so that if Congress is unable to come to an agreement over an operating budget, the GOP's version would simply become law of the land.
The bill, titled "The Government Shutdown Prevention Act," is designed for the purpose described in its title. In terms of partisan equity, it's lacking.
Announced by House Majority Leader Eric Cantor (R-Va.) on Wednesday, the legislation would make it so that "if the Senate fails to pass a measure before April 6, 2011 providing for the appropriations of the departments and agencies of the Government for the remainder of fiscal year 2011, H.R. 1 (as passed by the House on February 19, 2011) becomes law." The bill also stipulates that Members of Congress and the President will not get salary payments in the event of a shutdown or the U.S. debt limit being reached. (The bill would require Senate passage and the president's signature to actually become law.)
The idea that Congress would use the GOP's preferred spending levels as a de-facto fall-back should a shutdown become imminent (the government runs out of funds on April 8) ignores the fact that Senate Democrats have rejected passing HR1 since the onset of the government funding debate. Why not, as Democrats are bound to do, insist that the current spending levels be the law of the land should no agreement between the parties be reached?
Still, Cantor and his office did their best on Wednesday to pitch the bill as both critical and sincere -- perhaps cognizant that it would re-frame the Virginia Republican as someone wary of shutting down the government.
"That is a question for Leader Reid and Senator Schumer, but it is our hope that this bill will, at a minimum, spur the Senate to pass some bill funding the government for the rest of the year so that we can work quickly to resolve any differences," said Cantor spokeswoman Laena Fallon. "If they still fail to act, passing this bill would at least keep the government open. This bill would also ensure that if there are ever any future government shutdowns that Members and the President do not receive their pay for such periods."
Fallon said that "The Government Shutdown Prevention Act" would likely be introduced Wednesday afternoon so that lawmakers had the required amount of time to consider and debate it. The goal, she added, was to vote on the legislation by the end of the week.
It's worth noting that Cantor might not be entirely in the loop as to the progress of the budget negotiations--which could explain why he's offering such a gimmicky bill.

Calling all HuffPost superfans!
Sign up for membership to become a founding member and help shape HuffPost's next chapter