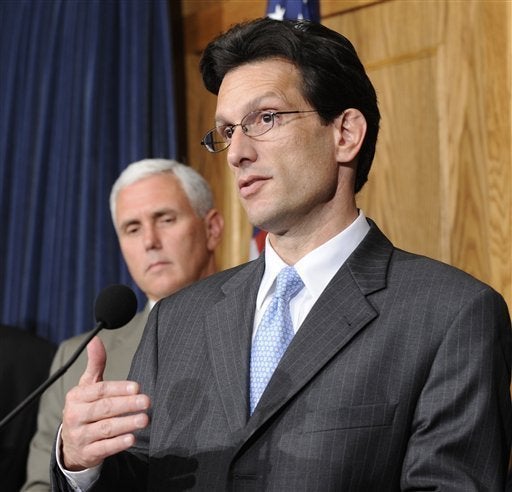 House Minority Whip Eric Cantor gave further indication on Thursday that the default position of the Republican party will be to oppose Democrat-written health care legislation even if its key provision, the public plan, is drastically watered down.
The Virginia Republican said that if a health care bill includes a trigger for a government-run health insurance plan or merely co-operative insurance plans in its place, conservatives would be ideologically opposed to the legislation.
"The public option, which is the essence of HR 3200, to me is a non starter," said Cantor during his appearance at The Atlantic's First Draft Of History conference. "I do not believe you can take a bill that puts Washington in the business of making rules and then says Washington is going to be a competitor under those rules. You can't do that because you will drive people into a single-payer system. I just think fundamentally, when you talk public option, whether you call it trigger, whether you call it co-op, if you got the structure in place of mandating individual and employer insurance purchasing coverage and then you are defining what it is you're mandating, and then you are putting the government either as a backstop, a trigger or an option you can't see how that doesn't end up with bringing people out of the system."
What Cantor's remarks suggest is something that progressive activists have long warned: that regardless of the changes made by Democrats to the public plan there is little chance of recruiting GOP support. Indeed, when asked whether he would be willing to back a public option as part of a deal for caps on malpractice lawsuits (a GOP cause celebre), Cantor replied: "I don't think I would make that trade."
And yet, at this juncture in the health care debate, the views of Cantor are of somewhat secondary importance. The legislative spotlight now is squarely on the group of conservative Democrats (both in the House and Senate) who aren't fully committed to supporting the prospective bills in their chambers. And the lone Republican worth following appears to be Sen. Olympia Snowe of Maine, who seems likely to back a trigger provision for the public option, considering her earlier push for the proposal.
Popular in the Community