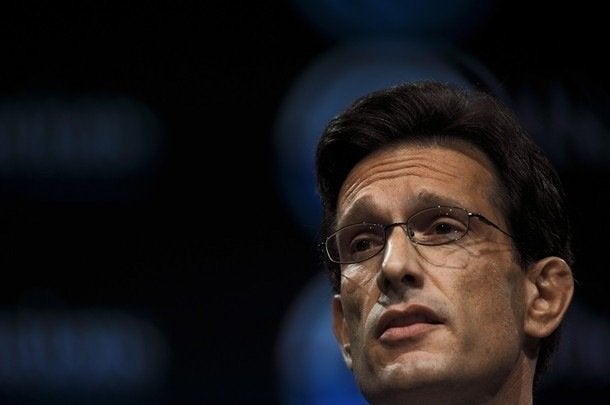 Back in February 2010, House Minority Whip Eric Cantor (R-Va.) made a pitch to the titans of the financial services industry. "I sense a lot of dissatisfaction and a lot of buyer's remorse on Wall Street," the Virginia Republican said, referencing the industry's supposedly souring relationship with the Obama administration.
The remarks, delivered in the pages of the Wall Street Journal, were part of a broader effort to splinter the relationship between Wall Street donors and the Democratic lawmakers they helped fund to power in 2006 and 2008. For a cynical observer, they appeared to be a signal that the GOP was prepared to do the financial services industry's bidding.
Either way, they appeared to have worked. Months later, an emerging campaign theme is the Democratic Party's trouble collecting Wall Street donations. The Republican Party, save for a handful of members, voted en masse against financial regulatory reform and some GOP lawmakers have pledged to repeal the final product. At the same time, it has been widely reported that Obama has a frosty relationship with the business community. And, perhaps most tellingly, Cantor has seen his campaign coffers bulge.
Data released on Wednesday morning by the good government group Public Campaign shows that Cantor received more than $460,000 from the financial sector during the second quarter of 2010. That total represents a "32 percent increase from the average of the previous five quarters," the group found. And the donors included some of the biggest names on the Street as well as those they pay to lobby on their behalf in Washington.
Donors from Goldman Sachs gave $15,600 to Cantor in the second quarter of this year. Donors from Bank of America offered checks totaling $6,000. Equity Group Investments officials forked over $10,800 and American Express employees donated $7,500. "In the second quarter of 2010," Public Campaign reports, Rep. Cantor received $18,250 in donations from registered lobbyists and firms that have Wall Street clients.
There are multiple ways to interpret the findings, each with the common thread that Wall Street is cozying up to Republican leadership. Earlier this month, the Washington Post reported that contributions from Wall Street donors to the Democrats' two congressional campaign committees are way down, though the party is still favored by the securities and investment industry in the 2010 election cycle so far, according to the Center for Responsive Politics.
Cantor's office, pressed for comment, framed it as a natural marriage between like-minded free-enterprise theorists.
"Eric Cantor believes in a robust, free market economy that will get people back to work," said spokesman Brad Dayspring. "Many people in the business community, small and large, believe that President Obama and his allies either don't understand what it takes to get people back to work, or worse, use hostile rhetoric that is anti-businesses... With that in mind, it's natural that many in the business community -- particularly disenfranchised Clinton Democrats who understand the importance of private business -- are supporting people they believe know how to get the economy moving again."
But David Donnelly, the national campaign director for the Public Campaign Action Fund, offered a more cynical take on the trend, going so far as to call on the office of Congressional Ethics to investigate Cantor for doing Wall Street's bidding.
"Whether Eric Cantor promised Wall Street that Republicans would stay bought might never be known. But what we do know is that in their efforts to fight financial regulation, Wall Street bet heavily on Cantor by giving large amounts of campaign money to him and his PAC -- much more so than in the past. It's another example of Washington's money problem: when legislation and fundraising mix, everyday Americans are shut out."
Popular in the Community