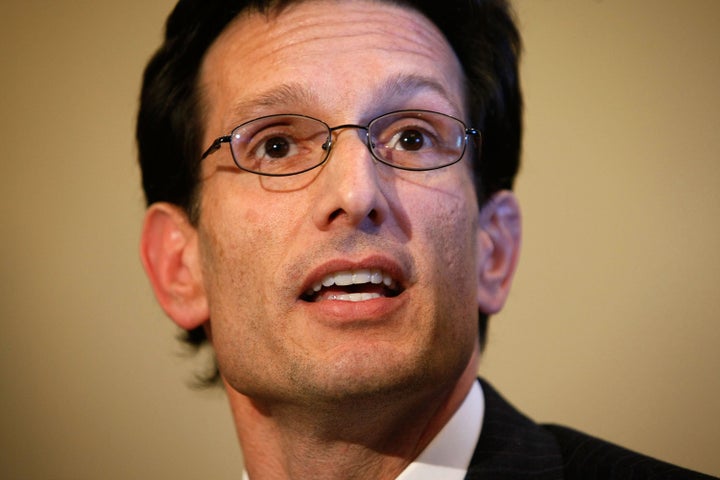 For the third straight quarter, House Minority Whip Eric Cantor (R-VA) has paid several thousand dollars for the services of professional speaking coaches.
The Virginia Republican wrote a check for $6,000 on July 22 to Podium Master, a Tennessee-based consultant that advises clients on their communication skills, according to federal campaign finance filings. That total comes on top of the $7,697.25 Cantor paid to Podium Master last spring and the $3,392.55 he doled out in the winter. In all, the third-ranking member of the House Republicans has spent more than $17,000 this year on speech consultants.
The expenditures have, in the past, spurred speculation that Cantor is polishing himself for pursuits at higher office or a more national media presence. And, indeed, paying for three consecutive quarters of lessons does give off the impression that the congressman has long-term plans on his mind as much as a desire to overcome a short-term fear of public speaking.
Still, Cantor is one of the most high-profile figures within the party. And his rising star power within the GOP has been attributed, in part, to his ability to handle intense media exposure.
His spokesman, Brad Dayspring, did not immediately respond to a request for comment, but in the past he has hinted that the congressman views the speech lessons as a work-related expenditure.
"Professionals in any trade, whether it be law, medicine or journalism, continually train to further their education and maximize their job performance for their employers, and Mr. Cantor works extremely hard to do the best job possible for his -- the constituents of the 7th District of Virginia," Dayspring told Politico back in April. "Just like the president and members of his Cabinet, most senators, and nearly every other member of Congress, Mr. Cantor attended media training to be thoroughly prepared to do his job."
Testimonials on the firm's Web site includes former secretary of state Colin Powell; former Senate majority leader Bill Frist (who at one point contemplated a run for president); and former president George W. Bush, who sought the help of Podium Master back when he was governor of Texas positioning himself as a future presidential candidate.
Calling all HuffPost superfans!
Sign up for membership to become a founding member and help shape HuffPost's next chapter