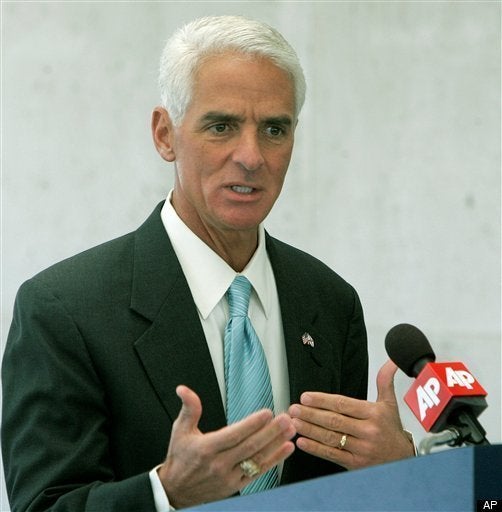 Hours after formally endorsing Marco Rubio in the Florida Senate race, House Minority Leader Eric Cantor (R-Va.) took a hammer to his opponent in the upcoming primary, all but accusing Gov. Charlie Crist of lacking principles.
Speaking at an conference hosted by The Week Magazine, the Virginia Republican called Crist's position on several key political issues "really puzzling."
"He embraced the stimulus bill, which I think, pretty much, there is close to unanimity that that bill fell short in terms of accomplishing [its] goals," Cantor said. The congressman then pivoted to a veto Crist made of an education bill that would have eliminated tenure for new teachers and linked salaries to student progress.
"How is it that he could have done that?" Cantor asked. "[Y]ou have to wonder what Charlie Crist stands for at that point. And what people are looking for in leaders right now is a genuineness, a sense of purpose and a commitment to principles. That's why I decided to endorse Marco Rubio."
The indictment offered by Cantor reflects the near complete ostracism of Crist from the national Republican Party. The Florida Governor has watched his standing within the GOP slip as he has embraced small, but significant, portions of the president's economic recovery agenda. But in recent weeks he's gone from living on the outskirts to being an outright outcast.
The National Republican Senatorial Committee has privately urged him to leave the race, saying there is "zero chance" he can win. Longtime backer, Sen. John McCain (R-Ariz.) said he could not support the governor should he (as rumored) leave the GOP for an independent bid. And on Tuesday, Cantor put his hat in the ring for Rubio -- following an earlier endorsement by former Massachusetts Governor Mitt Romney.
Things are so bad for Crist, he has even become a punch line for Democrats. Speaking minutes before Cantor at the The Week event, White House Chief of Staff Rahm Emanuel had a little fun at the governor's expense.
"Joe is here," Emanuel said, of Joe Scarborough, the MSNBC host and former Republican congressman who was part of the evening's festivities. "Joe and Mika [Brzezinski] have a great show on MSNBC called Morning Joe. A very successful show. As Joe has proven there is life after politics for the politician, I think that will be heartening for Charlie Crist."

Popular in the Community