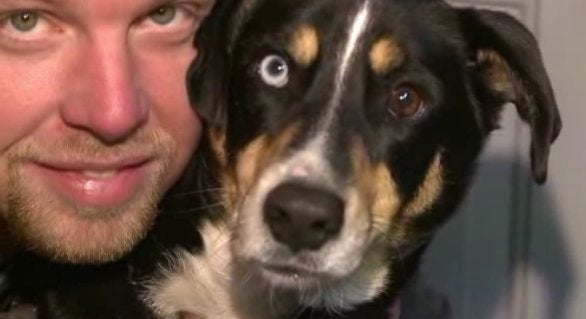 In 2008, Canyon the dog went missing from his home in West Branch, Iowa.
And after more than three years, Canyon was finally found safe and sound -- but in Aledo, Ill., more than 70 miles away, WQAD reported. Canyon's owners, Justin Ellyson and Carrie Lentner, received a phone call from the Mercer County Animal Control Department, which found a microchip in Canyon's back, leading them to a phone number.
The woman at the animal control department "says, 'Well, it's a black one,' and I just started crying," Lentner told WQAD. "I was like, 'It's Canyon! They have Canyon! We gotta go get him!'"
Pet owners often choose to have microchips, which include an identification number, implanted into their pets. This ID number can be looked up to find contact information for the owner, according to the Human Society of the United States. The microchips are about the size of a grain of rice and are implanted by a vet with a needle.
Canyon joins the ranks of other wayward animals who have found their way back to their owners after being taken as lost for good.
Jack the cat, who went missing at JFK airport in New York City, was found by American Airlines after a two-month search. Jack's owner had checked in the cat in a pet carrier while flying from New York to San Jose during the Hurricane Irene weekend, but Jack somehow escaped.
And this September, Willow the calico cat was found in New York City, five years after she went missing from her home in Colorado near the Rocky Mountains. Willow was found on East 20th Street in Manhattan, and taken to a shelter where an implanted microchip with identifying information was found.
Related