While visiting Ho Chi Minh City, Vietnam, a friend recommended we take a quick weekend trip to the city of Da Lat. We jumped at the chance! All my friends and I had to do was choose between a six-hour bus ride or a one-hour plane trip to try the extreme sport of canyoning.
Canyoning is the term used for hiking through a canyon, which involves navigating rough and steep terrain. This requires you to climb, swim, jump and repel. Canyoning tours are offered by several companies in Da Lat, all of which have their own guides and gear to get you in, and out, of the canyon.
At 8:00 A.M. our tour guide picked us up from our hotel. 15-minutes later we stopped, seemingly in the middle of nowhere, to gear up. The quality of the equipment we were using was one of our major concerns, it looked like it was in good shape and our guide assured us it was of the highest quality, recently purchased from Singapore.
A quick hike into the forest brought us to our practice hill. Here we learned how to use the equipment and move along the rope. A short walk from the practice hill brought us to our first challenge, a 15-meter cliff. Being the first cliff we had ever repelled down, we took our time and reached the bottom, ending in a deep pool of water, unharmed.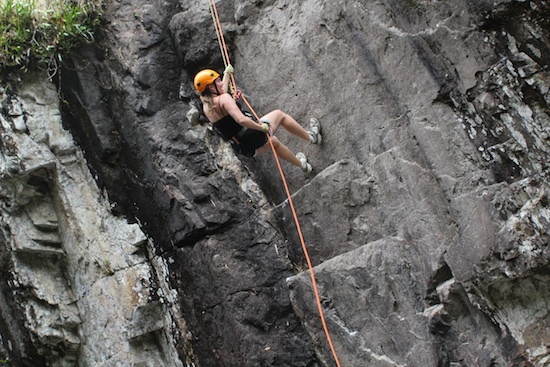 Next we made our way to the slides: a small waterfall with somewhat smooth grooves that you could slide down into the water below. We slid down front-ways, backwards, and as a group and, although it was a little rough, it was a ton of fun.
After the slides we headed to the biggest challenge of the day: a 25-meter waterfall that we were to repel down. We walked slowly off the cliff face that was slick with water. At the halfway point the falling water prevented us from being able to look at the guide on top. Adding to the adventure near the bottom the rope was about three meters too short forcing us to let go of the rope and jump in.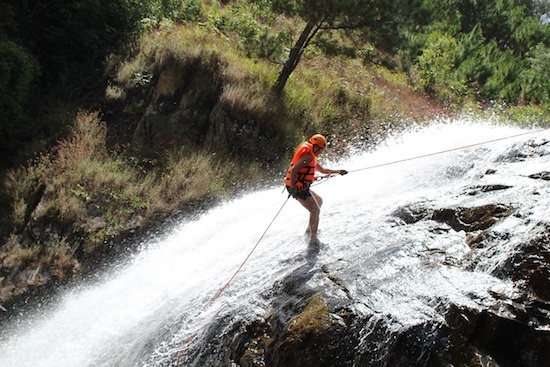 We celebrated our morning canyoning excursion with bahn mi sandwiches and fruit for lunch. It tasted all the better because it was so hard-earned. We wrapped up our day with more cliff jumping and a thrill seeker's dream of dropping through the "Washing Machine". It's crazy because you're hanging on a rope but, with the waterfall rushing over your body, you're technically under water. It feels like you're in the water for a few minutes, but it's actually just four seconds.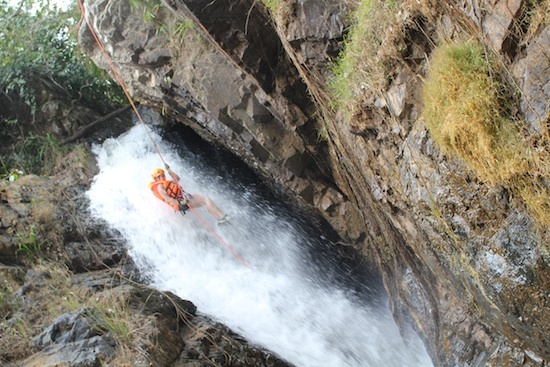 If this is something you want to experience, at least give yourself a couple days to explore Da Lat. It is a little too far for a day trip from Ho Chi Minh City. The price is reasonable, as it includes equipment, education, guiding and support; they also provide you with a waterproof bag so you can bring a camera along to get pictures of you being super adventurous.