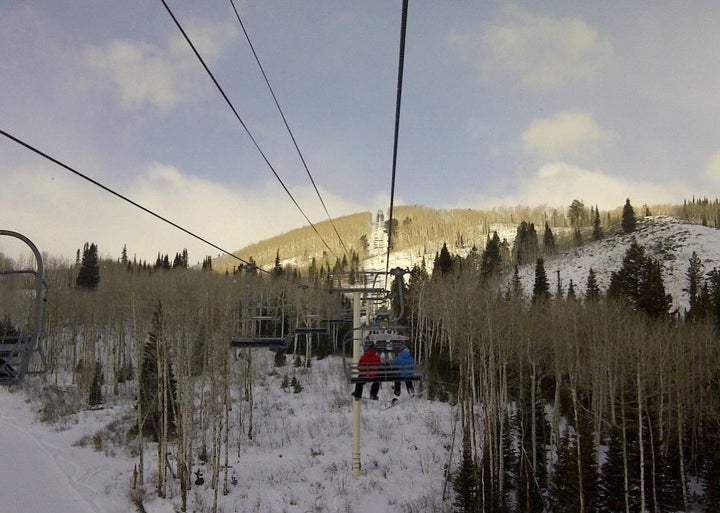 is an upscale ski destination located in Park City, Utah, about 35 miles east of Salt Lake City International Airport. An extensive
in 2010 added additional amenities and wow-factor to a ski haven that for years has appealed to a demographic looking for something between nearby Deer Valley's ultra-luxe atmosphere and Park City Mountain's laid-back, but boisterous youthful vibe. Although technically in Park City, Canyons is one of
clustered within 50 miles of Salt Lake City and bills itself as
.
As is typical of a Utah ski resort, Canyons is a powder lover's paradise, with more than
every year. The season typically begins in late November and usually ends in mid-April. Although there are nine peaks at Canyons, the main peak is known as
-- appropriate for a mountain whose elevation is 9,990 feet. Skiers can expect a vertical drop of 3,190 feet amid a wide variety of terrain and trail types and lengths. Beginners are welcome on the Canyons slopes, but most of the trails are geared toward intermediate and expert skiers. And if Mother Nature should fall short, the resort has its own snowmaking equipment.
At Canyons, choosing a trail can be a difficult decision, as there are
. Of those, only 10 percent are suitable for beginners, while 44 percent are rated as intermediate and 46 percent are for experts. Expert skiers should
down Devil's Friend (for moguls) or The Pines (great for powder). Canyons has
: five quads, six high-speed quads, two doubles, two triples, two surface lifts, one high-speed six-pack and one gondola. The resort has one terrain park, five bowls and six natural half-pipes. It's all spread out over
. There is no nighttime skiing, but
and
are available.
Adjacent to Canyons Resort is
, where competitions in bobsled, skeleton, luge and the Nordic ski jump were held during the 2002 Winter Olympics. The park is still in operation and is used by amateurs and professionals alike. The world's biggest and brightest movie stars are drawn to Park City
for the
, and Canyons is home to the
. The popularity of Utah resorts has led to automobile traffic problems in the area, compelling government officials to propose some novel solutions, such as a
to connect some resorts.
At Canyons,
range from $79 for a one-day adult pass to $47 for a one-day children and seniors pass. Multi-day passes are also available, ranging from $474 six-day, adult admission to $110 for two-day passes for children and seniors.
can also be purchased. A wide variety of equipment is available for rent including skis, snowboards, helmets and more.
, but expect to pay about $5 daily for poles and as much as $264 for a competition-caliber equipment package for seven days. Brands available include Rossignol, Burton and Giro. School is definitely in session at Canyons, where
to teach the basics and fine points of skiing and snowboarding. Group lessons for
cost as little as $83, while
for up to two people cost $397 and up.
After working up an appetite, visitors to Canyons Resort can enjoy an eclectic mix of hospitality offerings. One food cart tempts skiers with
, while
is the first certified glatt kosher restaurant that's open year-round at any U.S. ski resort. Bruges Waffles prepares tummy-pleasing Belgian waffles, and Lookout Cabin makes its mark with traditional Rocky Mountain cuisine. Skiers or snowboarders in need of some TLC and pampering can head to the
for massages, beauty treatments and more.