When landscape designer Lancelot 'Capability' Brown was invited to work in Ireland, he famously replied: "I haven't finished England yet." During his prolific career, the farmer's son from Northumberland transformed half a million acres at nearly 270 estates, including the real Downtown Abbey, Highclere Castle. This summer and fall, Brown's 300th birthday is being celebrated with special exhibits and events across England and Wales.
Brown launched his career at Stowe in Buckinghamshire, where he managed 5,000 acres and 35 gardeners. Whig politician Lord Cobham spent a fortune on the estate, hiring celebrated architects and landscape designers like William Kent who became Brown's mentor. Inspired by European landscape paintings, Kent and his clientele were moving away from formal gardens to a more natural style.
Hidden away behind a grove of trees stands St. Mary's parish church, all that's left of a medieval village. It's here Brown married Bridget Wayet in 1744 and four of their six children were christened; the register is on display inside. The Brown family lived in the ornamental Western Boycott Pavilion located in the parkland near the Oxford Bridge. Wooded trails lead to the heart of the Brownian landscape -- the Temple of Victory and Concord, Cobham Pillar, and Grecian Valley. Fittingly, Brown's Temple is the venue for afternoon tea and an exhibit exploring his decade at Stowe (through October 30). To add drama to the Grecian Valley, Lord Cobham placed statues along its perimeter of Hercules' labors. As part of a project to reinstate the lost monuments sold at auction in 1922, a cast of Hercules and Antaeus was recently installed near Brown's Temple.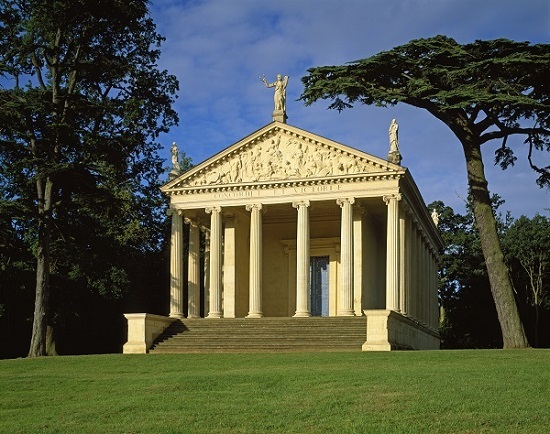 Brown's Temple of Concord and Victory at Stowe, © National Trust Images
In 1752, the 6th Earl of Coventry, heir to 15,000 acre Croome Court in nearby Worcestershire, hired Brown as an architect to replace his family's damp Jacobean house with a fashionable Palladian residence. Brown faced the mansion in cream-colored Bath stone, and added corner towers and an Ionic portico. To improve the views, he moved the village a mile away and relocated the church to the top of a hill. When Coventry engaged neoclassical designer Robert Adam, Brown turned his attention outdoors. This was the first of many collaborations between Brown and Adam, including Lord Bute's Luton Hoo (now a luxury hotel near Luton Airport) and the Duke of Northumberland's Syon House in London.
To deal with the boggy site, Brown built a network of underground pipes and drains that channeled water away from the house into a hand-dug river and lake. His 1½ mile river appears to meander off into the distance; it actually ends suddenly behind carefully placed trees and shrubs. Brown also indulged Coventry's passion for botany, importing thousands of varieties from Holland and France. To create bucolic views while keeping the sheep out of the garden, Brown adopted an innovation by Stowe's Charles Bridgeman -- the "ha-ha" or sunken fence. Brown repeated this illusion at many estates, eliminating the need for livestock fences.
Thanks to a restoration program by the National Trust, visitors can meander along the original pebbly paths at Croome Court, which Brown called his "first and favorite child." Brown's artificial lake continues to fool nesting swans each April, with clutches of cignets following in the summer. Adams' Temple Greenhouse, which once housed Coventry's exotic plant collection, now displays an exhibition by the Embroiderers' Guild called "Landscapes of 'Capability' Brown". This fall, Brown's portrait by Nathaniel Dance goes on view in the house along with a painting of Croome from 1758, maps, letters and account book (Sept. 25 to Dec. 18).
As Brown's star rose, commissions poured in from George III, six prime ministers and half the House of Lords. He earned his unusual nickname for assuring clients that their estates had great "capability" for improvement. But Brown met his match with the haughty 4th Duke of Marlborough at Blenheim Palace in Oxfordshire, birthplace of Winston Churchill. In 1771, when cost overruns led the Duke to stop work, Brown refused to quit, inventing a wheeled contraption to uproot and move mature trees quickly in place of planting saplings.
To hide the ugly palace walls, Brown planted tens of thousands of trees around the estate. Across 1,000 bare flat acres, workers dug valleys, mounded hills, and planted groves and forests. The centerpiece was Brown's ambitious mile long river, 150 acre lake, and cascade. It took six years to dig the reservoir and make the lake bed watertight with a four foot layer of clay. Brown recruited local sheep to trample down the clay with their hooves. On select days starting in July, visitors can enjoy Brown's masterpiece in a traditional horse drawn carriage.
In 1764, George III appointed Brown his Chief Gardener. One of the perks was living at riverside Hampton Court Palace in the brick Wilderness House near the Lion's Gate. From the 1760s to 1770s, Brown designed a naturalistic landscape for the King at Kew. Ironically, Brown's greatest contribution at Hampton Court was preserving the baroque gardens of 75 years earlier. In contrast to his usual practice of getting rid of formal gardens and even entire villages, Brown left things mostly intact. He did cut down a few trees to improve the views and stopped pruning the diminutive topiary, considered one of the garden's treasures. Brown also added oversize Yew trees to the East Front and planted the Great Vine. Among the world's oldest and largest vines, its sweet black grapes are sold to palace visitors in late summer and early fall.
Brown's landscapes quickly took root outside of England. One of his most ardent fans was Russia's Catherine the Great, an Anglophile who recruited British gardeners to St. Petersburg. From her Scottish landscape gardener James Meader, Catherine II bought some 60 watercolors of Hampton Court as it looked during Brown's residence. Forgotten for over two centuries at the Hermitage, John Spyers' watercolors are on view for the first time in "The Empress and the Gardener" (through September 4). Also featured are Meader's drawings for Catherine's English Palace at Peterhof, portraits of Brown and the two monarchs, and several pieces of Wedgwood's Green Frog dinner service. Catering to the Empress, Josiah Wedgwood added images of English country estates to each piece, including many of 'Capability' Brown's most famous landscapes.
Susan Jaques' biography, The Empress of Art: Catherine the Great and the Transformation of Russia was published in April by Pegasus Books.
REAL LIFE. REAL NEWS. REAL VOICES.
Help us tell more of the stories that matter from voices that too often remain unheard.