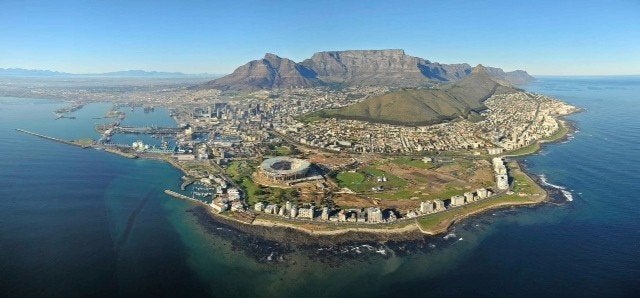 CAPE TOWN, SOUTH AFRICA - Imagine Del Mar or La Jolla without the density, retail shops and franchised restaurants on every corner and houses built on every square inch of land. Welcome to Cape Town, South Africa.

I had heard glowing reports about this southernmost mecca from South African friends living in San Diego and Los Angeles. I now understand why when they move to the U.S., they often choose Southern California as a logical nesting place.

My maiden voyage to "the Cape" was one of surprise and delight. The near-perfect November weather (remember, it's summer in the southern hemisphere) didn't hurt, either, although we are told that strong winds often come along with the moderate temperatures. With my sustainability goggles strapped on as always, I immediately began to assess the green factor of what I was seeing.

On our initial visit, we had only 24 hours to see as much of Cape Town as possible, so with direction from our South African friends, we embarked upon a no-sleep rule to see Cape Point (Cape of Good Hope); the Stellenbosch wine country; take a magical run along Camps Bay; and finally the beautiful breakfast complete with water bread, sumptuous cheeses, olive oil, fresh fruit, juices, omelets made to order and more, at the oceanfront "POD" hotel, a hip boutique of only 18 rooms.

Most striking is the attention given to tasteful urban planning and design. I am always thinking about this as my education is in both disciplines. Cape Town might just be my new ideal green design city. Start with a top grade canvas thanks to the dramatic whitewater coastline and backdrop of elevations provided by mesa-like Table Mountain. Add in the nearby peaks known as the "Twelve Apostles," and it is clear that Cape Town received more than its fair share of God-given raw materials.
That said, a number of similar coastal cities, including San Diego, have managed to desecrate the landscape through overly friendly developmental guidelines and lack of foresight by urban planners. Not so in Cape Town. We now understand why so many transplanted South Africans find their way to our part of the world when seeking new opportunities in the U.S.
"Cape Town has a strong planning policy environment to guide decision making," explained Japie Hugo, the city's Executive Director of Economic, Environmental and Spatial Planning. "Our laws also provide a strong role for public participation, which plays a significant role in moderating design processes in individual developments ... Environmental law in South Africa is very comprehensive and plays a very strong role in the process of considering development proposals." In other words, developers have to sell the public on their designs and concepts or they won't get built. What a concept.

Have a look at the beach houses and restaurants that line the coast, they rise less than halfway up the mountainsides, as the top half of the peaks are considered national park land and will never be developed. Also, where are the billboards? There aren't any, again, thanks to smart zoning that puts aesthetics above tax revenue for the long haul and greater good -- which pays back in the form of higher property values and thus higher tax revenues.

My first recognition that the beauty of Cape Town was something to behold came as I noticed the Atlantic Ocean juxtaposed against Table Mountain and the Twelve Apostles. It is rare in an urban setting to see mountains bump up against the ocean current in such a seamless way. Mindful design choices such as integrating tunneled highways into the sandstone mountainsides make for an exceptional Bond-like driving experience consisting of fast sweepers and fun if not treacherous blind curves.

Beach real estate seemed to be priced at a discount relative to other high end coastal cities, with prime Camps Bay oceanfront property going for 10-32 million Zar, or, the low $1 million range up to over $4 million, certainly not cheap but lower than the best locations in, say, Del Mar or La Jolla, much less Malibu. A key sustainability aspect to this discussion on real estate is that at least historically, this area is not seriously threatened by climate change -- specifically the dangers of rising sea levels and hurricanes -- like other areas. Coming off the devastation of Hurricane Sandy on the east coast, Cape Town is looking quite attractive.
So how does it appear that Cape Town has kept itself a secret from the BRIC largess that is pouring money into A-list properties worldwide? A common theory is existing volatility within the South African society puts wealthy landowners at risk when assessing their tenure in Cape Town; thus those worries force wealth out of the city. I addressed this issue with Jeremy Pinn, the owner of a multi-generational diamond business, that has kept shop in Cape Town's central city since the 1890s. He commented that every decade or so, there seems to arise a kind of "panic mentality" that compels the affluent to migrate off the African continent. He has seen this trend for the last 40 years and in Pinn's view it is mostly based in fear, not reality. As he concluded, "we are all doing just fine here in our lovely little town."

Andi Neugarten is a triathloner, women's active gear designer and a former Cape Towner who relocated to San Diego about 10 years ago. She misses many aspects of "the Cape" including "my friends, the lifestyle, the physical beauty.The culture also, as there is a huge focus on art, dance, a vibrant film production business. Sport is also a huge part of people's lives. I would run the mountain every day, as it seems to rule everyone's life ... It is steadfast, powerful, imposing. On Lions Head, overlooking the ocean, it's hard to beat that anywhere in the world," she reminisced.

So why would she have left? "There is political uncertainty, crime, violence ... I was concerned about having a stable future for my children," Neugarten explained. "I felt that the opportunities overall were better in the U.S."

A contrarian position is represented by longtime Cape Towner, Kim Faclier, who was gracious enough to act as our personal tour guide. Her intimate knowledge of the city enabled us to see just about all the important physical and cultural landmarks. "The perception that many Capetonians are leaving South Africa, is one that has been perpetuated by the media," she explained. "This was true in the '70s, '80s and even into the '90s, but not anymore. Less reported in the press is that many South Africans who have left are returning, having realized that for a host of reasons including overall quality of life, climate and business opportunities, South Africa is not so bad after all. Sure, we have problems, but we are not bankrupt like Britain, Europe or America."

The downside to Cape Town? One is the apparent lackluster feeling that service people have for their jobs. From the employees at the airport to receptionists and porters, there was an apparent disconnect -- even when you tipped them generously. The government and airport employees in particular looked kind of like Stepford wives while doing their jobs: an empty, glazed stare with little enthusiasm for the task at hand and equal lack of interest in pleasing the customer. Service at private establishments was somewhat better, but not a high point of the Cape Town experience. One suspects that despite the transition from apartheid to democracy that began with Nelson Mandela becoming the first black president of South Africa in 1994, this is the result of decades of apartheid rule and may take decades more to overcome?

But despite this issue, it appears one can live a quite splendid life in Cape Town, and a very sustainable one at that. If you ever have the chance, visit this southern outpost of urban vision, terrific food and wine and incredible natural gifts of scenic beauty.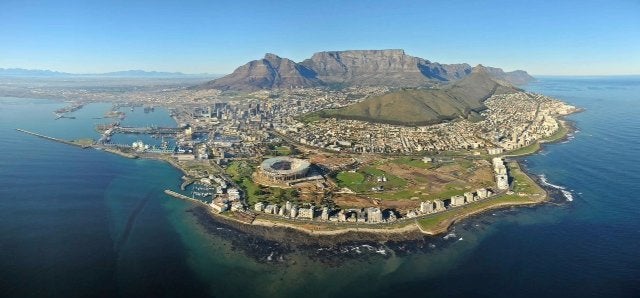 A Look at Cape Town
Related