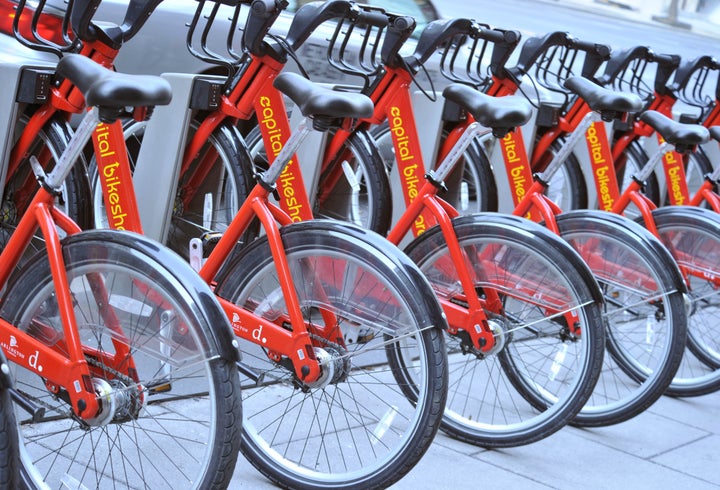 The success of Capital Bikeshare, which has 1,100 red bikes and 114 docking stations in the District of Columbia and Arlington County, Va., is clear from the numbers. According to District Department of Transportation (DDOT) statistics current as of last week, the service has racked up roughly 16,000 annual members, 2,000 monthly members and 70,000 casual users -- mostly one-timers like tourists -- since opening day.
Increasing the program's reach is as much a matter of dollars and cents as it is attracting more bikers. Capital Bikeshare hasn't had to worry about the expense of building docking stations, which come with a price tag of $50,000 each, because those costs have been fronted by local government funding. However, the money that does come in, mostly from membership dues and user fees, does not yet cover the system's operating costs, which clock in at $23,000 per station annually.
Chris Holben, the program's project manager for DDOT, said Capital Bikeshare is currently looking into ways to change how operating costs are met. One solution: A systemwide sponsorship "similar to the naming rights of a stadium." It might, Holben said, look like banking group Barclays' sponsorship of London's bike-sharing system, which is called Barclays Cycle Hire.
While the idea has yet to be formally proposed and no company has been approached, Holben said, "it could be [the company's] name on every bike, the website, the color scheme of the brand." That means the bikes' iconic red color might be abandoned.
Greg Billing, the outreach and advocacy coordinator for the Washington Area Bicyclist Association, supports expanding the Capital Bikeshare program. "We're excited to have bikes out there for people," he said, but added the system is "still too small," pointing to other cities like Paris, which has a fleet of 20,000 bikes, and New York City, which recently announced plans for a program with 10,000 bikes. It's worth noting that both cities are larger and more densely populated.
This is all made possible, Holben said, by the changing attitude toward biking in the D.C. area, which is due in part to programs like Capital Bikeshare. The system anticipates a 10 percent increase in both membership and casual users over the next year. And that's a conservative estimate, Holben said.
WATCH: Capital Bikeshare Launch
Related
Popular in the Community