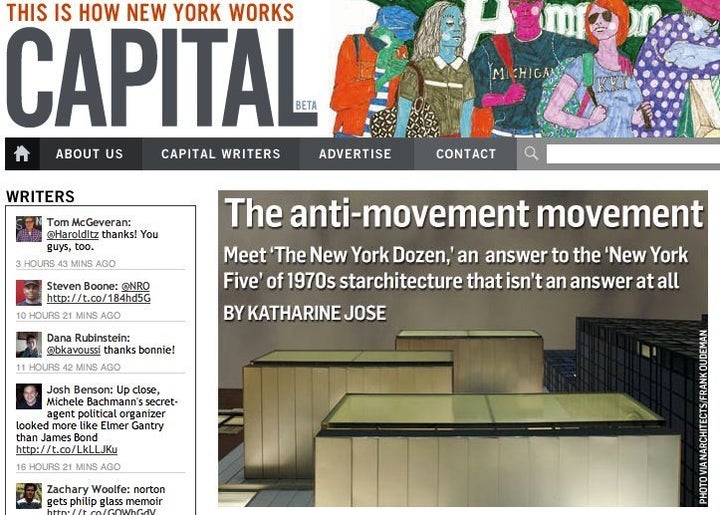 NEW YORK -- Capital New York, a website that promises to show readers "how New York works," will soon have several more reporters working for it.
Launched in June 2010 by ex-New York Observer editors Tom McGeveran and Josh Benson, the site just received a $1.7 million investment that'll help beef up its coverage of city politics, media and culture -- all staples of the salmon-colored weekly paper they once called home.
Capital has just hired Joe Pompeo, a media reporter for Yahoo! News who previously worked at The Observer and Business Insider. McGeveran told The Huffington Post that Pompeo will be covering New York media, which he described as "a more specific beat than it sounds like."
The beat, he said, won't just cover national figures who may live in New York; it will really zero in on the local media scene. McGeveran rattled off several areas of interest, including the battle between the Greater New York section of the Wall Street Journal and the metro reporters at the New York Times, the tabloid wars, alternative press, network TV news affiliates, and 24-hour network NY1. (McGeveran already sizes up the Daily News and New York Post front pages each morning at Capital, a feature started over at The Observer.)
McGeveran pointed out that there's a void in hyper-local coverage of New York media -- a space once filled by late great columns like "NYTV" (The Observer ) and "Press Clips" (Village Voice). Yet McGeveran also said Pompeo will wade into more national (or even international) areas when relevant. There's clearly a local angle to the UK phone hacking scandal, for example, given the resignation of Dow Jones chief executive Les Hinton and lingering questions about whether any hacking took place on this side of the Atlantic.
News of Pompeo's hire comes on the heels of three new additions to Capital's staff yesterday: Azi Paybarah, Reid Pillifant, and Dana Rubinstein. All three journalists, along with Capital's public editor Gillian Reagan, have previously worked at The Observer. McGeveran said that the latest hires can all break news -- thus adding more original scoops to the site's daily offerings -- as well as write deeply reported features and profiles. (Disclosure: I've worked with just about everyone mentioned so far: McGeveran, Benson and others at The Observer and Pompeo at Yahoo! News).
AdAge's Edmund Lee, who profiled Capital a month after its launch, reported Monday that angel investor Adam Riggs led the $1.7 million funding round and will sit on the board along with McGeveren, Benson, and Curbed network founder Lockhart Steele. He also noted that ex-New York Times marketing executive Bianca Janosevic joined as president of the start-up in January.
Since launching the site, McGeveran said he and Benson looked as different models to support Capital -- such as going the non-profit route –- but said they wanted to try being self-sufficient. The founders are looking at a variety of revenue streams, from advertising to partnerships to events.
"As a result of looking for funding, and also boot-strapping it for a year or so, I think [we've] made a lot of people think twice about this notion that content is not something to invest in," he said.
McGeveran doesn't consider Capital as competing against any single outlet. Going forward, he anticipates "a little bit of a content boom coming" in New York and contends that the city can "support a lot of loud, booming voices."

Popular in the Community