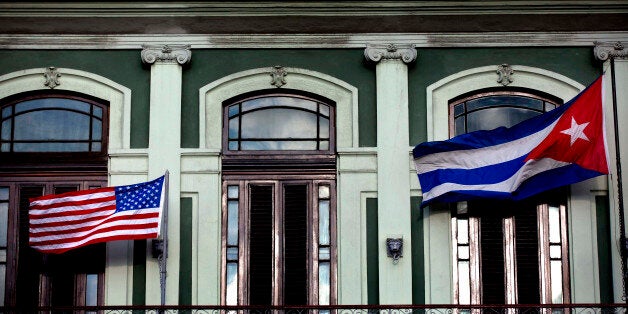 After 54 years of diplomatic isolation, the United States and Cuba have wisely cast aside the rankles of perpetual discord and committed to working together for a brighter future, one characterized by partnership and mutual respect.
Monday's reestablishment of embassies in Washington and Havana represents the most tangible step to date in this new, warmer era of bilateral relations. It mustn't be the last. My visit to Cuba last week underscored the tremendous opportunity that exists for people on both sides of the Florida Straits from stronger collaboration between our two nations.
Capitalizing on the enormous potential of our diplomatic thaw will require an enabling environment whose creation is squarely in the hands of the U.S. and Cuban governments.
The benefits of closer ties are already apparent.
Start with government. As the former staff director of the House Subcommittee on the Western Hemisphere (Committee on Foreign Affairs), the U.S. embargo of Cuba represented a constant bugaboo in my efforts to build relationships with counterparts across the region. That was not only true of countries led by leftist presidents who opposed U.S. policy in the region almost reflexively, but of more centrist governments that allied with Washington on most issues but viewed as unjustified, outdated, and unconstructive our isolation of the island country ninety miles south of Miami.
President Obama's decision last December to normalize relations with Cuba changed all this, and has reaped valuable diplomatic dividends. This was palpable at the Summit of the Americas in Panama in April. I saw first hand there the small but influential group of leaders who had long chided Washington for its refusal to engage Havana were suddenly robbed of a talking point. Instead of the dreaded Yankee imperialist, the United States was now viewed as a more open partner, one ready not to ignore important ideological differences, but to work through those differences in the constructive halls of diplomacy. Our standing in the region jumped immediately.
The benefits of normalization extend to business, as well. Cuba is en vogue among global investors. Since the start of the year, a surge of U.S. companies have visited to figure out how they might do business on the island were the embargo lifted. Some businesses are already getting started.
The idea of an influx of U.S. business has also sparked urgency among foreign firms already operating in Cuba. Companies from Spain, Canada, Europe, and elsewhere are making new investments to shore up their competitive position. More still are moving to capitalize on the prospect of the travel ban on U.S. tourists being lifted, and the millions of American visitors this move would quickly bring.
This is good news for Cuba, and good news for Cubans, who will benefit from the jobs, improved infrastructure, and economic prospects borne of increased foreign investment. It can also serve as a boon to American business, but only if policymakers in Washington and Havana make the pragmatic compromises demanded of these historic times.
First, Congress should lift the travel ban on American tourists visiting Cuba. Perversely, Cuba is the only country in the world U.S. citizens cannot visit freely, including North Korea and Iran. Senators Jeff Flake and Amy Klobuchar have introduced bipartisan legislation that would end the ban. Their bill has nearly 50 co-sponsors in the Senate. Americans deserve the freedom to travel anywhere they choose. Lawmakers in both chambers should adopt the measure immediately.
Second, Congress and the Administration should work together to issue special licenses that allow travel-related U.S. companies to invest in Cuba and capitalize on the business opportunities presented by an influx of U.S. tourists to Cuba. Allowing Americans to visit Cuba freely but preventing our businesses from catering to them effectively cedes billions in tourism dollars to foreign competitors. Why inflict a self-induced wound on the U.S. economy while handing a giant check to other countries?
Third, the Cuban government should - as I am convinced it does - recognize that it, too, has a major role and interest in bringing U.S. business back to the island. Cuban officials understandably lament the enormous economic damage the embargo - or bloqueo, as it is known on the island - has imposed on the Cuban economy. But even if the embargo were lifted tomorrow, U.S. firms will push for certain conditions and sureties before investing on the island. This isn't imperialism and it isn't personal - this is business.
In a context that is open, frank, and at all times respectful, U.S. business leaders should be able to make their case to Cuban leaders about the policies they need to justify starting operations on the island. It is that same tone of openness and honesty that has allowed for the major strides in political diplomacy between our two countries in these recent months, and Cuba should see there are major gains to be had from employing it in business, too.
Those who oppose normalizing political and commercial relations between the United States and Cuba worry that doing so will rob the United States of valuable leverage in pushing for a more open political system in Cuba. These concerns are not without merit. Indeed, there remain significant differences between our two governments on issues as wide-ranging as governance, economic policy, human rights, and the role of NGOs.
However, as we work through the thorny issues that continue to divide us ideologically, U.S. business can serve as a bridge that brings us together, allowing Americans to get to know and explore a country of rich natural beauty and cultural heritage, while providing the Cuban people with new avenues for economic opportunity and personal growth.
The United States and Cuba have opened the door to a new day of relations between our two countries. But let us not stop at the lifting of flags. Let us also exchange the best of what we have to offer -- the ingenuity of our people and businesses.
Alan H. Fleischmann is the President & CEO of the global business advisory and strategic communications firm, Laurel Strategies, Inc. He is also a former Staff Director of the Committee on Foreign Affairs and its Subcommittee on the Western Hemisphere of the United States Congress.
Calling all HuffPost superfans!
Sign up for membership to become a founding member and help shape HuffPost's next chapter