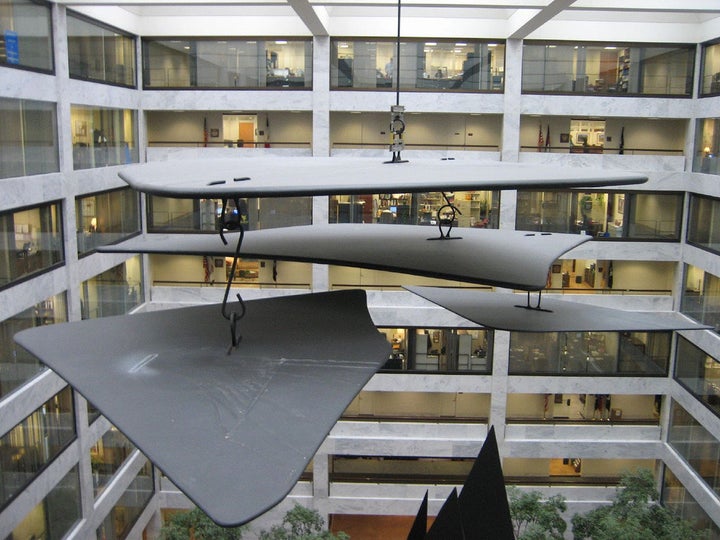 By Emma DumainRoll Call Staff
As buildings around the Capitol campus continue to deteriorate because of age and the effect of last summer's magnitude-5.8 earthquake, the Architect of the Capitol wants more money to halt what are fast becoming safety concerns.
In his testimony on Thursday before the Appropriations Subcommittee on the Legislative Branch, Architect of the Capitol Stephen Ayers laid out how he intends to spend his $668.2 million budget request for fiscal 2013. That's roughly $1 million above what the agency received in fiscal 2012.
Ayers said that $50 million would go toward a backlog of "deferred maintenance" projects critical to preserving iconic structures and ensuring the safety of Members, staff and visitors.
"The longer [these] projects are delayed, the condition of these facilities will continue to deteriorate," he told subcommittee members today. "Deficiencies will grow more and more serious, and ultimately more costly to repair."
Other risks of backlogging the most pressing projects include "a loss of historic artwork and architectural features" and "security threats," Ayers said.
In fiscal 2011, a "facility condition index" provided by the AOC showed the Hart Senate Office Building in "poor condition," along with the James Madison Memorial Building and the Senate underground garage.The Rayburn House Office Building and the Russell Senate Office Building were listed in that index as in "fair condition," as was the Cannon House Office Building.
But Cannon, Ayers said, is "the most recent and poignant example of the consequences of allowing capital renewal projects to worsen."
Late last year, a 65-square-foot section of plaster fell from Cannon's fourth floor; in early January, a leak caused damage in six Members' offices due to a failed pipe plug in a water line.
The AOC is already preparing for a major overhaul of Cannon's infrastructure in 2017 that will require mass relocations of lawmakers into temporary office suites in the Ford House Office Building. Ayers said leases should be finalized sometime this summer for about half the building to accommodate Members and staff during the renovations.
Ayers' request also includes $7.3 million for Union Square, an 11-acre parcel of land recently transferred to the Capitol complex from the National Park Service. The money will go toward, among other things, the care and maintenance of the Grant Memorial and cleaning and repairs to the Capitol Reflecting Pool.
Subcommittee members took the opportunity to question Ayers on some of the issues that have arisen over the past several months.
Rep. Sanford Bishop (D-Ga.), for instance, asked Ayers what he was doing to address an uptick of harassment complaints within the agency. The Office of Compliance released a report in September indicating that, for fiscal 2010, the agency received the most requests for counseling and mediation based on claims of workplace harassment of any other legislative branch office.
"Harassment is not tolerated in the organization in any way, shape or form, and if employees do feel harassed we encourage them to seek ways of redress," said Ayers, adding that the agency was also, for the first time, conducting an "employee climate survey" to determine what issues, if any, staffers are facing within the AOC workplace.
Copyright CQ Roll Call, Inc. All materials herein are protected by United States copyright law and may not be reproduced, distributed, transmitted, displayed, published or broadcast without prior written permission of CQ Roll Call.
MORE FROM ROLL CALL

Related
Popular in the Community