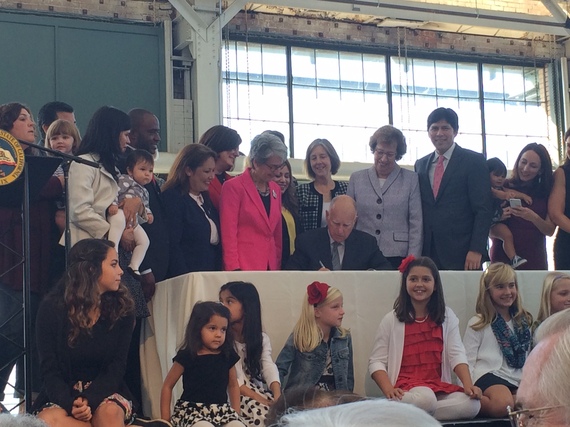 AAUW California members and other supporters look on as Governor Jerry Brown (D-CA) signs the California Fair Pay Act.
I've written before about the need for bipartisan Congressional action to pass the Paycheck Fairness Act. More and more Republicans have joined Democrats in acknowledging the very real consequences of the gender pay gap and supporting the idea of equal pay for equal work. That's the good news. Unfortunately, good federal legislation can't seem to make it past Congressional gridlock and partisan posturing -- or the traditional business lobby, for that matter. That's the bad news.
While the stubborn and tiresome logjam continues in our nation's capital, I've found reason for optimism in the form of some recent state activity on pay equity. The bills themselves -- and the broad and bipartisan coalitions that pushed for their passage -- deserve some closer scrutiny. There's an increasing trend in state-based legislation around closing the pay gap, and who can blame states for growing weary of waiting for federal action on an issue that clearly has the public's support and attention? Since Congress can't seem to legislate its way out of a paper bag on a whole host of issues -- or select a new House Speaker, it seems -- who can blame states and even localities for acting on their own initiative? Not me. In fact, AAUW is doing its best to instigate it.
California's recent equal pay legislation had members of both parties lining up and speaking out in favor of passage. The California Fair Pay Act (S.B. 358) requires that women be paid equally for work that is "substantially similar" to that of their male colleagues, and ensures employees don't face retaliation if they openly discuss their wages or inquire about their companies' pay practices. This kind of transparency -- it's free speech, really -- has been found to be conducive to narrowing the pay gap.
In many ways, California's new equal pay law is similar to the Paycheck Fairness Act (S. 862/H.R. 1619), not only in protecting against retaliation, but also in clarifying rules around employees' ability to recover wages based on gender discrimination and employers' ability to defend themselves from such allegations. A win-win, which is part of the reason why the California Chamber of Commerce supported the bill. If only their national counterpart would follow suit. So California has an updated equal pay law, but the nation does not. What can Congress learn from California? Plenty.
One major takeaway from California is that the law has strong support from both Democrats and Republicans, support that was not just present in the chambers but on the airwaves as well. The bill passed the Senate unanimously (38-0), and had only a duo of dissenters in the General Assembly (76-2). Governor Jerry Brown enthusiastically signed the California Fair Pay Act at a public ceremony just last week.
The author of the California legislation, Senator Hannah Beth-Jackson (D-Santa Barbara), held up the law as a framework for national action: "After years of dealing with a persistent wage gap, the time is now for women's paychecks to finally reflect their hard work and true value. It is time that we fix the wage gap that women face at work once and for all, and lead the nation in showing how it can be done."
Assembly minority leader Kristin Olsen (R-Modesto) explained her support of the bill to the Sacramento Business Journal by citing experiences all women share: "As working moms and women who have competed in male-dominated industries, California Republican women stand behind the importance of paying women and men equally for equal work." It's no surprise that with this kind of leadership and unified political will the bill sailed to to the governor's desk.
In a press conference with Senator Jackson before the bill's passage, California Chamber of Commerce Policy Advocate Jennifer Barrera expressed disbelief that women were still fighting for equal pay in 2015. She noted that her organization and Senator Jackson don't see eye to eye on too many things, but they "agree with Senator Jackson that employees who are similarly situated should receive the same rate of pay for performing substantially similar job duties." She also echoed Minority Leader Olsen's support for heightened accountability without opening the doors to new litigation.
The federal Paycheck Fairness Act, led by Senator Barbara Mikulski (D-MD) and Representative Rosa DeLauro (D-CT), has an endorsement from the U.S. Women's Chamber of Commerce but has a rather disappointing and spotty history with the U.S. Chamber of Commerce.
California has proved that strong equal pay legislation can be passed with little acrimony. The public wanted it. A diverse coalition of groups backed it. A bipartisan state legislature passed it. The sky didn't fall and Chicken Little is still alive and well. It's a shining example that Congress would be smart to emulate as they duke it out for women voters in 2016.
While the new California law is a great victory, two other innovative California bills to attack the gender pay gap--A.B. 1017 would have prohibited employers from requiring an applicant's salary history, and A.B.1354 would have required contractors working in the state to comply with a pay nondiscrimination program--were disappointingly vetoed by Governor Brown. There's always more work to be done, but on the state level at least, we're making headway.
Without legislative remedies for pay equity, the pace of change has been glacial. Just how long will it take until we see equal pay? At this rate, it could be more than 100 years. Our nation's economy and the working families that continue to chase the American dream can't wait that long. If Congress won't act, the states will.
Popular in the Community