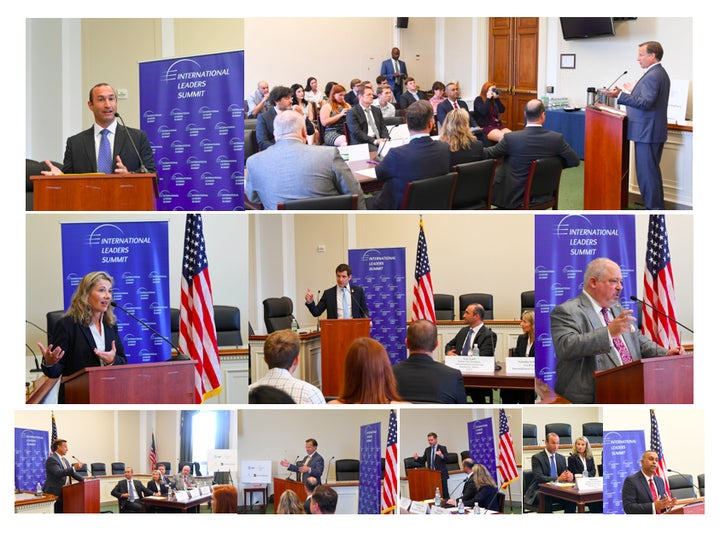 "Public sector corruption siphons $1.5 trillion to $2 trillion annually from the global economy in bribes and costs far more in stunted economic growth, lost tax revenues and sustained poverty, the International Monetary Fund said." ― Reuters, May 11, 2016
In light of the challenges impacting America and the world including the erosion of the rule of law, cronyism and rampant corruption, increasing illicit financial outflows, massive emigrations, deteriorating economic freedom, and threat of terrorism, the International Leaders Summit's strategic event examined key issues vital to strengthening the rule of law, the protection of free speech, individual liberty and private property.
The Rule of Law event organized by the International Leaders Summit on July 26, 2017 on Capitol Hill, Washington, DC, brought together U.S. elected officials, business and political leaders including a Member of Austria's Parliament to discuss the significance of the rule of law within sovereign nations and in international affairs. The speakers highlighted the importance of advancing transparency initiatives and creating a level playing field for market competition to thrive.
Distinguished speakers, championing the efforts to strengthen the rule of law in their respective fields, shared their experiences. The speakers discussed the importance of the rule of law as a determining factor and foundation for individual liberty, safety, national security, increased investments, economic growth, alleviating poverty, maintaining orderly societies and as a stabilizing factor for individual countries.
Eric Loeb, senior vice president of International External and Regulatory Affairs at AT&T spoke about the importance of the rule of law for foreign direct investments. Loeb described the benefits of the rule of law for corporations as well as societies, "Effective rule of law reduces corruption, drives truly competitive markets, improves public health, enhances education, alleviates poverty, and protects people from injustices and dangers large and small. It is a value we must preserve in developed markets, and must build and strengthen in emerging markets. Weak rule of law attracts weak strategy and market performance." Loeb relayed the most comprehensive definition of the rule of law given by the UN:
"A principle of governance in which all persons, institutions and entities, public and private, including the State itself are accountable to laws that are publicly promulgated, equally enforced and independently adjudicated, and which are consistent with international human rights norms and standards. It requires, as well, measures to ensure adherence to the principles of supremacy of law, equality before the law, accountability to the law, fairness in the application of the law, separation of powers, participation in decision-making, legal certainty, avoidance of arbitrariness and procedural and legal transparency." United Nations Security Council, Report of the Secretary General, The rule of law and transitional justice in conflict and post-conflict societies, S/2004/616 (23 August 2004)
U.S. Congressman Dave Brat (R-VA) outlined the origins for the rule of law in America, based on the Judeo-Christian tradition and embedded in the U.S. Constitution through the separation of powers between three branches of government: judicial, executive and legislative branch. Congressman Brat warned about the politically driven developments of concentration of power in the executive branch in Washington, D.C.
U.S. Congressman Scott Taylor (R-VA) brought attention to the breach of the rule of law and illicit financial outflows regarding recent developments in Venezuela, and to the need for "U.S. paying more attention to the Western hemisphere" when it comes to upholding the rule of law.
Rainer Hable, Member of Austria's parliament, emphasized the necessity for stronger international co-operation in dealing with money laundering and organized crime, which are regularly crossing national borders. As an author of Austria's parliamentary investigative report on Hypo Group Alpe Adria, Dr. Rainer detailed the collapse of the bank, known as Europe's largest post WWII banking scandal, in which billions of dollars went missing and where culprits are still at large. The bank headquartered in Austria had its branch offices in eleven countries, including Croatia, Bulgaria, Liechtenstein, Montenegro and Romania, most of which were involved in laundering money for Eastern Europe's corrupt government officials and organized crime, thus creating major roadblocks for economic and judicial reforms in the region.
Sanford M. Saunders Jr., Shareholder of Greenberg Traurig, Washington, D.C. explained the hijack of the rule of law in Eastern Europe, which takes the form of - the rule by law. Sanford shared his experiences gained through his legal practice, and highlighted a few blatant cases of rule of law abuse including the plight of a businessman with a company registered in the US, now imprisoned on trumped up charges in Russia.
Through US leadership, primarily through the Foreign Corrupt Practices Act (FCPA) and the Justice Department's Kleptocracy Initiative, political corruption and transnational organized crime are being addressed worldwide. These US-led global initiatives highlight the significance of creating a level playing field for local small and medium size entrepreneurs and for US companies competing in foreign countries.
The illuminating discussion on the rule of law demonstrated the urge for principled leaders to regularly discuss all aspects of the rule of law in order to advance economic stability and national security of sovereign nations.. The urgency in addressing rule of law abuses, in the countries which lack independent safeguards, is crucial in mitigating illicit financial outflows which fuel massive emigrations, and in preventing transnational organized crime and terrorism.
Popular in the Community