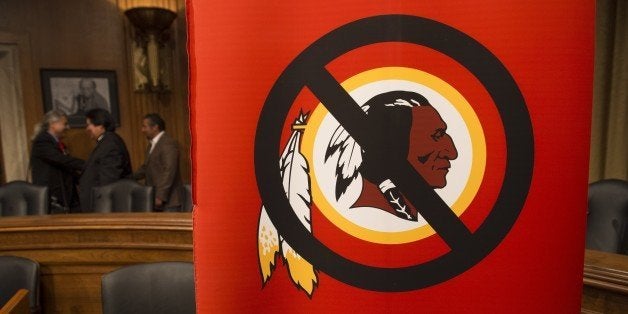 Students in Oklahoma City on Wednesday protested a high school's decision to change its Redskins mascot.
"Most of the kids here are not happy about the change of the mascot due to the fact that … it had been the mascot for 88 years and having the mascot Redskins is not a derogatory term to most of us here," a senior at the school told the station. "Being called a Redskin is what made us, it made us who we are, it made us students of Capitol Hill High, and it irritates us that we had no say so in whether or not it should be changed."
"I was actually surprised about how well-received it was. I thought that I would have to do more education on our end to let them learn about the word," Star Yellowfish, the district's administrator for American Indian student services, told the newspaper after the vote. "But they get it. They got it, and they care about our kids."
The district responded to Wednesday's protest with a statement, noting that administrators are "proud of our students and support their decision to protest the Board of Education's vote. This is an emotional issue for everyone involved and requires heartfelt and open conversations moving forward," reported the outlet.
The school district did not respond to The Huffington Post's requests for further comment.
"Back in the '60s, we didn't know if you were Native American or not, or Hispanic or not. We were all just Redskins," Janet Muse, a graduate of the school, told Oklahoma's News 9.
"The Oklahoma City Public Schools District has exhibited exceptional leadership in keeping with the true sense of listening to the concerns of the community and especially the Native American students and parents," the Society To Protect Indigenous Rights And Indigenous Treaties wrote to the district this week. "Your commitment to teaching history in a manner that is rewarding to all students is exemplary."
Pictures of the Oklahoma City student protest are below:
REAL LIFE. REAL NEWS. REAL VOICES.
Help us tell more of the stories that matter from voices that too often remain unheard.
BEFORE YOU GO
PHOTO GALLERY
Closed Philadelphia Schools