U.S. law enforcement agents have arrested two men who participated in the Jan. 6 attack on the U.S. Capitol and charged them with assaulting a police officer who died after responding to the riot.
Julian Elie Khater, 32, of Pennsylvania and George Pierre Tanios, 39, of West Virginia were arrested Sunday and are expected to appear in federal court Monday, The Washington Post first reported.
Khater and Tanios are charged with nine counts, including assaulting U.S. Capitol Police Officer Brian Sicknick with a dangerous or deadly weapon. Sicknick died after the riot, though authorities have not determined his exact cause of death.
Four rioters also died that day, and two police officers who responded to the attack died by suicide days later.
Khater and Tanios are also charged with assaulting another Capitol police officer and a D.C. police officer with a dangerous or deadly weapon, as well as with civil disorder and obstruction of a congressional proceeding. The charges are punishable by up to 20 years in prison, the Post reported.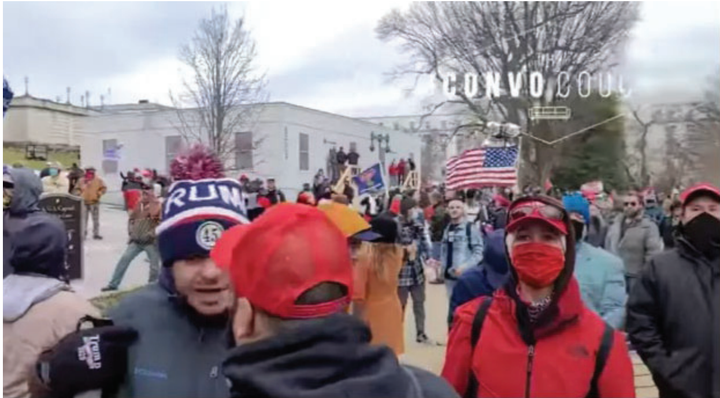 Surveillance footage of the riot shows Khater and Tanios "working together to assault law enforcement officers with an unknown chemical substance by spraying officers directly in the face and eyes," according to an FBI search warrant filed Sunday. Sicknick was sprayed with bear spray during the attack.
"Give me that bear shit," Khater can be heard telling Tanios as he reached into Tanios' backpack earlier in the day, according to contemporaneously recorded "open source video," authorities said.
Khater later grabbed a canister from Tanios' backpack, walked through the crowd outside the Capitol before holding up the item with his right hand and aiming it at the police officers, the FBI wrote in its complaint.
Sicknick and the two other police officers each reacted to being sprayed in the face by retreating, bringing their hands to their faces and rushing to find water to wash out their eyes, according to the affidavit.
Khater was arrested as he disembarked from an airplane at Newark Airport in New Jersey, officials said. Tanios was arrested at his residence in West Virginia.
Law enforcement officials have arrested over 250 people suspected to be connected to the Capitol riot. The Proud Boys, an extremist far-right group that then-President Donald Trump notoriously told to "stand back and stand by" in September 2020, helped organize and lead the insurrectionist mob on Jan. 6.
Support HuffPost
The Stakes Have Never Been Higher
Popular in the Community