WASHINGTON ― Disability rights activists from across the country who were arrested this week at a Capitol building protest of the Republican health care bill will have to return to Washington to pay $50 fines.
The 54 far-flung activists who converged on Capitol Hill Wednesday to demonstrate against Medicaid cuts in the GOP legislation must pay their fines in person within 15 days of their arrests, U.S. Capitol Police told The Huffington Post.
Leaders of Adapt, the disability rights activism network that organized the protest, said police wouldn't allow them to pay the fine in person after the arrests. Forcing a return to the city is a costly and outrageous hardship for the activists, most of whom have serious physical disabilities, said Gregg Beratan, an Albany, New York-based policy analyst for the Center for Disability Rights who was among those arrested.
"It comes off as punitive," Beratan said. "Adapt has been protesting in D.C. for years. We've never experienced anything like this."
The activists, a majority in wheelchairs, were arrested by Capitol Police on a charge of obstructing the Capitol rotunda, where they had gathered to protest the GOP legislation.
Police held them for several hours for processing, and informed them they could return in the evening to pay the $50 fine and complete paperwork, according to Beratan and other protest organizers.
But when the activists returned that evening, officers said they needed additional time for processing paperwork, the organizers said.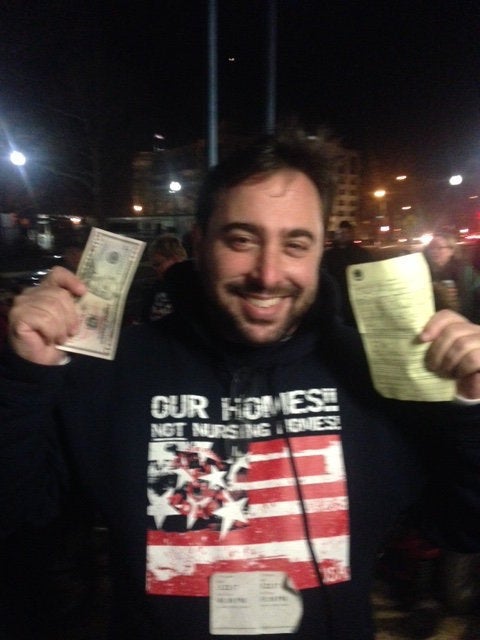 Some of the activists stayed in Washington overnight and paid the fine the next day. Dozens of others had to leave town on Wednesday night without paying their fines. They include 24 activists who took a seven-hour overnight bus ride to the protest from Rochester, New York, as well as 12 activists from Philadelphia, and one from Harrisburg, Pennsylvania.
Eva Malecki, a spokeswoman for the Capitol Police, did not contradict activists' account.
"They can only pay their fines after all of their arrest paperwork is fully completed, which involves the generation of other documentation in addition to the officers processing each arrestee following their arrest," Malecki said in an email. "It takes time to complete all of this documentation, and the timing of the completion of such can be impacted by the number of arrests made, time of day they are arrested, etc."
If the arrested protesters do not pay the fine or request to be arraigned in Superior Court in Washington within 15 days of their arrest, Capitol Police will issue arrest warrants.
Protesters said they want police to permit a lawyer to pay the fines in person on their behalf.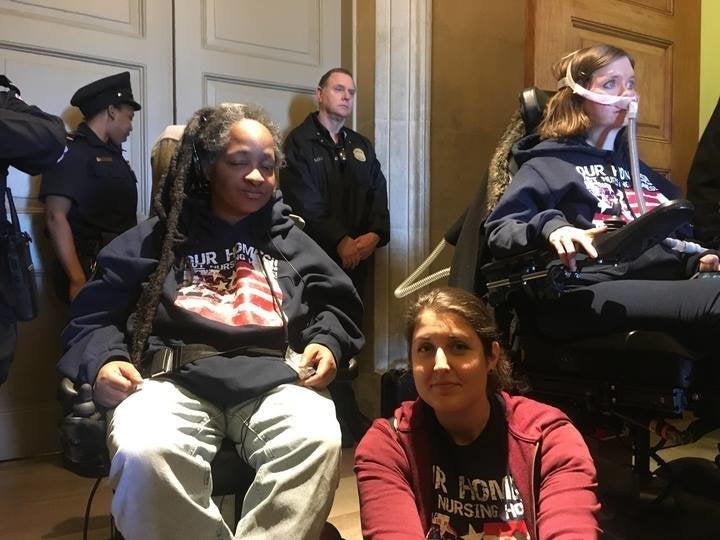 Bruce Darling, president of the Center for Disability Rights, helped arrange the bus from Rochester. Chartering a bus specially equipped for people with disabilities cost $3,896, paid with fundraising donations. In addition to the expense, a return trip involves special hardship for people with disabilities.
"That is a long time for someone to be sitting for someone who has a spinal cord injury," Darling said. "This is an incredible hardship for folks. And it's offensive because they actually were there and tried to follow through."
Sen. Bob Casey (D-Pa.), who represents the arrested Pennsylvanians, has been following the ordeal, spokesman John Rizzo said.
"It's unfortunate that constituents with disabilities will have to travel back to DC to settle this issue when they were willing to do it while they here this week," Rizzo said in a statement.
Adapt's lawyer is trying to reach an accommodation with Capitol Police. If that fails, the network of activists is prepared to begin fundraising for a return to Washington.
"We're still keeping our eye on the big picture, which is to stop these massive cuts to Medicaid that will force people into nursing homes and institutions," Darling said. "It's forcing people with disabilities into something like the Hunger Games."
Before You Go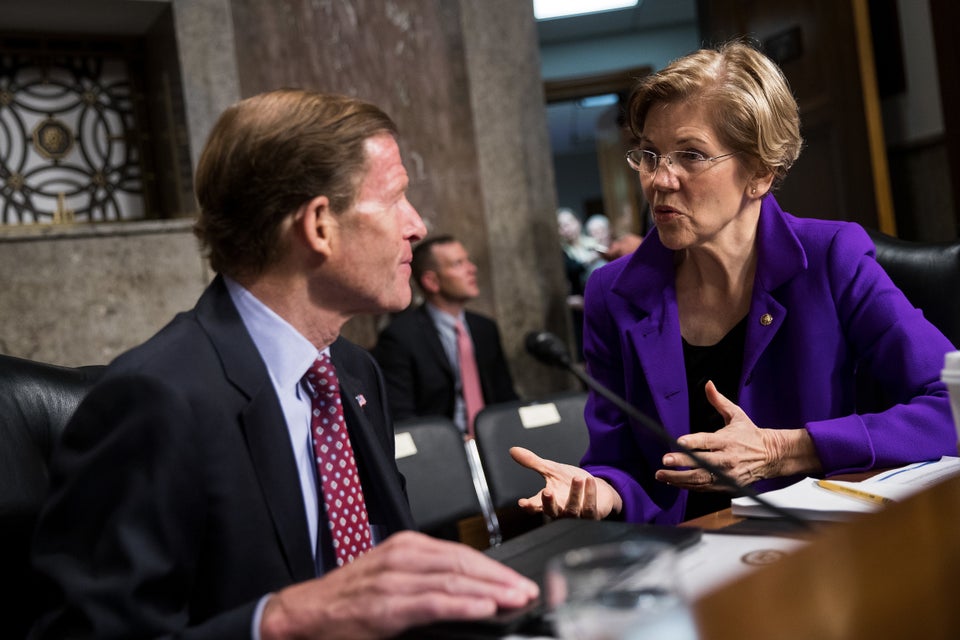 2017 Scenes From Congress & Capitol Hill
Popular in the Community