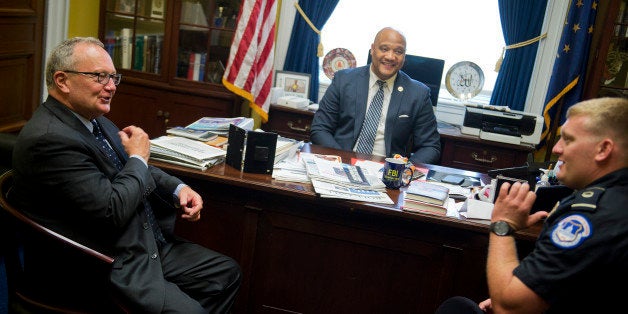 WASHINGTON -- The last time they met, Capitol Police Officer Nicholas Simons performed CPR on Gary Langston after he suffered cardiac arrest outside a Senate office building.
On Tuesday, they met under happier circumstances -- Langston wanted to thank Simons in person for saving his life.
"I know you were just doing your job, but it was a really important job that day," Langston said when they met at Rep. André Carson's (D-Ind.) office.
Langston, 61, the president of the Indiana Trucking Association, was in Washington last May talking to Indiana lawmakers when he began to feel ill. He sat down on a bench to rest before another meeting, and then the next thing he knew, "people were pulling on me and yelling my name," he recounted on Tuesday.
Simons, 28, was inside the Hart Senate Office Building and rushed out, along with other officers. He performed CPR and used an automated external defibrillator on Langston, and Langston survived.
The officer had recently done additional training in CPR to supplement the standard training all officers receive. He said he was inspired to do the training by a friend who had recently used CPR to save an infant.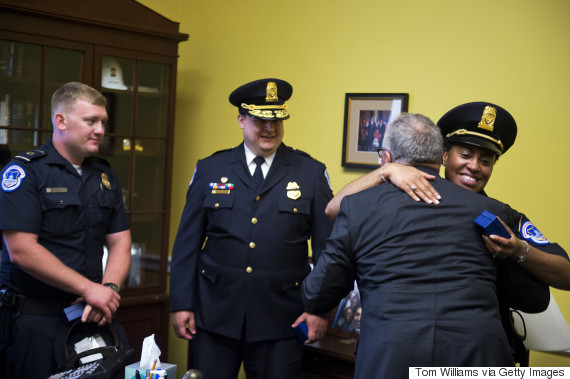 Capitol Police Lt. Kimberly Schneider hugs Gary Langston, of the Indiana Motor Truck Association, as Officer Nicholas Simons, left, and Deputy Chief Chad Thomas, look on, in Rep. Andre Carson's (D-Ind.) office on Tuesday.
The National Law Enforcement Officers Memorial Fund named Simons officer of the month in February, and he will be honored with other officers as part of this week's National Police Week.
"These are our true heroes," Carson said of Simons and other officers.
Langston and a number of others in his office took CPR training in March, although he said he hopes he never has to use it. He said after the meeting that he was grateful to Simons for helping him come home to his children, a 12-year-old daughter and an 11-year-old son.
"It's not until you have a close call like that that you really appreciate life," he said. "I have a couple little kids, and when I got back home and realized that I almost never went back home, that's when I really realized what it was all about. You just don't know what to say to that person other than thanks."
REAL LIFE. REAL NEWS. REAL VOICES.
Help us tell more of the stories that matter from voices that too often remain unheard.
BEFORE YOU GO
PHOTO GALLERY
U.S. Capitol Photos