Animal control officials in Aurora, Colorado, picked up the dog, named Capone, in February after he hopped his backyard fence and a neighbor complained. Officials refused to return him to his family, saying Capone's appearance and demeanor indicated he could be a dog-wolf hybrid, outlawed in Aurora.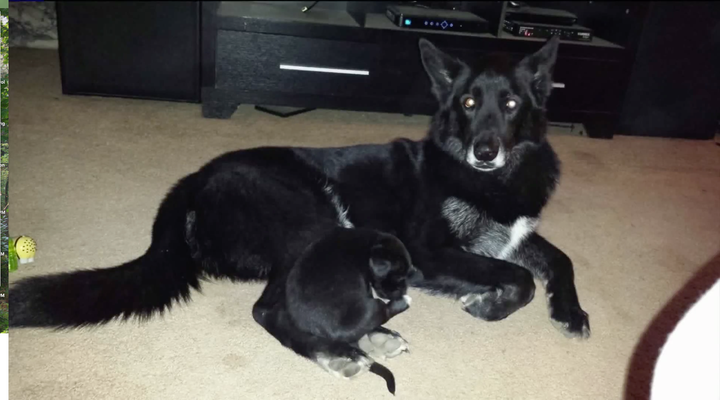 Owner Tracey Abbato said the allegation was ridiculous. She said she adopted Capone 10 years ago from a county shelter, where she was told he was a German shepherd mix. But even so, animal control officers wouldn't return him without a DNA test. This week, Capone's owners received the good news that a DNA test determined he was just a regular dog.
However, there were still a couple of other issues. For one thing, the neighbor who complained about Capone said he was "acting aggressively" toward her in her yard, Aurora Animal Services spokesman Michael Bryant told HuffPost. That allegation, combined with Capone's escape, led to several charges against his owners.
On Wednesday, Capone's owners reached an agreement with the city, Bryant said. The city dropped charges of keeping an aggressive animal and keeping an exotic/wild animal. Capone's owners pleaded guilty to having a dog running at large, not having a dog license and not having up-to-date rabies vaccinations.
Capone was freed, and returned home Wednesday after receiving a license and a rabies shot. His owners are required to construct a six-foot fence around their yard, and to confine Capone inside — or keep him on a leash — until it's completed.
"We believe this resolution strikes a balance between keeping the family and their longtime pet together, and addressing the safety of the community as a whole," Animal Services manager Jenee Shipman said in a statement.
She added that the department has "appreciated the outpouring of concern for Capone." 
Calling all HuffPost superfans!
Sign up for membership to become a founding member and help shape HuffPost's next chapter
BEFORE YOU GO
PHOTO GALLERY
Wonderful Wolves