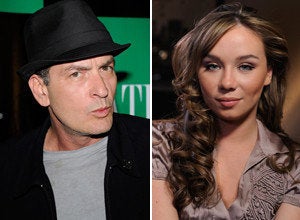 "I am considering a request that I partake in the upcoming roast," Capri Anderson, the porn star who hid in the bathroom while Charlie Sheen trashed his room at the New York Plaza hotel, tells me. "I am ready to let bygones be bygones and laughter is the best remedy."
But it's not just the 23-year-old that Sheen needs to worry about. Insiders tell me that a bunch of Sheen's ex-lady friends have been invited to take part in the evening.

"Charlie is getting paid a fortune to be roasted and nothing is supposed to be off limits," an insider tells me. "However, if he really wanted Capri or other ladies excluded from the show, I'm sure producers would make it happen."

One person who will definitely not be at the roast that airs September 19 (the same day "Two and a Half Men" premieres its new season) is ex-wife Denise Richards, who has already passed on the invitation.