Just when things were starting to look up for triple amputee Capt. Edward "Flip" Klein and his wife, Jessica, they lost everything in a house fire earlier this month. But their Maryland community is making sure that they get back on their feet as soon as possible.
On Aug. 14, the Maryland couple's house was engulfed in "heavy flames" due to an electrical wiring problem, and the two escaped with the help of concerned neighbors, WJLA reported. The fire caused an estimated $40,000 in damage, which is particularly burdensome for a couple that has already endured so much turmoil over the past couple of years.
"They have nothing," Robert Rubin, one of the Klein family's neighbors, told Today.com. "Really, when you say they have the clothes on their back, they don't even have that."
The two were hit with the tragedy just as Klein was beginning to make major headway in his recovery.
Seven months into his first deployment in Afghanistan in 2012, Klein stepped on an improvised explosive device during a routine patrol, according to U.S. Army. The West Point grad was rushed to the hospital within 50 minutes of his injury and lost both legs above the knee, his right arm above the elbow, and three fingers on his left hand.
His wife left her job after Klein was hurt to help care for her husband full time.
As soon as the couple's community learned of the fire, they immediately stepped in to help.
The local supermarket pledged to donate groceries for the rest of the year, and a local veteran's group is financing a new car for them, according to Today.com.
And Building for America's Bravest, a nonprofit that builds home for severely wounded veterans, will be donating a smart home to the Kleins that specifically caters to their needs.
As for the pair's resiliency, Klein is upbeat and shared an inspiring sentiment about moving forward even soon after he was catastrophically injured.
"Two of the things I learned [from Ranger school] is that you can always take another step," Klein told the Army last November. "The second takeaway … was that most failure is between the ears, and that is to say, really the only thing that can stop me is me."
Related
Before You Go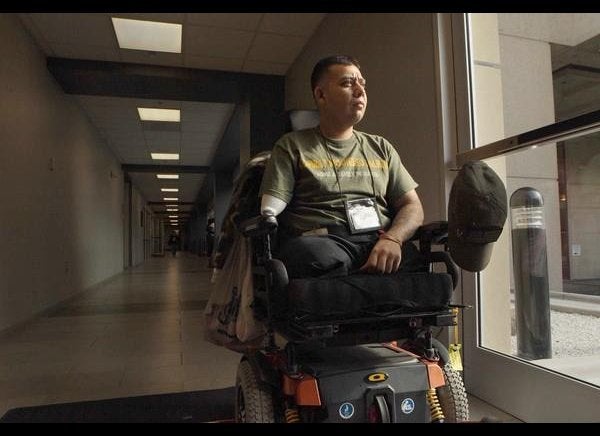 Triple Amputee Vet Gets 'Smart Home'
Popular in the Community