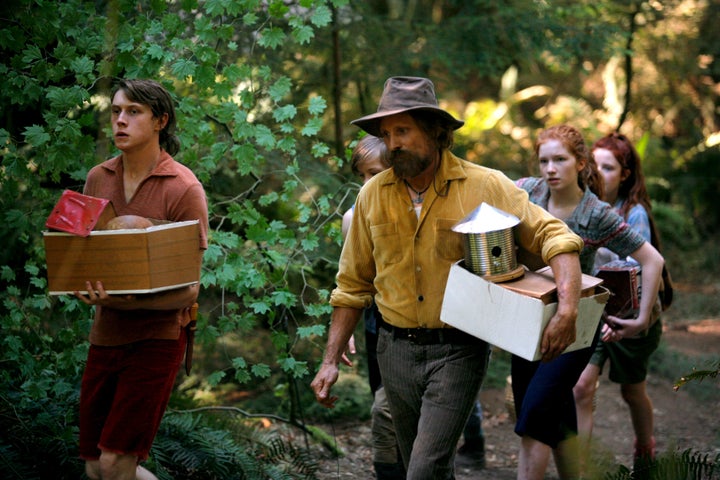 It can seem like Viggo Mortensen went off the grid after donning his Aragorn crown. Mortensen's highest-grossing movie since "Lord of the Rings" is the one he made directly following the trilogy's end in 2003: the western "Hidalgo," which topped out at a decent $108 million worldwide. In the years since, Mortensen, now 57, has mostly shied away from big-budget studio projects. Instead, he collected an Oscar nomination (for 2007's "Eastern Promises"), a Golden Globe nod (for 2011's "A Dangerous Method") and a starring role in a Cormac McCarthy adaptation (2009's "The Road"). Chump change, right?
Mortensen has indeed been on the grid, at least sporadically ― unlike the character he portrays in the new movie "Captain Fantastic," his finest role in years. Expanding nationwide throughout July, the film casts Mortensen as Ben Cash, a beatnik father of six raising his kids in a secluded enclave in the Pacific Northwest. Ben disavows capitalism and organized religion, substitutes Christmas with Noam Chomsky Day, and trains his clan in acute survival skills. But when the family must return to town, they are forced to reacclimate with civilization. 
As he tells it, Mortensen has never cared much about acclimating with Hollywood. He's appeared in certifiable hits ("Crimson Tide," "A Perfect Murder"), but outside of "Lord of the Rings," he hasn't starred in a single franchise, including the "Hobbit" series. Now that the marketplace for original adult dramas has waned, the name "Captain Fantastic" adopts a dual meaning. Mortensen and director Matt Ross, who is best known for playing Alby Grant on "Big Love" and Gavin Belson on "Silicon Valley," see the title as a commentary on Hollywood's obsession with superhero fare.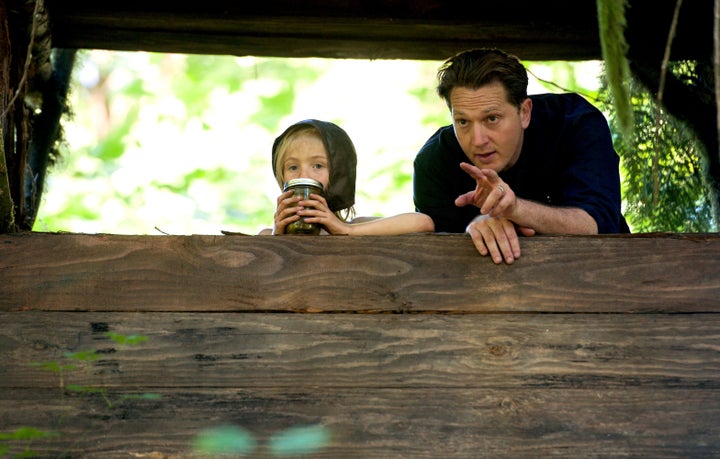 They hope the film will prompt audiences to ponder whether Ben is a flawed, plainclothes superhero of his own, rejecting the conformist structures that society normalizes. No parent is perfect, but is his dedication to raising kids against the grain noble or dangerous? Either way, can Hollywood just tell some fresh stories that aren't linked to existing franchises with brand-name marketability?
Barely: Ross said the movie's producers recommended he change the title so as to prevent possible confusion. He pushed back. "It's intentional, but I didn't see it as a problem," Ross told The Huffington Post during a recent joint interview with Mortensen. "I didn't think anyone would go into the movie theater thinking they're going to see some superhero they've never heard of. I thought it would be pretty clear that it's about a father who's trying to be a hero of humanity."
Mortensen, who has grown accustomed to making smaller-scale movies with unpredictable shelf lives, knows that it appears he's turned his back on the Hollywood machine. He insists it's not intentional. Mortensen has been offered comic-book roles since making "Lord of the Rings," though he wouldn't reveal which ones. "If I think I can do something with that within that genre, why not?" he said.
The timing of those offers have conflicted with projects like "Captain Fantastic" ― films that are "outside the box and challenging and more original." Some actors subscribe to the "one for me, one for them" mentality, meaning they'll take a studio project (read: hopeful cash cow) followed by an indie darling (read: something of supposedly elevated artistic merit). Mortensen doesn't adopt that creed, and he's been vocal about Hollywood's glossy expectations in the past ― the sort of capitalism that Ben Cash would rebuff. In 2014, for example, Mortensen voiced disfavor for Peter Jackson's "Lord of the Rings" follow-ups, "King Kong" and "The Lovely Bones," both of which he said relied too heavily on special effects. Now, he says he's not concerned with making money or maintaining fame ― an admittedly luxurious stance, given he can probably live off his Middle-earth paychecks for the rest of eternity.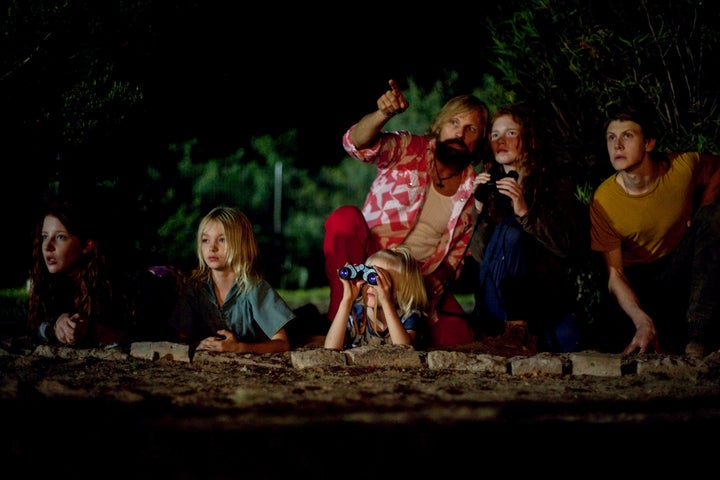 "I just sign on for movies that I would go see," Mortensen said. "Let's say we hadn't found six genius kids to play the parts in this movie, and the movie had turned out just OK. Obviously it's a great idea and a great script, and I'd still watch it 10 or 15 years from now and say, 'That was well worth it. It's not perfect, but it's a good idea and we tried.' I wouldn't be ashamed. I wouldn't say, 'Well I wish I'd done that [big-budget movie] so I could buy three more racing cars. You have to be patient and hang in there and, once you give your word, stay with the project, or it falls apart, in some cases. And then shooting it is arduous and selling it even more so. We're lucky with the reaction to this movie."
To wit, "Captain Fantastic" has netted largely glowing reviews since its ebullient standing ovation at the Sundance Film Festival in January. It helps that Ross' script, which feels like a bohemian testimonial at the start, becomes a fairly bipartisan affair, both idealizing and condemning Ben's lifestyle choices. It's more about the systematized maturation of American children than it is a screed against the norms of society as a whole. 
As evidence, consider a scene where a police officer stops Ben and his kids as they travel into town on a green school bus they've named Steve. The cop assumes they are unclean hippies and asks why the children aren't in school. When one begins aggressively evangelizing about Jesus, he backs away. Religious fundamentalists get a pass.
"We live in a country where no one can be elected president of the United States without talking about their deep and abiding faith in Jesus Christ, and yet we are supposed to have a separation of church and state," Ross said. "You take a country like France ― that's a very Catholic country, or at least it was traditionally; it's changing demographically, like every other country in the world. But you don't ever hear politicians talking about their personal religious faith. For me, it was an example of the children's ability to parse our culture and think on their feet. It's not an attack. I mean, maybe it's attacking zealotry and intolerance."
It's Ben's teachings that rescue the family from that legal run-in. Like Mortensen's approach to his career, it's all about being crafty. 
"It's an ordinary person making an extraordinary effort to be a perfect father," he said. "But obviously he's not perfect."
For more from Mortensen and Ross, check out this Huffington Post interview below.
REAL LIFE. REAL NEWS. REAL VOICES.
Help us tell more of the stories that matter from voices that too often remain unheard.
BEFORE YOU GO
PHOTO GALLERY
Hottest Sundance 2016 Movies