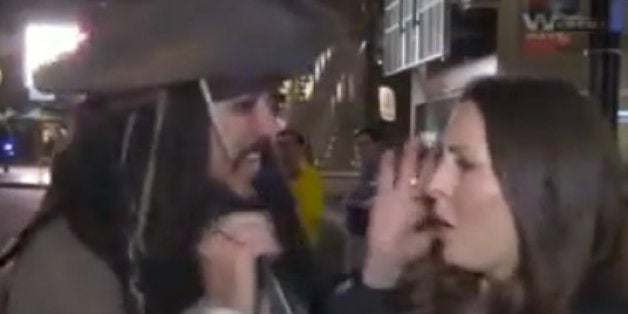 Sigh... remember that magical time, not so long ago, when we could trust that all those viral fails, wins and bloopers were 100% real? It seems like such a sweet dream.
But thanks to Jimmy Kimmel and other practitioners of Prankmodernism (we're just going to start calling it that), that day is done. Now every twerk is suspicious and every F-bomb is planned until proven spontaneous.
Case in point, this hilarious, but totally fake video of a man dressed as Captain Jack Sparrow videobombing – and sexually harassing – reporter "Madison Brooks" of "NBC Entertainment."
We couldn't help but laugh at Sparrow yelling, "Parley!" as he was being dragged away, but in truth, this wasn't a report on NBC 4. Brooks is actually actor Kristin Sargent and the video was made by Jess Weber of Weberz Way. The group's Facebook page describes it as a show where "YouTube comedy meets the Real World."
The clip was picked up by Live Leak and quickly began to climb it's way up reddit on Thursday, with only a few users noting that it seemed fake, one or two of which speculated that Kimmel himself might be the culprit.
Sorry, dear friends, but this is one bit of internet magic that was all smoke and mirrors after all. Let us move forward a bit wiser, if not happier.

Gif courtesy of iwenttofilmschool.tumblr.com
BEFORE YOU GO
PHOTO GALLERY
Funny Prank GIFs