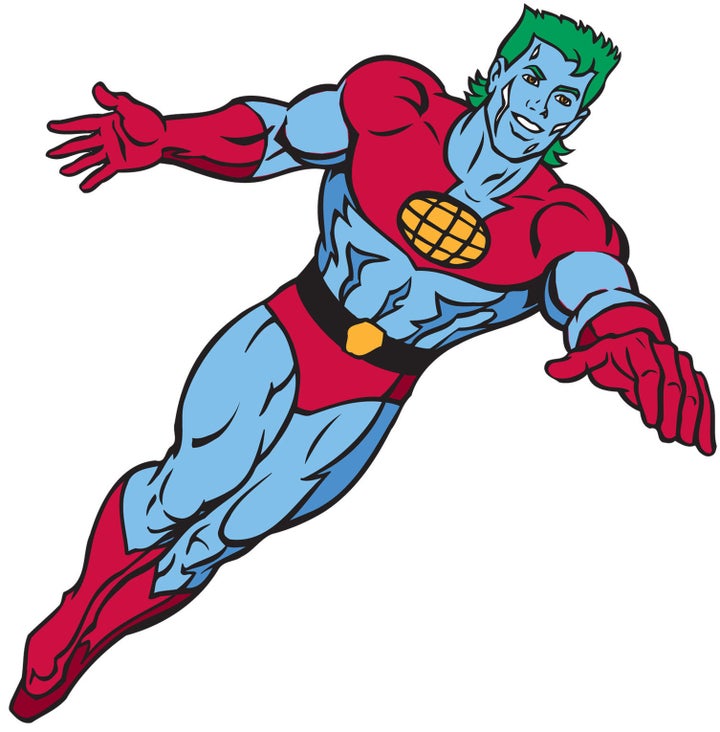 "Captain Planet, he's our hero..." All children of the 90's, rejoice. Earth, fire, wind, water, and... heart, have united to bring back Captain Planet. Or rather, "Transformers" producer Don Murphy and business partner Susan Montford have united to bring back the eco-hero, this time to the big screen.
"Captain Planet and the Planeteers" was a children's cartoon created by Ted Turner in the 1990's. It encouraged environmental awareness, following five global youths who solved environmental crises. When they needed extra help, they summoned Captain Planet, a rather strapping blue superhero, who turned the mullet into a heroic hairstyle.
Guest voices included Whoopi Goldberg, Meg Ryan, Martin Sheen, Edward Asner, and Sting.
Now, a recent press release available on Collider.com reports that Cartoon Network has signed a development agreement with Murphy, Montford and their company Angry Filmworks. The plan is to develop a live-action motion picture based on "Captain Planet and the Planeteers."
Stuart Snyder of Turner Broadcasting System Inc. said, "The messages of Captain Planet are even more relevant today... We feel this team can bring the world's first eco-hero to life in a powerful motion picture that is not only pertinent but entertaining."
Montford added, "With the earthquakes, tornadoes, melting icebergs and all the other problems threatening the world right now, Earth really needs her greatest defender."
In light of recent findings reported by Reuters, suggesting that floods, droughts, and overall "global weirding" are the "new normal" of extreme weather fueled by climate change, the potential importance of Captain Planet could be surprisingly significant.
Right now, scientists struggle to reach a broader audience and communicate the severity of climate change and other major environmental threats. At an Arctic warming conference for scientists in May, U.S. climate scientist Robert Corell advised researchers to reach out to all parts of society to raise awareness of Arctic melt, and "Stop speaking in code. Rather than 'anthropogenic,' you could say 'human caused.'"
Could this Captain Planet movie be a step towards breaking the science code, and reaching a broader audience? Films such as "An Inconvenient Truth" and "The Day After Tomorrow" have debatably been successful for both Hollywood and for the environmental movements attempting to reach a broader audience. Could Captain Planet do the same, or will it become just another cartoon-turned-film franchise that loses sight of it's main character's goals?
Let's hope this film focuses on the show's catchy tune, and joins the fight to "take pollution down to zero."
Calling all HuffPost superfans!
Sign up for membership to become a founding member and help shape HuffPost's next chapter