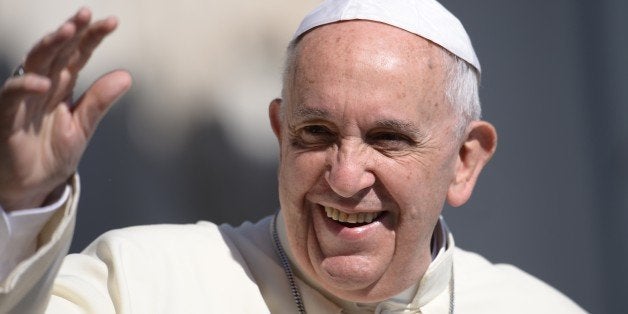 The Pope now recognizes the obvious: our climate is changing as a consequence of human activity. But still, not everyone agrees. James Inhofe, chairman of the Senate Environment and Public Works Committee, said the following: "We should be good stewards of the earth God gave us" because climate change science "isn't settled." So Inhofe invokes god, for which there is faith but no evidence, while remaining unconvinced of climate change, the evidence for which is overwhelming. Inhofe passionately believes with no hesitation in something that cannot be proven but denies the tangible reality in front of his face.
We are now suffering the consequences of the new political phenomenon in which ignorance is celebrated and worn as a badge of honor. The science committees are chaired in both the House (Lamar Smith) and Senate (Inhofe) by anti-science, anti-intellectual, anti-reason religious zealots. This is like putting Richard Dawkins in charge of theology at the Vatican. The results are predictable; we rearrange deck chairs (burn fossil fuels unabated and argue about where to drill) on the Titanic (earth), ignoring our existential problem while arguing about all that is inconsequential as we plow into the iceberg (climate change). (In case the analogy was not obvious enough).
And not to disappoint, we can predict that we will hear insufferable, ironic, self-contradictory but self-righteous pabulum from prominent politicians in response to the Pope's new-found environmental concerns. To wit, presidential candidate Jeb Bush uttered this most amazing phrase: "I think religion ought to be about making us better as people and less about things that end up getting in the political realm." Not sure whether to laugh, cry or pull my few remaining hairs out with that one. Really? Really? Abortion? Stem cell research? Same-sex marriage? Public prayer? Teaching creationism is schools? Did Bush actually just say we should keep religion out of politics? That is like Charles Manson telling us we really should keep violence out of our lives. How quickly Bush forgets that he and his fellow Republicans mobilized evangelical Christians in 2000 to take over the GOP, jamming religion down our political throats like never before. No wait, I get it: it is OK to bring religion into the politics of all those wedge issues; but arbitrarily and with no rationale, we can't bring religion into the issue of climate change. Because Bush says so. Yep, my head is going to explode.
But back to the Pope. The Pope, by the way, is not bringing religion to the debate; he is simply acknowledging that the science is overwhelming and compelling, and given that, there is a moral obligation to act. He is not claiming god told him humans were altering the climate. That would be bringing religion into the debate. But he does not get a free pass now just because he is finally admitting the obvious. He does so reluctantly, with hesitation. His encyclical calls on us to change our ways to "combat this warming or at least the human causes which produce or aggravate it." He hedges his bets talking about volcanoes, and goes only so far as to say that "most global warming" is induced by human activity. All this is a bit equivocal and weak. Still, not a bad sentiment in the end. However, it is difficult to hear the Pope and not immediately conjure up a jumble of clichés and questions: better later than never; too little too late; better than nothing; Captain Obvious; and where was the Catholic Church twenty years ago when we could have done something about the problem?
We have come to a bad point in human history when people only believe the conclusions of solid science when a religious leader gives them the nod.
While the Pope's comments on climate change are welcome, if obvious and too late to the party, let us not get carried away thinking the Pope is a born-again environmentalist. For millennia, peoples of nearly all cultures have been taught that humans are special in the eyes of their god or gods, and that the world is made for their benefit and use. That is, at least Western religions promote the idea that environmentalism is for wimps and long-haired liberals because god put everything here for humans to exploit. This is made clear in Genesis 1:1.
"God said, 'Let us make man in our image, in our likeness, and let them rule over the fish of the sea and the birds of the air, over the livestock, over all the earth, over all the creatures that move along the ground.' So God created man in his own image, in the image of god he created him; male and female he created them."
This early biblical passage is representative of many that give humans the special status of being made in god's image, unlike any other creature on earth, and clearly implies human dominance over all other living things. Humans are told to "subdue" the earth and "rule over" the air, land and sea. These religious teachings not only condone but actively encourage humans to view the environment as separate from them, put here for their pleasure. Such biblical bias about our place in earth's history is one reason why the religious right resists the idea of anthropogenic climate change; we could not alter something god put here for our benefit.
The explicit religious mandate to exploit natural resources remains clear and unambiguous, in spite of the Pope's new encyclical and past heroic efforts to harmonize religion and environmental sciences. Numerous academic and international organizations have made the futile attempt, including The Forum on Religion and Ecology, the largest international multi-religious project of its kind, and the Pontifical Academy of Sciences, founded in 1936 by the Vatican to promote scientific progress compatible with the Church's teachings.
The argument used by those seeking reconciliation between religion and environmental protection point to the integrity of all creation, or reverence for all things created by god, insisting that religion and concern for the environment are not only compatible, but have been so all along. Those are welcomed sentiments. In fact, as is frequently the case, the Bible contains contradictory passages about the natural world, reasonably allowing for such an interpretation. Old passages can also simply be reinterpreted to fit the facts or to be compatible with newly adopted ideas. Pope John Paul XXIII said in 1961:
Genesis relates how God gave two commandments to our first parents: to transmit human life--'Increase and multiply'--and to bring nature into their service--'Fill the Earth, and subdue it.' These two commandments are complementary. Nothing is said in the second of these commandments about destroying nature. On the contrary, it must be brought into the services of human life.
But the harsh facts of human history belie this benign revisionist interpretation of the meaning of "subdue". The preponderance of unambiguous passages in the Bible giving mankind dominion over nature's bounty argues against any idea that religion is environmentalism in disguise. As Renaissance scholar Lynn White famously wrote in 1967, "We shall continue to have a worsening ecologic crisis until we reject the Christian axiom that nature has no reason for existence save to serve man." His words remain true 40 years later, when religious conservatives in the United States view resource extraction as an inalienable right and the burning of fossil fuels a paean to god.
Sure, the Pope is right about climate change; and hopefully this will be the start of a millennium in which the Catholic Church repudiates its previous history of teaching that god put the earth here for us to exploit. But not likely. Better than nothing, but too little, too late.
Calling all HuffPost superfans!
Sign up for membership to become a founding member and help shape HuffPost's next chapter