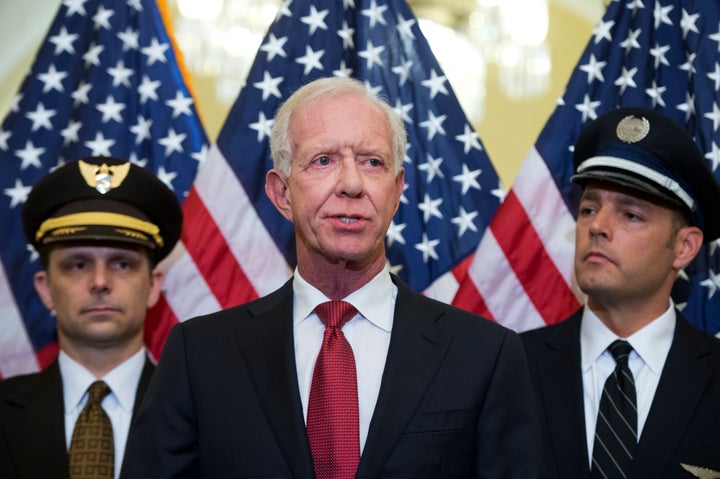 That's why Sullenberger joined Sens. Barbara Boxer (D-Calif.) and Amy Klobuchar (D-Minn.) in Washington, D.C. on Tuesday to ask lawmakers to pass the Safe Skies Act, which would grant cargo pilots the same rest protections as passenger pilots.
"Let me be very direct: fatigue is a killer," Sullenberger said at a press conference. "It's time to right this wrong. It's time to fix this rule." 
The Federal Aviation Administration has extensive regulations to ensure that airline pilots get enough sleep, mandating 10 hours of rest before they can go on duty. But in 2013, cargo pilots were left out of these rules in what is known as the "Cargo Carve-Out," according to the Coalition of Airline Pilot Associations. The Safe Skies Act is a proposed amendment to close the loophole excepting cargo pilots from the FAA's rest standards.
With the loophole as it stands, cargo pilots can be on duty for up to 16 hours a day -- six hours longer than other pilots, according to Boxer.
"Cargo airline operations share the same airspace, the same runways, and the same airports as the rest of the airline industry and the flying public, and should also share the same safety rules when it comes to pilot fatigue," Klobuchar added.
Boxer said there had been 14 U.S. cargo plane crashes involving fatigue since 1990, including the 2013 UPS jet crash in Alabama that killed two crew members.
At least two courier giants oppose the amendment, according to Roll Call. A group of cargo airlines including FedEx and UPS sent a letter opposing the amendment to the Senate on Monday. They argued that cargo pilots need different regulations because they "fly fewer legs, have longer layovers, and have better rest opportunities on our trips." 
Sullenberger pointed out that cargo pilots have more overnight flights. That means their schedules are more disruptive to their circadian rhythms -- humans' 24-hour sleep-wake cycle, or "body clock." The science of circadian rhythms underlies the FAA's fatigue regulations for passenger pilots.
Boxer asked the floor to at least bring the measure to a vote. "We just need a vote on this," she said, "and you know, if people want to come down in the well and vote the wrong way on safety, then they have shown themselves to be more concerned with the special economic interests, frankly, than the lives of the people that are being put at risk."
The Safe Skies Act is one of several amendments to the FAA Bill that the Commerce Committee and Senate leadership is currently processing.
Calling all HuffPost superfans!
Sign up for membership to become a founding member and help shape HuffPost's next chapter
BEFORE YOU GO