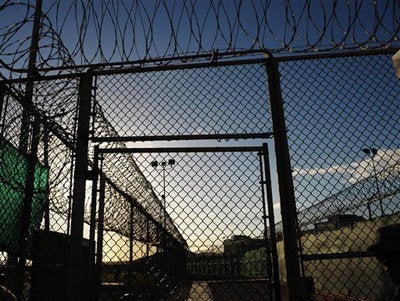 All those many years ago, in my last semester at the University of Wisconsin, I finally took that science class that I needed to graduate. I opted for Plants and Man. In addition to learning such fine things as how to make wine and beer we learned about the importance of our connection with nature for our psychological well being, something I have never lost sight of. Although the class was fun and interesting, it was a real college class and we had to write a paper at the end of the semester. I decided to write about Flower Power. I did an historic look at the use of the flower as a symbol of peace... sigh.

I ultimately became a lawyer and later still took on the representation of a man at Guantanamo. My client, Mr. Al-Ghizzawi, told me during one of our first visits about a flower that was outside his cage at Guantanamo, just sticking out of the desert terrain, by itself. Al-Ghizzawi watched the flower over several days and I could tell from his voice that it brought him pleasure just to think about that flower. He called it a primrose and ended by saying, "it didn't belong there, and I don't belong here." He was right on both accounts.

More years have gone by and Al-Ghizzawi still sits in the hell hole we call Guantanamo. He is no longer in that cage. Now he sits in solitary confinement, where he has been in total isolation for more than two years. There are no flowers in this terrain of metal and plastic. Al-Ghizzawi's only connection with nature is a possible two hour period in a metal cage in the hot Guantanamo sun, surrounded by a concrete building and sand. There are no flowers or trees, and the years of this cruel captivity have taken its toll on him.

Last week I received an email from the "privilege team," the ones that read our attorney/client mail. The email informed me that Al-Ghizzawi sent me a picture and on the back of the picture, there was a note stating that the picture was his gift to me. The privilege team decided that the note was "personal" and that Al-Ghizzawi violated the rules in sending the picture through the legal mail. They informed me that I would have to send the picture back to him (through the legal mail) and tell Al-Ghizzawi to resend it to me through the "non-legal mail." (Really, I cannot make this shit up).
I assumed (!) that the picture was of Al-Ghizzawi himself. I knew the International Red Cross was taking pictures of the men and giving them copies to send to family and friends and I had asked Al-Ghizzawi to send me one if he had a spare, so that I could use it in his litigation. I sent an email back to the privilege team explaining to them that the picture was not "personal" but was indeed legal mail because of my request to Al-Ghizzawi to send me his picture. That is when I found out that it was not a picture of himself that Al-Ghizzawi sent to me. He sent me a photograph of a field of flowers. This was his gift to me.
I do not know how this beautiful photograph came into Al-Ghizzawi's hands (perhaps one of you sent it to him?). But I do know that I will not insult Al-Ghizzawi who has been through so much at our hands. I will not return the photograph to him and I will not ask him to resend the photo in the "non-legal" mail. That beautiful photograph, this symbol of peace, will instead remain locked in my secret drawer at the secret facility....which actually seems somewhat appropriate.
Meanwhile the cruelty of Guantanamo shows no sign of lessening.

Popular in the Community