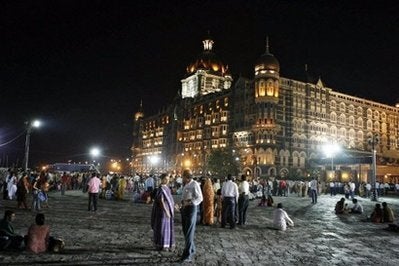 Originally published on GroundReport.com, the citizen journalism site covering world news at the local level.
JAMMU/ISLAMABAD/NEW DELHI/WASHINGTON, JAN 7:
In a bid to distance itself from conflict with India and after being in denial mode for weeks, Pakistan, which during the past has been known for changing its stance, finally admitted on Wednesday that Ajmal Amir Kasab, the lone terrorist captured during the Mumbai carnage, was indeed a Pakistani national but was unsure whether it would provide him consular access, as he has asked for to defend himself. Ajmal Amir Kasab, the lone terrorist arrested in the November 26 Mumbai terror attacks, is a Pakistani national, Pakistan's National Security Advisor (NSA) Mahmud Ali Durrani confirmed to a TV Channel on Wednesday.
The report confirming Kasab's nationality has been sent to Pakistan Prime Minister (PM) Yousuf Raza Gilani. Moreover, a British newspaper and Pakistani media have shown evidence that Kasab belonged to Faridkot village in Okara district of Punjab province but Islamabad for days has been rejecting their claims by saying that there was no documentary evidence. Massive diplomatic pressure from across the world may have forced Islamabad to change its stance. "Pakistani authorities, during the course of their own investigations into the Mumbai carnage have established the identity of the only surviving terrorist Ajmal Kasab as a Pakistani national," Dawnnews reported on its website.
The issue here is not that Pakistan has admitted that Kasab is a Pakistani, but the matter of grave concern is that Pakistan despites knowing that Kasab is Pakistani was earlier adamant denying Kanab's nationality as Pakistani. After repeated denials, admitting today that Kasab is a Pakistani, clearly indicates that Pakistan has a direct link to aid terrorists wedging internal war and attacks in India killing innocent civilians. Today Pakistan is denying that it has no command on terrorists and their operations. But if the international pressure and the stand, Indian has taken, continues further, Pakistan will, surely, admit that it has every role and command over the terrorists besides every logistical support. If we recall March 11, 2006, Pakistan had claimed that it does not command militant groups active in Kashmir and had added, however, it has influence over them. "Pakistan does have influence (over the militant groups) but we do not command (them). And it has influence because it has been advocating and highlighting the Kashmir issue," Foreign Minister Khurshid M Kasuri had said on Friday night at a dinner he hosted in the honour of the delegates attending the Kashmir conference in Islamabad.
Today's admission comes a day after Indian Prime Minister (PM) Dr. Manmohan Singh, in a hard-hitting speech, held 'official agencies' of the Pakistan government complicit in the Mumbai attack and accused Islamabad of having 'utilised terrorism as an instrument of state policy against India.'
Also on Tuesday, India's Minister of State for External Affairs, Anand Sharma urged upon the Pakistan to own up Kasab's nationality as the 'first step' to indicate its intention to cooperate in the probe into the Mumbai mayhem.
Dawnnews also quoted a high-ranking government official as saying that because of the nature of Kasab's crime, the government has still not taken any decision on whether to provide him with counsellor access.
"The top official said that the investigations had started soon after the initial reports had suggested that Ajmal Kasab may possibly be a Pakistani national," Dawnnews said.
"However, the authorities wanted to be doubly sure of his identity as there existed no record of Kasab and his family in the National Data Base which is maintained by National Database and Registration Authority (NADRA). Details of the preliminary investigations submitted to the government have still not been made public," it added.
The official said Kasab is the son of Amir Kasab and Mrs Noor Illahi.
The identity of others militants killed in Mumbai carnage is yet to be established but senior security officials told Dawnnews that preliminary investigations "have established that these militants were operating on their own and had absolutely no link with any section of the country's security apparatus. "A formal announcement in this regard is expected in the next few days," Dawnnews said.
In other developments on Wednesday, Defence Minister A.K Antony asserted that India had 'all available and possible options' open and asked Pakistan to book those who gave 'inspiration, direction and support' to the Mumbai attacks and to 'dismantle' the terror outfits functioning from its territory. "There are two things. Those persons who gave inspiration, direction and support (to the terrorists in Mumbai) should be booked. Secondly, more than 30 terror outfits are active across the border. To dismantle them is the duty of the (Pakistani) government," Antony told reporters on the sidelines of a function in New Delhi.
"After 26/11, there are no serious attempts to disband the terror outfits across the border and that is a major worry.... We are examining all available, possible options to prevent a repeat of this kind of infiltration and tragic incidents like what happened in Mumbai," Antony said, declining to elaborate on the options available.
On its part, the US reiterated that the Mumbai attacks originated from Pakistan, but wanted New Delhi and Islamabad to work together to bring those responsible to justice and prevent future attacks.
"Well, we've talked about the origins of the attack coming from Pakistani soil. Secretary (of State Condoleeza) Rice, during her visit to the region, said that herself," State Department Spokesman Sean McCormack said on Tuesday.
But "I would look at one part of this exchange as encouraging; that is, that there is an exchange of information here between India and Pakistan," he said when asked if the US shared India's conclusion that those responsible for the Mumbai attacks were at least supported by official agencies in Pakistan.
Meanwhile, Pakistan's spy chief has categorically stated there would not be a war with India in the wake of the Mumbai attacks and that Islamabad's enemy is not its eastern neighbour but terrorism.
"We may be crazy in Pakistan, but not completely out of our minds. We know fully well that terror is our enemy, not India," Inter-Services Intelligence (ISI) Chief Lt. Gen. Ahmad Shuja Pasha told German newsmagazine Der Spiegel in an interview.
"There will not be a war," he declared confidently, adding: "We are distancing ourselves from conflict with India, both now and in general."
Popular in the Community