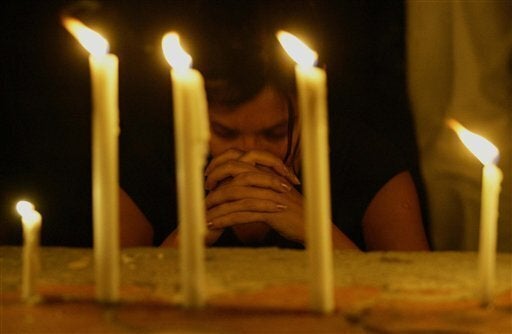 The only terrorist captured alive after the Mumbai massacre has given police the first full account of the extraordinary events that led to it - revealing he was ordered to 'kill until the last breath'.

Azam Amir Kasab, 21, from Pakistan, said the attacks were meticulously planned six months ago and were intended to kill 5,000 people.

He revealed that the ten terrorists, who were highly trained in marine assault and crept into the city by boat, had planned to blow up the Taj Mahal Palace hotel after first executing British and American tourists and then taking hostages.

Mercifully, the group, armed with plastic explosives, underestimated the strength of the
105-year-old building's solid foundations.

As it is, their deadly attacks have left close to 200 confirmed dead, with the toll expected to rise significantly once the hotel has been fully searched by security forces.

Yesterday, Kasab chillingly went through details of Wednesday night's killing spree across the city, which ended when he was cornered by police.
The AP has compiled a timeline of the Mumbai terror attacks:
9:21 p.m. Wednesday, Chhatrapati Shivaji Terminus __ Two young men walk casually through Mumbai's main railway station, a worn Victorian hulk bustling with late commuters heading home, scurrying past small food stands and juice bars and vendors selling newspapers. They enter near the taxi stand, where long lines of battered black and yellow cabs wait for fares. One wears khaki cargo pants and a blue T-shirt. A pair of small knapsacks are slung over a shoulder. He looks like a college kid.

They are, says a photographer who follows them on part of their grim journey, "backpackers with assault rifles."

The two -- and other death squads working in pairs -- are to wreak carnage in landmark after landmark across Mumbai over the next three days, creating panic in this normally unflappable city and killing more than 195 people...

...About 9:30 p.m.

Nariman House, Mumbai headquarters of the ultra-Orthodox Chabad Lubavitch movement.

A gunshot startles the family of Rabbi Gavriel Noach Holtzberg and others inside the recently renovated five-story Jewish center on a bumpy, unpaved back road off a main street in Mumbai's trendy Colaba neighborhood. The pale yellow building, with its synagogue, kosher dining room and friendly rabbi, was a magnet for Israeli backpackers looking for a place to celebrate holidays while on vacation and an important religious center for Mumbai's small Jewish community.

Someone must be lighting firecrackers, thought Sandra Samuel, a maid at the center.

Then a gunman came up the stairs.

She and another employee duck into a room and hid in terror as explosions and gunshots rattle the building through the night.

"They destroyed everything, the lift, the dining room, everything," she says later.

At about the same time

Leopold Cafe and Bar

The place known as Leo's is one of the city's famous tourist restaurants, a joint crammed with glass-topped tables, old travel posters and lounging backpackers drinking cheap beer.

There are maybe 100 people inside when two gunmen appear in the entrances. One lobs in a grenade. Then they open fire.

"It was total chaos ... People didn't know what was going on. Some hit the floor, some ran out of the side entrance or tried to find a place to hide," says Farzad Jehani, who owns the restaurant with his brother.

The assault lasts, perhaps, two minutes. When it's over, at least four foreigners and three Indians are dead, though the brothers aren't sure because patrons quickly rush the casualties to hospitals in passing cars and taxis.

By then the gunmen have left, jogging through the streets and apparently moving on to one of India's most famous hotels just a few blocks away.

"They weren't aiming at anyone in particular. It was like they wanted to empty their magazines and do as much damage here as possible before heading to the Taj," Jehani says.
Read the full timeline here.
Popular in the Community