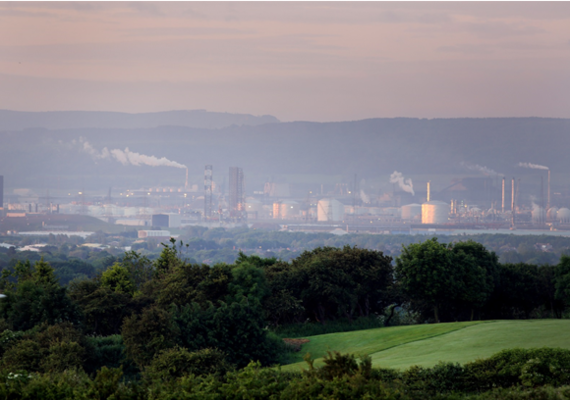 Teesside Collective is a landmark project which is on track to revolutionise UK industry through carbon capture and storage (CCS) of emissions. But what actually is industrial CCS and how close are we to seeing low emissions from energy intensive industries?


Every Metropolis Came From Ironopolis

Teesside in the North East of England is heartland of UK industry. 'Ironopolis' the poem by Ian Horn illuminates the vital role which Teesside industry has played in the history of the world. Industrial exports from the Tees Valley span the world and have helped build the foundations of cities, landmarks and everyday commodities.

The region of industry accounts for 58% of the UK's chemical industry and the second largest blast furnace in Europe.

However, this industry has come at an environmental cost. When it comes to emissions Teesside is home to 5 of the UK's top CO2 emitting plants and Teesside industries are responsible for 5.6% of national industrial emissions. All of this gears Teesside to be an ideal place for industrial CCS.

I've grown up next to Teesside's heavy industry and a lot of my climate change work over the past decade has been based in the North East. I have found a good chunk of traditional industrialists in the region have been reluctant to embrace eco-friendly measures and they frequently point to the need for cheap fossil fuels to sustain industry.

Despite previous environmental-industry tensions CCS appears to be a miraculous solution as it's a solution which has got a broad spectrum of support from organic yogurt eating lefties to hardnosed industrialists. It offers a win-win situation to reduce emissions while maintaining industry.

Carbon Capture & Storage
I checked in with Sarah Tennison, Low Carbon Manager at Tees Valley Unlimited (TVU) to find out more about this holy grail of carbon reduction technology. TVU, alongside BOC, GrowHow, Lotte Chemicals, SSI UK, NEPIC and National Grid, form Teesside Collective - which aims to reduce the region's industrial carbon emissions while attracting inward investment into Teesside.

CCS technology is capable of capturing and storing up to 90% of CO2 emissions produced by industrial facilities, which stops it from entering the atmosphere and contributing towards climate change. By compressing CO2 it can be transported and then stored in geological deposits, in the case of Teesside the prime site for storage is North Sea sandstone.

Sarah outlined the background of Teesside Collective and explained that the project is a cluster of leading industries with an ambition to establish the Tees Valley as a pioneering site by creating Europe's first CCS equipped industrial zone by the early 2020s.

Industrial CCS is recognised as an essential technology as virtually all heavy industries emit large amounts of carbon as a byproduct of their industrial processes and no amount of efficiency can substantially reduce emission output.


Is it too good to be true?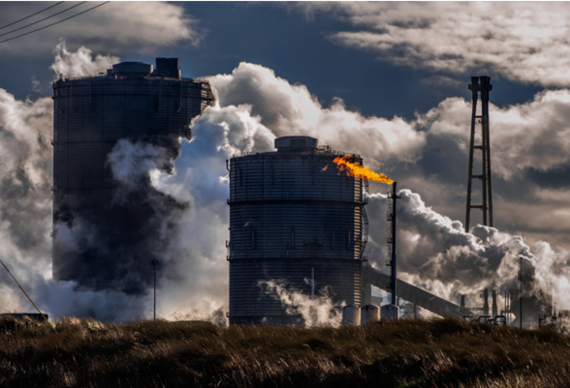 Industrial scale CCS is proven and works very well on ammonia and hydrogen plants. While it's also been found to be a low cost technology - the sticking point for wide spread adoption however is who will pay for it.

Unlike CCS within the energy sector the cost of developing and installing the technology in an industrial setting cannot be passed onto the consumer via a green tariff.

Heavy industry exports are not sold directly to consumers but rather fed into an often complex supply chain. The financial value of de-carbonised supply chains has yet to adequately reach resources such as steel, chemicals and plastics so the argument made is that increasing export price would drive business overseas.

The challenge therefore to the success of industrial CCS on Teesside and indeed anywhere is a matter of finance.

Making the business case for industrial CCS is half of this battle and many companies are keen to adopt emission savings as a competitive advantage. While it's a cost-effective form of carbon reduction, industrial CCS still needs major political and financial support.

The role of industrial CCS has generally been neglected when dealing with the topic of climate change yet it is one which must be confronted.

Alex Cunningham, Labour MP for Stockton North acknowledged the critical threat tackling climate change in the region;

"The Tees Valley's successful process industry cluster is central to the region's position at the centre of the UK's move towards a high value, low carbon economy, attracting significant investment over recent years and developing a reputation for green excellence.

"Indeed, our process industries are playing a crucial role in the transition towards a green economy. Not only are products such as lightweight plastics, insulation, and components for wind turbines manufactured on our doorstep, but key energy intensive industries such as GrowHow have reduced carbon emissions associated with their main fertiliser product by 40 per cent since 2010."

CCS is an essential part of the picture if we are to meet climate targets of limiting warming to less than 2 degrees. The Teesside Collective project is expected to be represented at the UNFCCC meeting in Paris later this year, where it will hopefully make the business case for support and incentivise national funding.

Sarah stated: "Teesside Collective is a solution to a problem. ICCS in Teesside could be capturing an initial 5 million tonnes of CO2/year by the early 2020s, in line with the Committee on Climate Change's recommendation for widespread deployment of CCS on industry as part of cutting UK emissions by 80% by 2050
Industrial CCS in Teesside supports the UK economy - strengthening our manufacturing base and growing export markets - while helping to meet our carbon targets. It's not just a benefit for Teesside, it's a benefit for the whole of the UK."
Calling all HuffPost superfans!
Sign up for membership to become a founding member and help shape HuffPost's next chapter