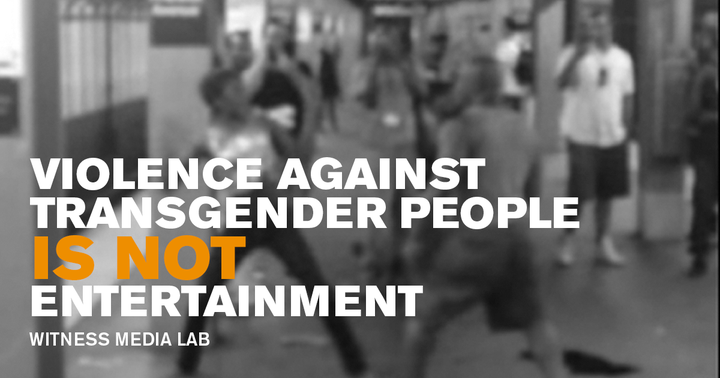 Against the backdrop of arguably the most noxious political cycle in U.S. history -- with a potential outcome that could undo decades of human rights progress -- November 1st marked the start of events and observances that will culminate this month with the Transgender Day of Resilience on the 19th and Transgender Day of Remembrance on the 20th.
To say that people who identify outside the gender binary are being targeted for abuse is an understatement. There has been a marked rise in hate violence with 23 transgender murders so far in 2016. The controversial trial for the 2013 brutal murder of Islan Nettles in New York City this year -- in which her assailant cited a "threat to his manhood" as the motivation for beating her to death on a Harlem street -- ended in a plea bargain. Not to mention the uncounted and unnamed transgender people who survive sexual assault, harassment, stalking, discrimination and bullying every day.
Compounding these political, institutional, and social biases, is the fact that understanding and addressing the needs of transgender and gender nonconforming communities has been understudied because federal and other general population surveys that determine policy, social services and funding do not include questions about gender identity beyond the binary.
And, being uncounted means being overlooked.
In response to this dearth of data, WITNESS -- an international organization that trains and supports people using video in their fight for human rights -- has released a report that explored the untapped potential of eyewitness video as a way to fill that gap.
The project, "Capturing Hate", studied eyewitness videos of transphobic violence and the viewer engagement with them as a new and arguably more compelling source of data. The study found hundreds of videos made not with the intention of exposing or prosecuting abuse, but rather, content that is captured, shared, and engaged with as entertainment.
Shockingly, the 329 videos analyzed were viewed over 89 million times, shared over half a million times and rated favorably by 99% of the people who viewed them. Major brands have advertising adjacent to the content and 39% of videos found on YouTube were labeled as entertainment or comedy. Most alarming are the vitriolic comments and the ongoing engagement with the videos years after their original posting.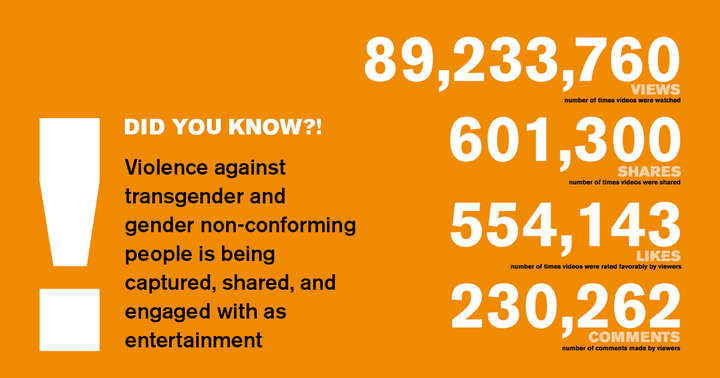 The comments by viewers show a widespread sentiment of transphobia that not only condones violence, but actively encourages violent attacks against gender nonconforming people. In many of the videos bystanders can be heard cheering on the fights and shouting hate-filled epithets.
The goal of the report is to raise awareness of not only the videos, but to expose the social conditions that encourage these violent acts and bring accolades to filmers and commenters. Many of the videos include audio shout outs for the platforms that host them suggesting an accepted practice of bystander disregard and the presumed esteem in which capturing and sharing these videos is held.
A trans friend of mine once told me that nearly every time they leave the house, they wonder if they'll make it home alive. No one should have to live like that.
I was moved to pursue this project, an initiative that started as a Media Lab Fellowship here at WITNESS, because I don't think our country, our community, our colleagues fully understand the superhuman courage it takes for transgender people to be themselves in this world. I am humbled by their strength and resiliency. A trans friend of mine once told me that nearly every time they leave the house, they wonder if they'll make it home alive. No one should have to live like that.
We believe this study tells the story of abuse suffered by transgender and gender nonconforming people in a unique and compelling way. Just as eyewitness video of police brutality in communities of color in the U.S. removed plausible deniability and launched a worldwide movement demanding transparency and change, it is our hope that our findings raise greater awareness and spark discussion of the cultural and political climate that is fostering discrimination and encouraging violence against transgender and gender nonconforming people. Most importantly, we hope it helps create a sense of urgency in making laws and policies to protect them.
The report contains text and images that are racist, transphobic, homophobic, and portray acts of physical violence involving transgender and gender non-conforming people
To find out more about how you can participate in Trans Awareness Month:
Calling all HuffPost superfans!
Sign up for membership to become a founding member and help shape HuffPost's next chapter