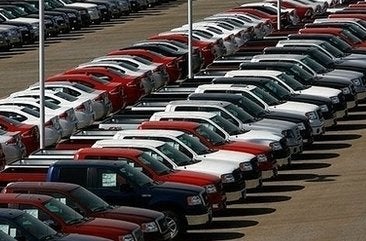 "I have confidence in confidence alone." For those of you who don't remember every syllable of The Sound of Music Maria sings these words skipping down the street on her way to the Von Trapp family digs for the first time. And maybe that's the required mindset for consumers to start buying cars again.
Many automobile dealers contend it's not that consumers lack money, or credit or jobs, but that they have a serious lack of confidence. And if only they would get over it, they would start buying cars again and the whole industry would turn around and that would help jump-start the rest of the economy.
Goodness knows car sales are not only stalled but also rolling down hill, with October being the unkindest month of all. General Motors sales tanked 45%, Chrysler 35% and Ford 30%. Toyota sales plummeted 23% and Nissan and Honda posted sales declines of 33% and 25% respectively.
To say this is all due to a lack of consumer confidence is as naïve as to say it's not. For one thing, not as many consumers can get financing. GMAC, for example, has spread the word it's looking for credit scores of 700 or higher. Think of a score of 800 as perfect and 700 as the threshold to that perfection. Automobile dealers who are used to buyers with lesser scores are scrambling to find financing for them elsewhere. They are "broadening their pool of lenders," says Sheila Meyer of Meyer Chevrolet in Middle Village Queens, New York. Meyer adds dealers are so desperate they're even looking to Canadian banks willing to write paper for credit challenged customers.
The Greater New York Automobile Dealers Association says many of its car retailers now carry lower priced used vehicles on their lots to help people with bad credit get a set of wheels. And get this: they advise someone with bad credit who wants a new or more expensive car to ask a family member to co-sign the loan or to bring a larger down payment.
A larger down payment sounds like a good idea if you have money to spare, but isn't that part of the problem right now? People's investments are worth less, so they want to hold on to as much cash as they can, so a larger down payment is not so appealing. As for asking a family member to co-sign the loan, that family member is likely to have similar investment losses and cash concerns and just as likely to want to hold on to as much cash as possible.
It's such a good time to buy according to the dealers and the manufacturers. For example, Toyota is offering 0 percent financing on many of its top models and a $1,000 cash back offer on the number one selling Camry. There are rebates from just about every manufacturer, including cash back deals from $500 to as much as $8,000.
In addition to this, there is a glut of inventory, even for vehicles that were selling like hotcakes. Neale Kupperman, President of Rockland Toyota in Blauvelt, New York says "right now you can even negotiate for a Prius", the hot little hybrid that was burning up the lot.

So, if car dealers are willing to slash prices, twist the arms of banks to secure financing, bring in used cars as less expensive alternatives, why aren't people buying like they used to? Perhaps, its because they don't have money or passable credit or they've seen other people lose jobs and they're afraid they will lose their own. All of those things could add up to a loss of consumer confidence. And even though Maria sang about having "confidence in confidence alone", when she arrived at the big iron gates of the estate she stopped cold, before she could muster enough nerve to step inside.
Calling all HuffPost superfans!
Sign up for membership to become a founding member and help shape HuffPost's next chapter