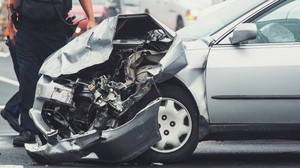 People are less likely to get hurt or die in car accidents, or file a car insurance claim, than they were a decade ago. But the average injury cost is rising, eating into potential savings on insurance rates.
The rate of injury accidents per 100,000 registered vehicles fell 28% between 2004 and  2013, according to figures issued in September by the National Highway Traffic Safety Administration. The rate of fatality accidents fell even more, dropping 41%.
A new report from the Insurance Research Council shows a decline of about 15% in injury-related car insurance claims between 2005 and 2013. The council, an industry-funded group, attributes the decline to safer cars and graduated licensing laws, which grant young drivers full driving privileges gradually.
But while the number of injury claims decreased, the average cost per claim rose between about 32% and 38%, depending on claim type, during the same period, according to the council's report.
Why costs per claim are rising
Ironically, costs per claim might be increasing because of the wider availability of car safety features. Technological advances, such as electronic stability control and collision avoidance systems, are reducing the number of minor crashes.
"So what you're left with are more serious claims," IRC Vice President David Corum says.
The cost of medical care has also risen, thanks in part to increased use of MRIs and other expensive technology. These increased costs have been particularly acute when it comes to treating injuries from car accidents, Corum says.
The increase in costs per claim is eating up savings from the decline in the number of claims. Average household spending on car insurance did fall by 2.8% -- 19.8% after adjusting for inflation -- between 2005 and 2014, according to the U.S. Bureau of Labor Statistics. But the decline might have been greater if not for the increased cost per claim.
Crunching the numbers
To analyze claim costs, the IRC examined two types of injury claims: liability claims, for injuries the policyholder caused to others, and personal injury protection claims, for injuries to the driver and passengers in the policyholder's car. In no-fault states, PIP pays for injuries no matter who caused the accident. In both cases, the average claim cost rose much faster than the decline in the number of claims.
Injury claims down, costs up
2005
2013
Change
Liability injury claims paid per 100 vehicles
9.4
8.1
-14.5%
Average amount
$11,738
$15,506
32.1%
Personal injury protection claims per 100 vehicles
14.9
12.5
-15.6%
Average amount
$5,802
$8,017
38.2%
Source: Insurance Research Council
The cost of liability claims has risen in every state except West Virginia, which passed a law in 2005 that barred certain types of liability lawsuits after an accident. Texas saw the largest jump in the average cost of liability claims, a whopping 49% increase between 2005 and 2013.
Pennsylvania is the only state with PIP where these costs didn't rise. The biggest increase -- 72% -- hit Michigan drivers. This may be due to Michigan's unique law allowing unlimited benefits for PIP claims.
---
More from NerdWallet:
Image via iStock.
Calling all HuffPost superfans!
Sign up for membership to become a founding member and help shape HuffPost's next chapter