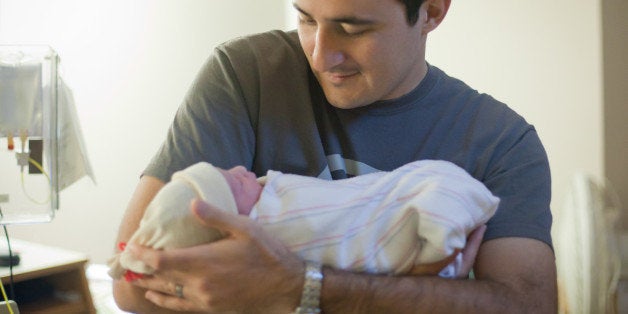 Parents leaving the hospital with newborns are a jumble of nerves and adrenaline, wondering what comes next and whether they're going to do it right. But new research suggests that many new parents make at least one mistake before they even pull out of the driveway.
More than 90 percent of new parents at one Oregon Hospital made at least one key error in installing their newborn's car seat or in positioning the newborn in the seat, according to new research to be presented Monday at the American Academy of Pediatrics National Conference.
"As someone who has been doing this for a number of years, I've always been struck by how difficult it can be for parents to adequately protect their children," study researcher Dr. Benjamin Hoffman, a professor of pediatrics at Doernbecher Children's Hospital at Oregon Health & Science University and a certified car passenger safety technician, told The Huffington Post.
To conduct the study, Hoffman and his team observed 267 sets of babies and caregivers who were discharged from Doernbecher's mother-baby unit between fall 2013 and spring 2014. (For the purposes of the study, the caregiver was either the newborn's parent or an adult designated by the parent.) As the families prepared to leave, safety technicians watched them install the car seat in their vehicle and place the baby in the seat, in order to screen for what the National Highway Traffic Safety Administration has deemed "critical misuses."
On average, researchers found 4.2 misuses per family. Ninety percent of the families made two or more errors, while 50 percent made five or more.
Caregivers were more likely to make mistakes positioning their newborns in the car seat, rather than installing the seat itself. Sixty-eight percent did not sufficiently tighten the harness, while 33 percent placed the harness retainer clip too low. Other errors included using the wrong harness slot, not knowing how to adjust the harness at all and using a non-regulated product in conjunction with the car seat.
When it came to setting up the seat, the most common error was installing the seat too loosely, a mistake 43 percent of families made. Other common errors included angling the car seat incorrectly, using a seat belt but not locking it, and putting incorrect spacing between the car seat and the vehicle's front seat.
"We collaborated with parents to correct any misuses before they left the hospital ... and parents were incredibly grateful to know they were traveling home as safely as possible," Hoffman said. "Everyone was very well-intentioned in this process, but many families were very surprised to find out how many errors they made."
Hoffman noted that the study's findings were in line with a broader 2004 study by the National Highway Traffic Safety Administration, which found that 84 percent of rear-facing car seats had at least one critical misuse.
Notably, the researchers found that families were 13 times more likely to correctly position their babies and car seats if they had arranged a visit with a certified car passenger safety technician, or CPST, before heading to the hospital.
"I always recommend that parents go to seatcheck.org to find a CPST in their area if they don't know one already, because they will help guide them through whatever they need to know," said Jamie Grayson, owner of BabyGuyGearGuide.com and a certified CPST himself. Many smaller retailers have a dedicated technician on staff, he added, who can help parents work through installation issues before they buy a car seat.
"Read your manual," Grayson urged. "Both your car seat manual and your car manual." He also recommended that new parents bring their car seat into the hospital room with them and practice positioning their baby in it before they head out to the parking lot.
Hoffman said that he would like to see hospitals provide car seat technicians who can work with families upon discharge, and hopes that car seat manufacturers will continue to innovate and engineer car seats that are more intuitive for parents to install and use.
"This study suggests that newborns, and families of newborns, are more vulnerable than the general public and we need to think differently about how we can help them and provide resources," Hoffman said.
The true impact of the errors measured in the new study is impossible to quantify, Hoffman said. The Centers for Disease Control and Prevention estimates that car seat use reduces the risk of fatal injuries among babies 1 year old and under by 71 percent, though car accidents remain a leading cause of death among children in the United States.
CORRECTION: An earlier version of this story indicated that 68 percent of parents placed the harness too low. The most common positioning error was having a harness that was too loose.