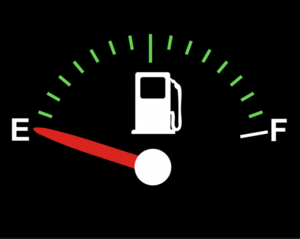 My husband and I are trying to put this recent escapade in the rearview mirror because my declaration comes with a bit of embarrassment: Yesterday, I had the "winning" score of 11 miles to go in my gas tank and 8 miles to the closest station.
I usually notice small things ... like an errant comma or someone's label sticking out. (Click here to see a tale about Leona Helmsley's dangling label.) If I see a painting in someone's house that's hanging low on one side, I'll give the opposite corner a gentle flick when no one is looking.
What is not in my wheelhouse is checking the gauge in my car to determine how much gas is in the tank. Yesterday, though, I finally saw the light.
When I got into my car and turned on the ignition, a light was flashing that the tank was near empty. With shaky voice, I asked Siri how many miles it was from my current location in the parking lot to the closest gas station.
"It is approximately 8 miles from here to there," Siri said in a strangely authentic Wales accent.
The 11:8 ratio meant that I had a 3-mile leeway before the car ran out of gas on the side of the highway. I had no choice but to keep my hands on the wheel, my head in the game, and drive.
I pulled all stops to conserve gas. I turned off the radio, turned down the heat, and drove slowly. (If you happened be on 287 last night at about 6 o'clock, yes, that was me hugging the far right lane at 45-miles an hour.) When I got to a decline in the terrain, I relied on gravity to coast as far as possible before putting my foot back on the accelerator pedal.
Time passed slowly as I crawled along. I still had four more exits to go. Both terror and exhilaration were sitting in the back seat. Would I make it to a gas station or have to make a frantic call to AAA? (BTW, here's a number to always keep handy: 1-800-AAA-Help!)
When I finally reached my exit ramp, it was gloriously down hill from there. I coasted until I reached the traffic light, made a right, and continued blazingly into the night at the lightening speed of, now, 30 miles per hour.
Something beautiful appeared in the distance: a Shell sign. By the time I drove into the station, my car was sputtering. Even the strength of the headlights was starting to wane. Wouldn't it be hilarious if I ran out of gas right at the gas station?
It takes forever to fill a bone-dry gas tank. When I finally twisted the cap back on and jumped into the driver's seat, there was a flicker of maternal instinct. By filling up the car, I felt as if I had fed my child. It was now a happy car holding gallons and gallons of gas with miles and miles of new roads and adventures in its future.
My husband chides me that if I can notice a crinkle in a busy floral wallpaper print, why can't I notice when my car is on the brink of running out of gas?
Equal time for one second: Did he note the blob of toothpaste in the sink or look down and see that his shoes need to be polished? (Touché, darling.)
My new driving rule: Fill'er up when you reach half-empty--or half-full--however you want to look at it. Enjoy the serenity of knowing that your car is your friend and won't sass back by "running" out of gas.