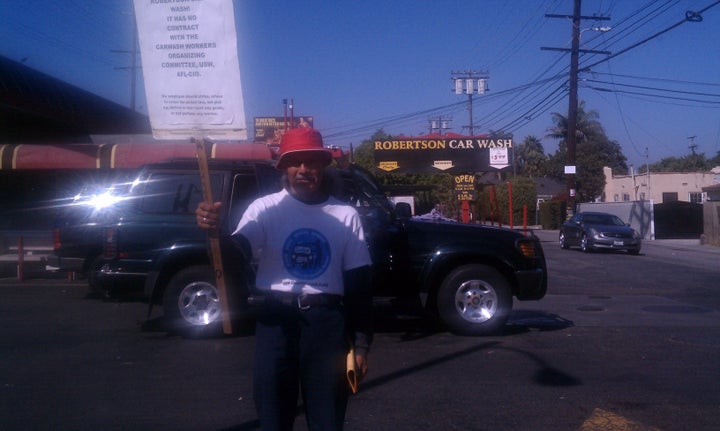 LOS ANGELES -- In a city obsessed with automobiles and known for its horrendous traffic, a crucial group of laborers have historically been underpaid, overworked and exposed to toxic chemicals: car washers.
That's beginning to change.
This week, two car washes in South LA announced that they would unionize, joining the United Steelworkers. Coming on the heels of the first ever car wash union contract late last year, Los Angeles's car washers are increasingly looking like one of the best hopes to revitalize the long-declining American labor movement.
Around 60 car washers in the city are now covered by union contracts -- a small fraction of the roughly 10,000 workers in the L.A. area. Nearly all of them are first-generation immigrants who have spent their careers working below minimum wage and without lunch breaks, far from the rust belt factories and middle class blue collar workers around which the labor movement first built itself.
American unions have not always embraced immigrant workers; they've occasionally accused immigrants of stealing American jobs and driving down wages by accepting low-paying work. But times have changed. On Tuesday, Richard Trumka, president of the AFL-CIO, with which the steelworkers are affiliated, was ebullient. "The headline should read: 'Carwash workers make history in LA,'" he said at a press conference announcing the contracts.
The owner of the Navas car wash, one of the two newly organized shops, said he thought the move would be a win for his shop, too. At Navas, workers used to earn a flat rate of $50 dollars for a 12-hour work day, washing cars by hand with no protection from the sun.
"When I was the manager, there was nothing I could do about it," Luis Nava said in Spanish. Nava became the owner last December. "They used to get tired more, and get paid less. But they aren't slaves, right?"
They're not slaves, but car wash workers often face conditions that seem like they come from an earlier age: toiling, in some cases, for $3 or $4 an hour, with no protection from the sun, cleaning tire rims by hand with stinging acid and no gloves. One car wash manager, who spent a year in jail for labor law violations, was accused in a lawsuit of threatening pro-union employees with a machete.
"In our plants today you don't have the threats of physical violence -- you just have: go ahead and organize and we'll close the plant," said Bob LaVenture, director of the United Steelworkers Union District 12. "I can't recall a group of workers that have been so exploited and so much fear and so many threats of physical violence."
Wages at the organized car washes will be $8.16 an hour, organizers said. The contract will also provide health and safety protections, grievance and arbitration procedures and protections for workers if the car wash is sold.
The campaign marches on, based out of the office of the Community-Labor-Environmental Action Network (CLEAN) in an Episcopal church in Echo Park, covered in flowering vines. There, workers frequently get together to encourage each other, plan picket lines, and tell stories of injuries on the job, brutal management, and chronic health problems.
Some of the workers who gather at the office have pending, or settled, lawsuits. But Tomas Rodriguez, who won more than $80,000 in back wages and damages last year after filing a suit against Handy J Carwash, said that the suits were not enough to really change a workplace.
"This is one thing we've definitely learned as a campaign and as workers," Rodriguez said. "A lawsuit doesn't change anything. You need a union contract to change conditions."
Labor advocates in L.A. have been trying to improve the car wash industry for more than a decade, mainly through legislation and lawsuits, not organizing campaigns. These latest wins are seen as a pivotal moment.
"This is the turning point," said Victor Narro, project director of the UCLA Downtown Labor Center, who has been focused on the industry for 15 years. He said that the industry has radically improved since his early days of work.
But there is still a long path ahead. At the Robertson Car Wash, where former workers say they were paid only tips, CLEAN has been picketing for years, and there have been no signs that management will budge. (The lawyer representing the Robertson Car Wash declined to comment.)
Last fall, a group of 10 workers and organizers gathered to pace back and forth across the shop's driveway, holding signs, chanting "No justice, no peace," and advising potential customers to steer clear.
Saeed Shakeranch stood away from the picketers, as he watched two workers polish the hubcaps of his black and red Mini Cooper convertible. He lived nearby, had purchased a 10 pack of washes from Robertsons, and said he had no intention of going elsewhere to get his car cleaned.
"I'm like, fuck you, I already prepaid," he said. Shakeranch said that business had dropped in recent months, and he thought the picketers had something to do with it. "I don't want to get involved. I just want to get my car washed."
Popular in the Community