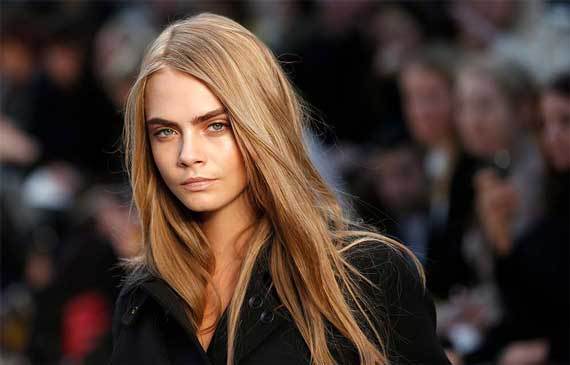 Social media is an essential part of the business of fashion week not only for designers, but for models as well. Anyone with an Instagram account and Wi-Fi connection can attest the Spring 2015 shows were all about bringing the live runway experience to an iPhone screen near you-- from the backstage chaos to the more groundbreaking live runway videos. And while every model contributed her fair share of candid snaps this past show season, it appears there was one catwalker in particular, who ruled supreme: Cara Delevingne.
As reported by WWD, according to a new study by London-based retail tech firm Editd, the British supermodel was the most talked-about model on blogs and Twitter channels during the most recent Paris Fashion Week -- a feat that was no doubt fueled by news regarding her signature thick, dark eyebrows. Followers will remember waking up to a global gasp that resounded throughout the webosphere after the model/actress bleached her bold brows for Riccardo Tisci's Givenchy show. The headlines ranged from the suggestive, "Cara Delevingne Got Rid of Her Famous Brows for Givenchy," to the more extreme, "Cara Delevingne Bleached Her Eyebrows and the World No Longer Makes Sense" (BuzzFeed). Of course, that's not to say that holding hands with Kate Moss in the front row at Burberry' or leading the charge in Karl Lagerfeld's mock feminist protest didn't help her capture 24 percent of the cyberspace buzz-- Rosie Huntington-Whiteley (22 percent) and Karlie Kloss (14 percent) rounded out the second and third spots.
But what makes Cara so special?
"She's real, and people can relate to her," said Wendy Rowe, makeup artist and creative consultant for Burberry, the label for which Delevingne is a face. "She doesn't make things unachievable."
In addition to earning high-profile campaigns with Chanel, DKNY, Mulberry and Topshop among others, Cara increased her profile with the cover of Vogue magazine's all-important September issue, a beauty campaign co-starring Kate Moss and most recently, a third BFA Model of the Year nomination. As for her growing list of IMDB credits, the model/actress proved that she's more than just a pretty face, earning starring roles in "Paper Towns" "London Fields" and most recently, the upcoming Amanda Knox biopic, "Face of an Angel," all the while keeping us entertained one goofy face at a time.