The United States Senate passed the Comprehensive Addiction and Recovery Act yesterday 94 to 1. Let that sink in for a moment... few votes are that overwhelmingly positive. The urgency of our nation's addiction crisis has brought something we thought we would never see again -- political consensus! As the House of Representatives votes on the bill in the coming weeks, we must push for the same political willpower and teamwork to make its provisions a reality.
This fall as part of a historic advocacy day on October 5, 2015 put together by Facing Addiction, I helped support more than 500 individuals and families affected by the addiction crisis from around the country as they met with their senators to push this legislation forward to the floor of the Senate. It was the power of these engaged citizens from all political stripes that pushed a very divided Senate to support this bill.
CARA will write into law several measures that I believe are urgently needed
First, it will give the White House Office of Drug Control Policy the power to grant money for prevention programs.
Second, CARA will put an emphasis on intervention and treatment at the high school level. With adolescents who receive addiction treatment reporting they are offered drugs the first day back at school, we are insuring failure if we continue business as usual. Ideally, one day, all states will have recovery high schools, which create an environment where our teens can succeed after substance abuse treatment. There are already many successful models that can be duplicated across the country and CARA will help make this happen.
Third, CARA will increase the availability of opioid antidote-naloxone. This drug can be administered by anyone, has essential no side effects, and has the ability to actually reverse a deadly opioid overdose. In much of the country naloxone is available over the counter. This life-saving drug needs to be readily accessible anywhere opioids may be. It is especially important for people returning from opioid rehab who after rehab can no longer handle their former dose, making a relapse deadly. Let us not forget that relapse is part of recovery -- it fact its routine and expected, and naloxone would allow friends and families of struggling addicts to act as first responders and save lives.
But while the passage of CARA will create prevention strategies and naloxone availability, there remains the enormous problem of the millions of people suffering with addiction in need of immediate treatment. We are talking about 24 million Americans. Addiction is a chronic disease of the brain and as such requires a treatment approach analogous to other chronic medical problems. Treatment works if it's a comprehensive medically supervised approach that includes psychosocial, biological and spiritual tools. Comprehensive and effective addiction treatment means helping a person navigate the challenges of depression, anxiety and shame that accompany the medical pathology of cravings and withdrawal as well as tools, often including mediations, to deal with the biological sequela of chemical dependency. That's why CARA is a great start, but only the beginning of the changes we need to make to address our addiction crisis.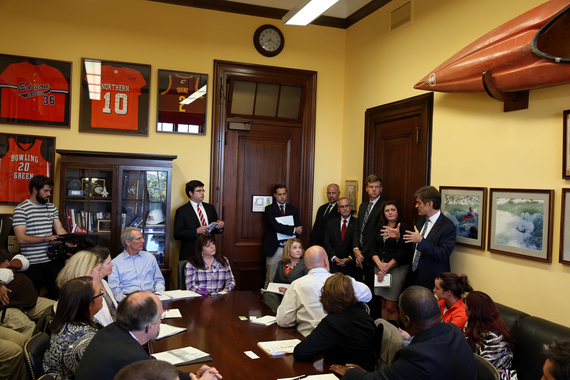 In a historic advocacy day on October 5, 2015 put together by Facing Addiction, I was honored to support more than 500 individuals and families affected by the addiction crisis from around the country as they met with their Senators to push this legislation forward. It was the power of these engaged citizens from all political stripes that inspired a very divided Senate to support this bill.
Right now, there are three other bills that may also come up for votes in Congress in the next few weeks which will pick up where CARA leaves off and strengthens our approach to fighting addiction. The first one is the Recovery Enhancement for Addiction Treatment Act or the TREAT Act. This law could single handedly save tens of thousands of lives. Introduced by Senator Edward Markey (D-MA), the TREAT act would increase the number of patients who would be able to receive medication assisted addiction treatment. Right now we are tying the hands of physicians who treat addiction by limiting the number of people they can prescribe the drug bupenorphrine to. While this was originally done with good intentions, it is no longer sensible as mathematically, we are dreadfully outmatched in the fight against heroin. The role of the primary care physician in treating a patient for opioid addiction can and must be amplified.
Another important bill that is set for a vote in the coming weeks is the Co-prescribing Saves Lives Act introduced by Tim Kaine (D-Virginia) will further increase naloxone availability, even beyond the scope of CARA. This bill will encourage physicians to co-prescribe naloxone alongside with every opioid prescription they write. In addition it will make naloxone more widely available in federal health settings. As a doctor, it is second nature to me to have life saving measures on hand at all times, especially if there is an elevated risk. Any family who has a member with a prescription for an opioid pain killer and especially families helping a loved one through treatment and recovery from opioid addiction should have naloxone in their medicine cabinet. Its more than common sense, its humane. School nurses should have naloxone. Camp counselors, coaches, and anyone in a position of leadership should have naloxone next to the ace bandages and smelling salts.
Lastly, the Mental Health Reform Act of 2016 introduced by Senators Cassidy, Alexander, Murray and Murphy, another bipartisan coalition, will increase treatment for addiction as well as other comprehensive mental health services. Addiction rarely occurs without a co-occurring disorder like depression, anxiety or bipolar disorder. This bill would improve the quality of mental health programs, as well as increase funding, and improve access to care for all people with mental health issues. And that includes a lot of us. I always tell people that as a heart surgeon I learned a great deal about depression -- not because I was curious about psychiatry, but because it was present in the majority of my patients. If depression and heart disease occurred together, I needed to give the patient a plan that treated both even if it was outside my expertise and comfort zone.
What the CARA bill and these other pending bills achieve is a new way of talking about, funding and ultimately treating an insidious killer -- a disease that frankly, has confounded so many over the ages it has become acceptable to throw up our hands and resign ourselves to the fact that there will always be "those people." But numbers and data don't lie, and "those people" have become too many to count. They are our children, parents, brothers, sisters, co workers, friends, clergy, teachers and athletes, and they deserve the full power of Congress to act and the resolve of Washington to do better. I was utterly thrilled to see a 96-1 vote today because it mean that our elected officials -- if even for a passing moment -- understood our priorities, and that is a cause for hope. But we can't stop now -- there is so much more to do.
Let us be as comprehensive in our approach to addiction as it is in taking lives. Every stakeholder, physician, public official and addiction counselor I speak with is thrilled at the momentum and strategy revealed today. I am personally happy that the next time I look into the tear stained eyes of a mother who lost a child to heroin I can say with honesty we are truly trying to fix the problem. But as crucial the passage of CARA is in addressing the crisis, it is only the beginning of what will be a long and challenging battle with a epidemic that affects millions of lives and virtually every family. We can neither retreat nor rest... because addiction sure doesn't.