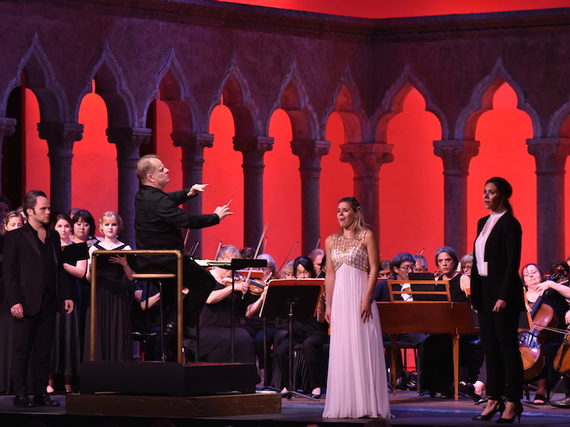 (l. to r.) Andrew Owens, tenor, Will Crutchfield, conductor, Georgia Jarman, soprano, and Tamara Mumford, mezzo-soprano, performing in 'Aureliano in Palmira' by Gioachino Rossini, with the Orchestra of St. Luke's, in the Venetian Theater at Caramoor in Katonah New York on July 16, 2016. Photo: Gabe Palacio
By Mark McLaren, ZEALnyc's Editor in Chief, July 19, 2016
Conductor Will Crutchfield, the Orchestra of St. Luke's, and a cast of impressive singers made some operatic history this weekend at Caramoor Music Festival in Katonah with the first U.S. performance of a new Aureliano in Palmira, a work by Rossini that had all but disappeared from the repertoire after its 1813 premier.
The charm of Saturday's performance, under a steamy night sky and on Caramoor's bucolic grounds, masked the importance of the event - the U.S. premier of a successful new critical edition of Aureliano, edited by Mr. Crutchfield in conjunction with the Rossini Foundation and Ricordi in which thirty minutes of lost music is restored and baffling structural issues in the work resolved. The result is a solid new bel-canto masterpiece, reintroduced in this Caramoor performance to the standard opera repertoire.
And though the work in its totality is new to operagoers, listeners will find familiar tunes. Rossini borrowed from the abandoned score, and significant content (including the overture) made its way to his popular The Barber of Seville. In a night of exciting discovery, it was fascinating to hear these compositions, so long associated with comedy, deftly support the drama of Aureliano.
Crutchfield is a superb opera conductor and he gave his new score an exciting debut. Soprano Georgia Jarman (Zenobia) is a Caramoor favorite (her fifth appearance), with a voice that is at once warm and pointed. Her sizable agility produced some exciting moments, in a night of smart, technically adept singing. Mezzo-soprano Tamara Mumford (Arsace) comes with a beautiful sound and with some impressive technical prowess of her own - the duet work between these two was often sublime. (Mumford returns to the Met this season as Smeaton in its production of Anna Bolena.) Tenor Andrew Owens sings the title role nicely - it is not a big voice, but it is well produced and pleasing.
The Orchestra of St. Luke's has had a summer home at Caramoor since 1979, and its presence is a gift to the opera program. Tight ensemble and vigorous playing brought both drive and polish to this new score. As did the chorus of Caramoor Bel Canto Young Artists, under Derrick Goff's direction.
The setting for Aureliano is the modern-day Syrian city of Palmyra, famously occupied by Isis in 2015. Before it was recaptured by Syria in March 2016, many of the world's important antiquities had been destroyed and a leading antiquities scholar beheaded.
Set in a part of the world where themes of occupation, destruction, and redemption remain dramatically resonant, Mr. Crutchfield's new Aureliano in Palmira offers opera directors, as well as listeners, rich material for compelling theater.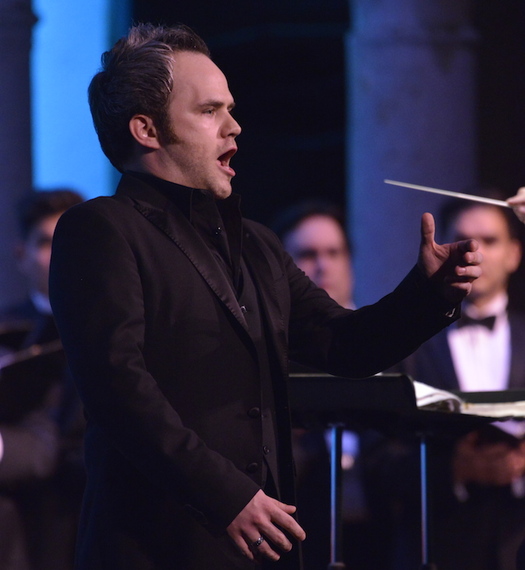 Andrew Owens in 'Aureliano in Palmira.' Photo: Gabe Palacio
__________________________________________
Aureliano in Palmira by Gioachino Rossini presented at Caramoor by Caramoor Opera. Conducted by Will Crutchfield with Orchestra of St. Luke's, Andrew Owens as Aureliano, Georgia Jarman as Zenobia, and Tamara Mumford as Arsace. Also with Chrystal E. Williams, Sean Christensen, Xiaomeng Zhang, Thomas Lynch, and members of 2016 Bel Canto Young Artists at Caramoor.
Mark McLaren, Editor in Chief of ZEALnyc writes special features and reviews of various arts and cultural events in the NYC area.
Visit ZEALnyc for all the latest in arts and culture.
Related
Popular in the Community