A woman live-tweeting a car accident made the horrific discovery that the fatality in the crash was her husband.
Reports of a fatal car crash on a Vancouver, Wash., highway Wednesday afternoon started off pretty routinely for Johnson. But as time passed and details came in, Johnson's tweets became increasingly worried as she waited for her husband to come home.
Johnson also mentioned that her husband had epilepsy and was prone to seizures.
"I just called his work and he was feeling faint when he left work. #panic," she tweeted.
"I'm a basketcase," reads another.
Johnson's husband was killed in the head-on collision with another vehicle. Police who have worked with Johnson in the past acted fast to give her information about the death, according to The Columbian.
Once she learned the truth, Johnson sent out a simple and heartbreaking tweet:
The Huffington Post captured images from Johnson's Twitter before she set it to private on Thursday.
@ScanCouver

@ScanCouver

@ScanCouver

@ScanCouver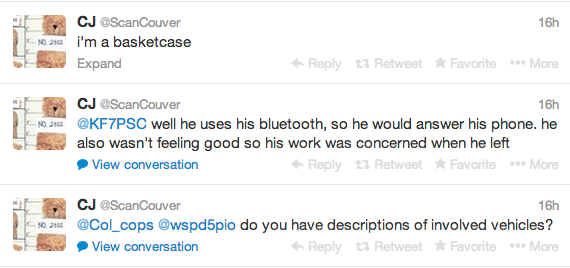 @ScanCouver

@ScanCouver

@ScanCouver

@ScanCouver

@ScanCouver

@ScanCouver

@ScanCouver

@ScanCouver

Related
Popular in the Community